Report: Despite salary cap fewer N.J. school superintendents leaving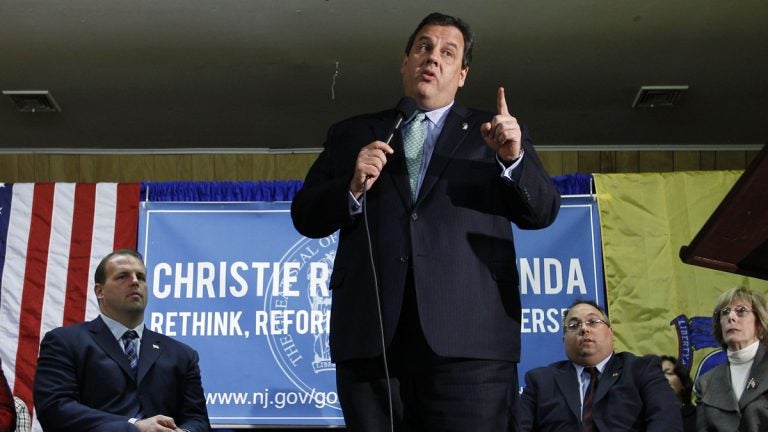 Gov. Chris Christie's controversial cap on school superintendent salaries has drawn plenty of questions and criticism since it was enacted in early 2011, but there's one thing it hasn't generated much of: hard data.
And at least on the surface, what little data is available belies the common assumption that superintendents are leaving the state in droves. In fact, fewer school leaders have left their jobs since the caps were enacted than in earlier years.
That finding comes courtesy of the state's school boards association, which is starting to compile some of the first real numbers, but that early data still doesn't answer all of the questions being raised about the law's impact.
The New Jersey School Boards Association on Saturday presented to its delegates' assembly its first comprehensive survey of the extent to which the salary caps have spurred school superintendents to leave their jobs.
The most common complaint has been that the caps, which are based on district enrollment and typically limit the superintendents' annual pay to no more than $175,000 – equal to the governor's salary – have driven veteran and valued superintendents to retire or move elsewhere to avoid severe pay cuts.
But while the anecdotal evidence tells of respected education leaders making an exodus from New Jersey schools, the association's data has so far found actually a smaller turnover of superintendents since the regulations were put in place by former state Education Commissioner Bret Schundler, Christie's first commissioner.
According to the report, the annual turnover of superintendents has averaged about 133 in each of the three years since the regulation was enacted, a drop from an average of about 153 superintendent jobs turning over in each of the prior three years. There are 553 superintendent posts in New Jersey overall.
Of those who retired or moved to another district, a total of 55 superintendents – or about 18 per year statewide – specifically cited the caps as their reasons for leaving, the report said.
Bergen County has seen the biggest turnover overall, with an average of nearly one-third of its school districts changing superintendents each year, followed by Monmouth and Morris counties. The turnover has been lowest in some southern counties, although Hudson and Union counties also haven't seen much change, the report said.
Either way, the numbers statewide so far are lower than what has been assumed by even the association itself, given the complaints from some corners as well as several legal challenges lodged by superintendents themselves.
Association officials this weekend stressed that they think the three-year compilation of statistic is just a start and that they need to continue to track the turnover.
There are indeed a few caveats about what the numbers show so far. For one, the full wave of turnovers may not yet be finished, officials said, with a number of four- and five-year contracts that were entered into on the eve of the caps still running their course. Many districts sought to lock in their superintendents before the caps went into effect.
"The data has to be further examined, particularly since the law went into effect in 2011, and many superintendents have five-year contracts (not yet expired)," said Larry Feinsod, executive director of the association.
"It's incomplete right now," he said. "It's an incomplete picture."
In addition, the turnover of superintendents from 2008-2010 was unusually high to start with, mainly due to pension changes that gave superintendents an incentive to retire.
Nonetheless, several school board delegates on Saturday said the association may want to start looking at some qualitative measures as well, with several local school leaders saying they want changes made to the salary caps so they can avoid losing their superintendents in the next couple of years.
Karen Cortellino, president of the Montville school board, said that Morris County district has benefited greatly from its superintendent, Paul Fried. But she said the mandated salary cap will lead to a potential pay cut of more than $30,000 once his contract expires.
"He would face a cap of $165,000, and he is now over $200,000," she said. "It would maybe save us $5 a household, but the thing is, he has been the best superintendent we've had in a long time."
While Cortellino said Fried has not indicated that he would leave if his salary is cut, she added, "I don't know, but I fear that."
"If they are going to continue to study this," she said, "they need to look at parameters that go beyond just turnover. They need to look at the experience level that is lost. . . The effect of the caps may not be seen for years."
The regulations "sunset," or expire, in 2016, but Christie has given no indication that he would end them at that time. His current education commissioner, Chris Cerf, early on acknowledged concerns with the caps but since then been steadfast in saying they were unlikely to change soon – at least before 2016.
"My position is as it has been all along: It is the law of the state, and it will remain the law of the state," Cerf told the state's school superintendents at a gathering this fall.
Feinsod said the association continues to have serious concerns about the rules and hopes changes will come, either when the existing rules expire or sooner.
He said districts already face separate caps on overall administrative spending and on their property tax levies, effectively making the superintendent limits a "cap within a cap."
"It's too constraining, and we feel the best decisions about compensation should be made by the elected officials of that local community," he said.
"If the compensation is considered to be inappropriate within a community, let the community turn out and decide."
_____________________________________________________
NJ Spotlight, an independent online news service on issues critical to New Jersey, makes its in-depth reporting available to NewsWorks.