Storm to deliver rain, gusty winds later today; temperatures plunge overnight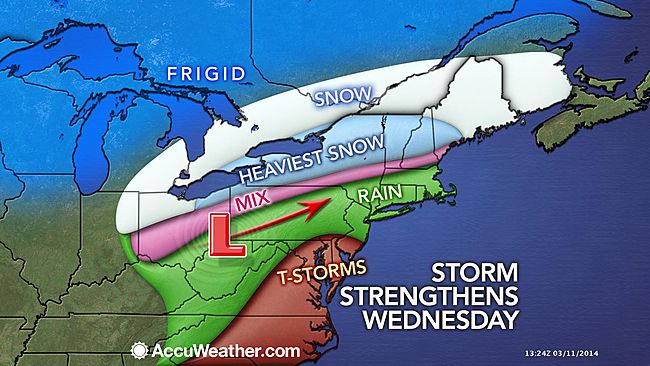 A storm system will pass through the region later Wednesday, delivering heavy rain, gusty winds, and possibly thunderstorms.
"The track will mean significant winter weather for our friends in northern New England (including many of the major ski resorts), but more notably one of the more dramatic swings in sensible weather our area has seen in months," said John Homenuk, lead forecaster at New York Metro Weather. "Temperatures will swing from the mid 60s to 70s in some spots this afternoon, all the way down into the 20s by Thursday morning."
Homenuk said that a powerful thermal gradient and cold front are responsible for the temperature swing.
"Initially, the thermal gradient will develop along a warm front which will stretch from southwest to northeast through the northeast Wednesday afternoon. Parts of New Jersey could eclipse 70 degrees as southerly winds increase and temperatures increase in the low levels," he said.
Precipitation will increase in coverage and intensity Wednesday afternoon "as moisture and lift begin to increase and the frontal boundary approaches central Pennsylvania," Homenuk explained. "Not forgotten in the entire atmospheric setup are the impressive mid and low level wind fields, which when coupled with increasing low level temperatures and relatively cooler air aloft could force the development of thunderstorms right near the cold front."
But the severe thunderstorm threat is minimal, with a 15% chance in extreme southwestern New Jersey, southeastern Pennsylvania, and northern Delaware and a 5% chance elsewhere, according to the National Weather Service Storm Prediction Center.
By Thursday morning, high temperatures will struggle to reach 30 degrees, and with a gusty wind, it will feel much colder, according to NOAA.