Space Needle for South Philly?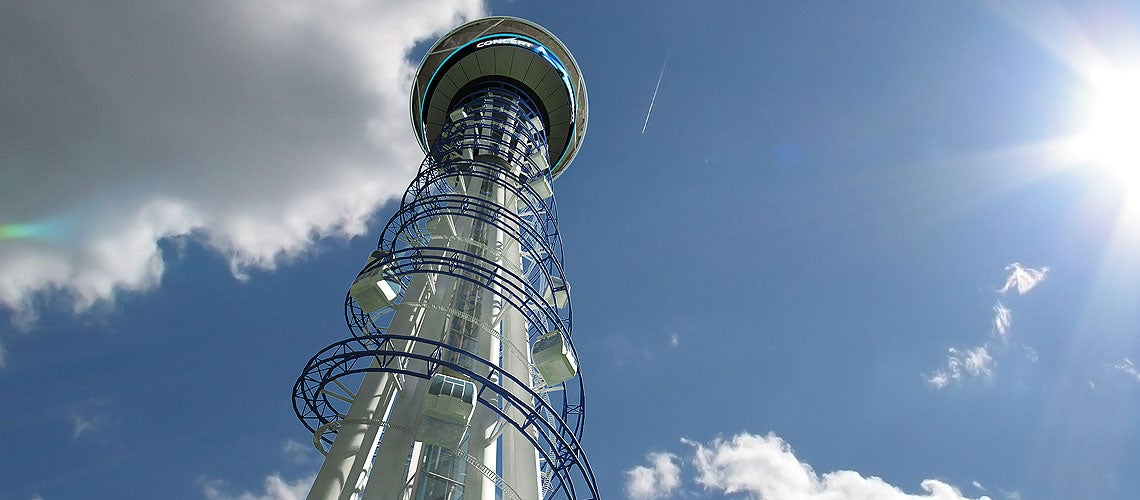 Could you see a Space Needle-like structure rising 615 feet out of the ground in South Philadelphia?
PHL Local Gaming says you will, if the Pennsylvania Gaming Control Board grants them the remaining Philadelphia casino license.
The proposed Skyspire would feature gondolas seating about 10 people each and a rooftop restaurant and observation deck. It would not be part of the proposed Casino Revolution, per se, but part of the adjacent LoSo Entertainment Center, which PHL has promised the gaming board it would develop right along with Casino Revolution.
The gaming board may consider the LoSo Center as a whole when weighing its Philadelphia options, but this needle proposal comes after the PGCB information phase for proposals is closed. PGCB would only have jurisdiction over the casino itself.
PHL announced Wednesday that it has initiated discussions with the owners of U.S. Thrill Rides to bring their Skyspire to LoSo. It would be 10 feet taller than Seattle's Space Needle. U.S. Thrill Rides has built attractions for theme parks and gaming facilities nationwide, including Six Flags and MGM Grand.
PHL officials said in a press release that since the Space Needle attracts a million visitors a year, similar results could be expected at LoSo.
At hearings where all five casino proposals were heard, PGCB commissioners repeatedly said that the next city casino will need more than just gaming to successfully compete in the local casino market. City officials have started saying the same even earlier. LoSo Entertainment Center, are PHL's proposed answer to that challenge.
As thegreengrass notes in the comments below, this isn't the only Space Needlesque structure proposed for our part of the world. Adventure Aquarium at Camden is plans to open a similar structure in 2015.
WHYY is your source for fact-based, in-depth journalism and information. As a nonprofit organization, we rely on financial support from readers like you. Please give today.