Southwest Philly battles life in an auto zone
Auto-related businesses have taken over more than 100 former homes in a residential Elmwood, creating new health and safety hazards for residents.
Listen
5:08
This article originally appeared on PlanPhilly.
—
Amanda Dobbs' brick house wasn't always surrounded by piles of junked cars.
The Southwest Philadelphia home, which shares a fence with two auto repair shops, is where she grew up. The house was her grandmother's and the family lived there for years before the auto shops moved in, bringing stacks of old vehicles and nasty fumes.  She's moved out at various points during her adult life, worried about her family's safety — toxic chemicals, oils, a fire. But precarious finances keeps bringing her back to the one place where the family doesn't have to pay rent. Despite her fears, she's now raising her two sons there.
"It can't possibly be healthy to have all these cars over here," Dobbs said standing outside the Cobbs Creek Parkway house she shares with her 10-year-old and 5-month-old. "You look at the street, you see oil and all kind of auto fluids all over the place. I don't let my children play out front at all."
Auto-related businesses have taken over hundreds of lots in Dobb's neighborhood, with owners retrofitting old houses, knocking down buildings and claiming vacant land to build garages or establish scrap yards. Many repair, maintain and dismantle cars — welding, painting and using toxic, flammable materials in close proximity to homes, religious spaces, daycares and schools. The scene isn't one imagined or even legal under city zoning regulations, which outlaw such industrial uses in residential areas.
But year after year, auto shops flout rules intended to prevent fires and protect people and the environment from toxic fumes and fluids. Despite efforts to stop new shops from popping up, more continue to open via a land use process that allows owners to secure zoning variances with little scrutiny.
Ground zero is Elmwood in Southwest Philadelphia where land is cheap and residents don't have money to bankroll legal challenges against the businesses.
On a single residential block of Upland Street, two new businesses are in the process of filing appeals to convert single-family homes into auto shops. A third auto shop recently got the green light to turn part of a residential lot into an auto shop that will operate across from occupied homes. The Court of Common Pleas overturned prior denials from city agencies to award the zoning variance and permit for industrial uses, including painting.
The neighborhood where these businesses fix cars battles high rates of poverty and asthma. Homeowners, the majority of whom are working-class people of color, say these shops lower property values, downgrading their primary financial asset.
The shops fixing cars next to the Dobbs family operate despite expired permits and zoning violations. Neighbors say they constantly block sidewalks, fix cars outside their fence, and park their cars on the street for months.
"I have to park my car all way around the corner, ok? Because they got all these cars lined up here … It's no good," said neighbor Angelia Williams.
Trash, tires and auto parts dumped in front of their homes fuel headaches. Dobbs said the city recently fined her for trash that was not hers. Fighting the city over another bill is the last thing she wants to do while taking care of a baby with reflux.
Williams' mother, Jacqueline Scott, has lived on Cobbs Creek Parkway for 22 years.
She says the neighborhood has never been like this.
"I'm so ashamed to even bring anybody to my house," Scott said.
How a home becomes an auto shop
Philadelphia's zoning code prohibits auto repair shops and scrap yards in residential and some commercial districts because they are a hazard. These businesses rely on flammable and toxic chemicals — gasoline, diesel fuel, oil, transmission and brake fluids, and spray paint. Auto parts that contain mercury, lead, asbestos and other toxins are everywhere. If mismanaged, these contaminants can leak into the air, soil and waterways.
"Worse case scenario: there's a fire —  which could be catastrophic. I mean living next to a fire at a site like this is worse than living next to any coal-fired power plant," said Russell Zerbo, an advocate with the Clean Air Council.
And fires happen. At least seven Philadelphia auto shops have lit up in flames over the last year, including the high-profile scrapyard fire that sent billows of smoke over Kensington.
But the risks haven't stopped city zoning officials or judges from giving more than 100 auto-related businesses the zoning variances they need to open on Southwest Philly lots not intended for industrial uses, city records show.
One of these shops is Fasu's Auto Repair. Foday Bill, who moved from Liberia to Philadelphia, manages the shop. He earns enough money there to support his family.
"It's a good business … people always have to keep going, and you have to have your car fixed," Bill said.
The city gave his bosses a zoning variance to operate the shop near homes eight years ago.
Bill says his shop complies with city codes.
"We're licensed by the city of Philadelphia and we pay our required taxes. I always pass all my inspections," Bill said.
But city records prove him wrong. His shop has failed multiple inspections and logged several open violations for working without permits and breaking zoning regulations. The city is currently pursuing a legal case against the property owners, listed as Keita Fasu and Owah Abraham Barleh.
Fasu's Auto repair appears to be in compliance with health and safety regulations. (Emma Lee/WHYY)

Tracey Gordon stands in a residential block of Bonnaffon Street, which is bookended by auto repair shops. (Emma Lee/WHYY)

Tracey Gordon (left) and residents of Cobbs Creek Parkway complain to the owner of L & K Auto Sales about parking and trash problems caused by his shop. (Emma Lee/WHYY)
PlanPhilly spoke with several other auto shop operators. All of them said they were operating legally and following regulation. But city records show their shops often failed inspections and violated city codes.
City Council tried to limit the number of auto shops moving into residential areas in 2013 with bills that changed the zoning designation of many industrial properties to ICMX —  Industrial-Commercial Mixed-Use Zoning — and then revised that classification to explicitly prohibit auto-related uses.
The change didn't affect auto shops already in operation but created an opportunity for nearby residents or business owners to object to auto shops expanding or opening in their neighborhoods. Under the new zoning, auto shops must go before the Zoning Board of Adjustments (ZBA), where neighbors can make a case to deny them permits or zoning variances.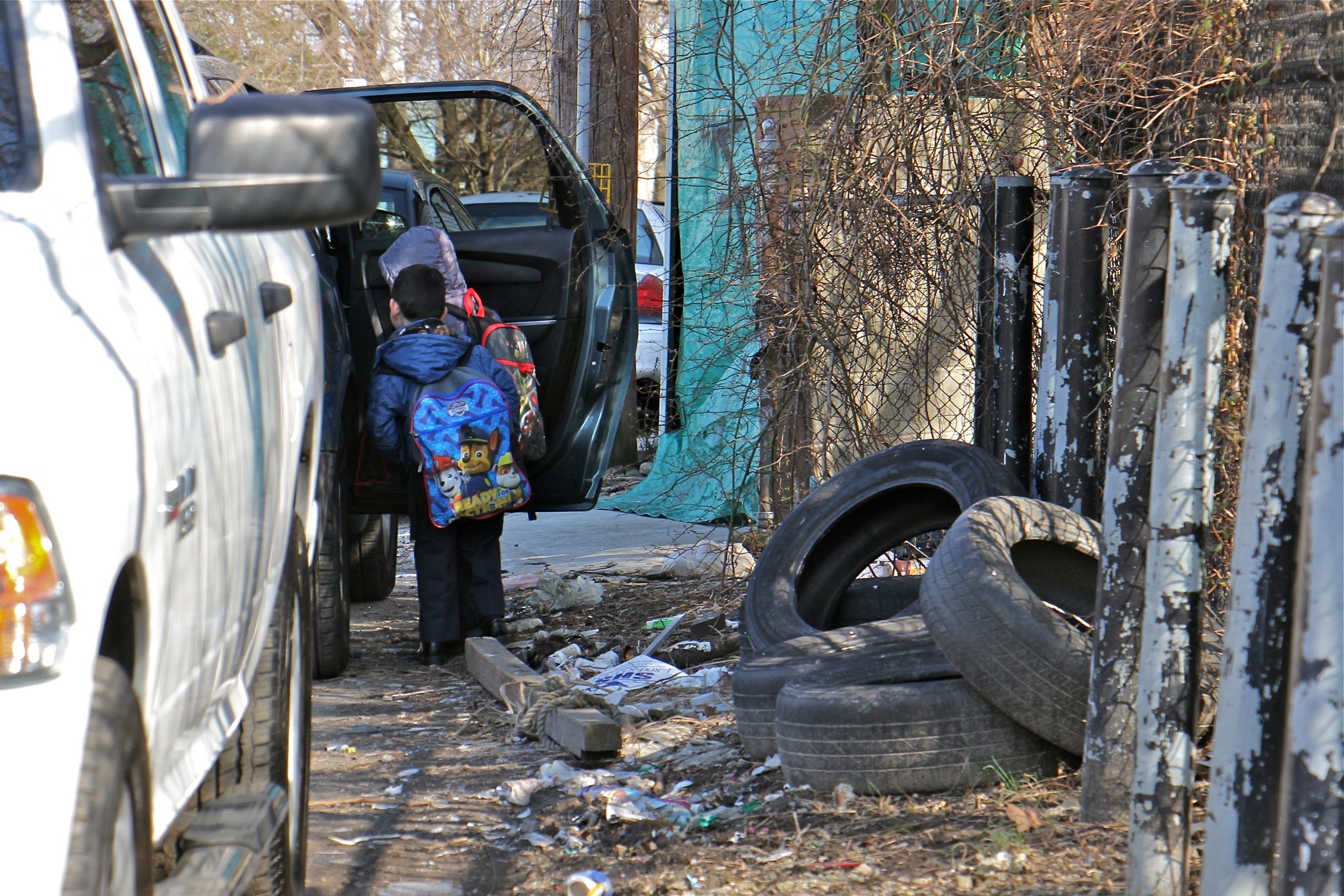 The regulations haven't worked the way City Council hoped, representatives of registered community organizations (RCOs) in the Southwest say.
Craig Melidosian, a member of a Republican 40th Ward RCO, says auto shop business owners intentionally buy residential real estate because it's cheaper. They operate illegally until they're caught, which could be years, and then try to get a zoning variance and a permit.
When affected neighbors find out about a public hearing and turn out to oppose a shop, they can sometimes convince the ZBA to deny a permit. But Melidosian says even when residents win at the ZBA, auto shop owners appeal the decision at the Court of Common Pleas and often get a judgement in their favor.
"They have lawyers," Melidosian said. "They'll go to ZBA, they'll fight their case, if they lose in ZBA then they'll appeal it."
Melidosian says many times no one is at court to oppose the auto business — residents typically can't afford to hire a lawyer and don't have legal knowledge to represent themselves. So then when the judge looks at the case and sees no one opposing the business, the decision might differ from the one made by the ZBA.
"But when you're a poor community like ours, it's very hard to find attorneys who will represent us pro bono. We can't afford $300 to $500 an hour for a litigator," said Melidosian.
Zerbo says the cycle illustrates a flaw in the city's approach to enforcing zoning codes.
"Why bother having residential zoning if you're going to permit industrial activity. That's the whole point of residential zoning — is to keep this kind of stuff out of neighborhoods where people are trying to live," Zerbo said.
A city crackdown
Once businesses open, the task for city officials becomes keeping them safe and accountable to neighbors. That's a challenge, says Licenses and Inspections Commissioner David Perri.
Perri said his agency's goal is to get businesses to comply with regulation. But L&I has only 15 attorneys and limited time to take the more than 8,000 cases that cross the agency's desk to court a year. A limited number of inspectors limits the number of violations that can be logged — neighbors can call 311 to complain about a property and that will trigger a site inspection. But a violation will only be given if an inspector catches the shop actively breaking a rule.  Given those constraints, the agency began working with other city departments last summer to tackle the problem with a new collaborative strategy.
The effort's name is the Southwest Philly Auto Project and it brings together the L&I, the Water Department, Air Management Services, Philadelphia Police Department, the Managing Director's Office, Law Department, the Zero Waste and Litter initiative, the Streets Department and Councilman Kenyatta Johnson's office.
"We started with L&I and the 12th Police District and… are now addressing this from every angle we can," said Johnson.
Johnson said he shares the community's frustrations.
"This is a multi-pronged issue, tensions are high, and we have been doing a lot of targeted work on zoning, permitting, and enforcement to crack down on the nuisance auto shops," he said.
Perri said the strategy is paying off.  Since last summer, city inspectors have visited 120 auto shops in the Southwest and found that 40% of them  are not complying with city regulations.
L&I has issued 10 cease-operations orders, which means the business has to close until the violations are corrected. Just last week, another one was caught violating the cease operations and the city is the process of taking the owner to the Court of Common Pleas. About 40 new locations will be inspected in the next seven days, according to L&I.
"We haven't taken our eye off of the prize here, which is to improve the quality of life for these neighbors. It's just that it takes time," Perri said. "Eventually, we'll get to them all."
'How many more chop shops do we need?'
Back on Upland Street where three new auto shops are attempting to open, neighbors continue to fight. They say there are already ten auto related shops operating within two blocks.
"This is a small block and they want to bring more cars? How many more automobile chop shops do we need?," said homeowner Tracey Gordon.
One of the businesses already on Upland is the shop where Foday Bill works.
"Neighbors will always complain, but they can not shut an auto body that is legally operating, they cannot stop us from operating," Bill said. "This is a commercial land, I mean, we can do whatever we need, once we get a license to do it."
PlanPhilly spoke with many residents who were afraid to speak on the record because of retaliation. But Gordon is too tired of all of this to stay silent. She has lived in Elmwood for 20 years. Ten of them, fighting against auto shops. She takes it personally and doesn't understand why the city is not protecting her property.
"You see these chop shops coming and all these cars and it's like … Why are all these cars here? It's like … Why isn't the city protecting us? Why?," Gordon said.
The hearings for the new shops trying to open are coming up in May and June. Gordon and her neighbors will be there to try and stop them. This time, they hope their voices will make a difference.
---
Ryan Briggs contributed data analysis and visualization to this report.
WHYY is your source for fact-based, in-depth journalism and information. As a nonprofit organization, we rely on financial support from readers like you. Please give today.