Southwest meltdown: Frustrations mount for stranded travelers in Philly, across country
Southwest, the world's largest low-cost airline, does not partner with other airlines, so passengers can not be rebooked on other flights, leaving people stranded.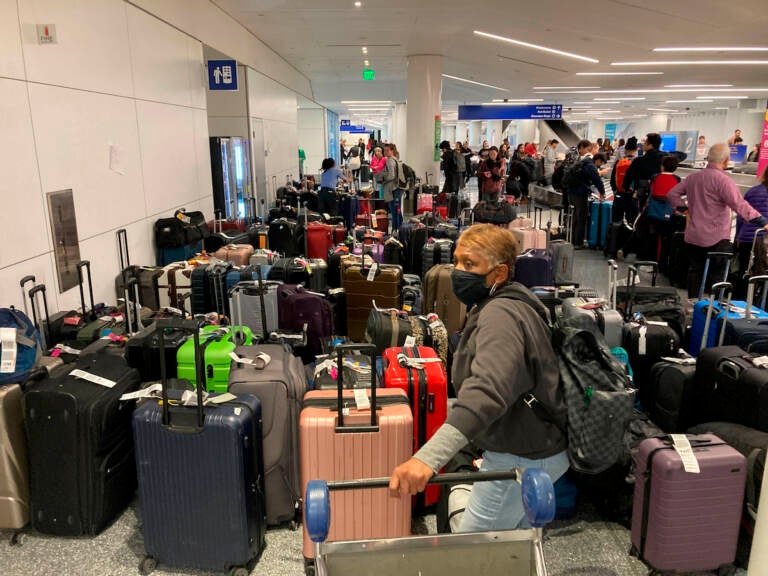 This story originally appeared on 6abc.
It's being described as one of the worst airline meltdowns in U.S. history.
The ripple effect from the winter storm that gripped much of the nation last week is still impacting travelers in Philadelphia.
A majority of the cancellations on Monday were Southwest Airlines flights, but every airline had issues.
Southwest, the world's largest low-cost airline, does not partner with other airlines, so passengers can not be rebooked on other flights, leaving people stranded.
Some travelers are being told they'll have to wait until the weekend to fly out.
Southwest canceled more than 70 percent of its entire nationwide schedule on Monday.
By Tuesday morning, that number stood at 60 percent of nationwide flights canceled.
Southwest ranks fifth when it comes to top airlines at Philadelphia International Airport, transporting more than a million passengers at PHL last year.
The airline has canceled 80 percent of its flights in and out of Philadelphia, that's 21 cancellations, nearly five times as many as the next airline.
Jay McVay with Southwest Airlines said Monday night that "the sheer size of the storm" nationwide affected all major airports.
"It's just the fact that this one started West swept east and impacted almost every single one of our largest airports that put us in a position where we struggled to recover, and we struggled to get our flight crews and airplanes where they needed to be," McVay said from Houston's William P. Hobby Airport.
Capt. Casey Murray, president of the Southwest Airlines Pilots Association, said in a statement earlier Monday that the ordeal has "been catastrophic."
"It's been a failure at every level at Southwest. Our pilots, our front-line employees have worked under enormous stress to try to get our passengers from A to B, but we were dealt a really bad hand as far as Southwest is concerned," Murray said, in part, adding that their "processes," information technology or infrastructure "just wasn't there to support the operation."
"And, unfortunately, our customers are bearing the brunt of it," Murray added.
Angry Southwest customers took to Twitter on Monday, sharing their frustrations over the delays, cancellations and long hold times to speak to customer service agents.
"With consecutive days of extreme winter weather across our network behind us, continuing challenges are impacting our customers and employees in a significant way that is unacceptable," Southwest said in a statement posted online. "And our heartfelt apologies for this are just beginning."
Southwest said it is working to "address the wide-scale disruption" by repositioning its crew and planes, which were all in the wrong spots.
The Department of Transportation issued a statement Monday night, saying it's "concerned by Southwest's unacceptable rate of cancellations and delays and reports of lack of prompt customer service. The Department will examine whether cancellations were controllable and if Southwest is complying with its customer service plan."
Airlines blame the winter weather and staffing issues for the problems.
"This is a real disappointment. I don't know why the flight is canceled," said Howard Jordan of North Philadelphia.
Jordan's Spirit Airlines flight to Los Angles was canceled Monday just before it was supposed to take off. Now, the Vietnam veteran may miss a once-in-a-lifetime opportunity.
"The Buffalo Soldiers are participating in the Rose Bowl Parade," Jordan said.
He was going to be part of the parade, but there aren't any flights available for him to get there in time.
Luggage had also piled up as passengers got separated from their bags thanks to canceled flights.
"Got on with three bags and got off with two," said Tom Simms, who traveled to Philadelphia from Atlanta.
Others improvised to get home. The Anklesaria family spent Christmas in New York and was trying to fly back to Houston when their flight was canceled. They came to Philadelphia in search of airline tickets home.
"We took a train and we did a quick two-hour tour of Philadelphia. We saw the Liberty Bell, we ate Philly cheesesteak sandwiches, we went up the Rocky Steps, and now we checked in. We hope we're going to get on an airplane," Zia Anklesaria said.
Some flights for Tuesday were already canceled the night before. You can check the status of your trip here.
___
ABC News contributed to this report.
WHYY is your source for fact-based, in-depth journalism and information. As a nonprofit organization, we rely on financial support from readers like you. Please give today.