South Philly family of refugees leaves trauma behind for hard work in America
Anyone who thinks refugees in America get a golden ticket hasn't met Tatiana Angama, born in the Ivory Coast, marooned for six-years in a tent camp in Ghana after fleeing political violence in her native land, and admitted to the United States just hours before President Donald Trump's first executive-order travel ban took effect in February.
Scrambling between two jobs, this 21-year-old mother of a 2-year-old girl works a minimum of 14 hours a day to support her family of five.
Resettled in South Philadelphia, they are three generations of women, cramped in a rundown, two-bedroom row house, reinventing themselves in an America increasingly divided over policies on immigrants and refugees.
As Trump prepares to announce on Sunday how many refugees will be resettled in the United States next year, he is expected to slash admissions to 45,000 — the lowest number since 1980 — and less than half of the last annual quota proposed by President Barack Obama.
The administration also wants to add a new layer of scrutiny when judging refugees' admission by requiring an assessment of their ability to assimilate, according to news reports.
A senior White House official said the cutback and new tests are "part of a broader rethinking of how the United States deals with migrants."
The annual reset, called "the presidential determination," comes as the global refugee population, 22.5 million, is the highest on record, higher even than after World War II, according to the United Nations High Commissioner for Refugees.
"At stake are not just the lives of tens of thousands of victims of war and persecution who dream of starting a new life in America; at risk also are American values, the United States' reputation, and American interests around the world," David Miliband, president of the International Rescue Committee, wrote in a recent New York Times op-ed.
A daily grind
Angama has little time for the debate. She catnaps in the minivan that takes her to her second-shift job at a produce-packing plant in New Jersey. She arrives for the 3 p.m. start and works until 11 p.m. — sometimes later when there is overtime. Her work mates tell her to slam 5-Hour Energy drinks to power through. The van brings her home in the wee hours. She pays $40 a week for the transportation. Her days off are Sunday and Thursday.
In her apartment near 16th and Dickinson streets, she grabs a few hours of sleep, but she has to rise at 5 a.m. to catch the subway to the 6 a.m. start of her morning shift as a breakfast attendant at a hotel in Center City.
That jobs ends at noon, and she has to hustle to catch the subway back home, where she washes up and prepares the meal she will take to her packing-plant job. By 1:30 p.m. she is standing on the corner where the van picks her up.
The temperature in the packing room where she assembles salads in small plastic bowls is cool, so she wears two pairs of pants, a long-sleeve shirt, a hoodie, rubber boots, and a knit cap.
The household she supports includes her widowed mother Giselle, 51; her sisters Ruth, 17, and Grace, 9, and her 2-year-old daughter, Ellary. The sisters attend Philadelphia public schools. Giselle watches the baby.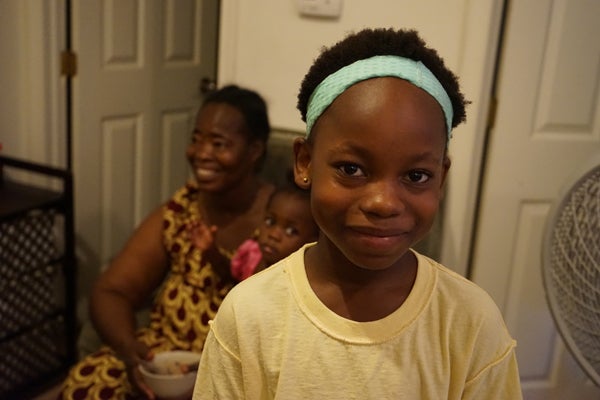 A better life, not an easy life
"Our first week here was cold, but good," Giselle recalled. "I saw our house. I was astonished. We had lived in two tents. Seeing this was like a paradise. Thanks to God."
She points to a coffee table and a small working microwave oven that she recovered from curbside trash.
"In Ghana, I would never see this, or that," she said. "In Ghana, we would never even see the things that people here throw away."
Giselle washed clothes in the camp; Tatiana lived for part of the week outside the camp in a rented room in Accra, and worked in a restaurant.
In America she is the family's sole breadwinner for the moment, because her mother is being treated for medical and post-traumatic stress issues.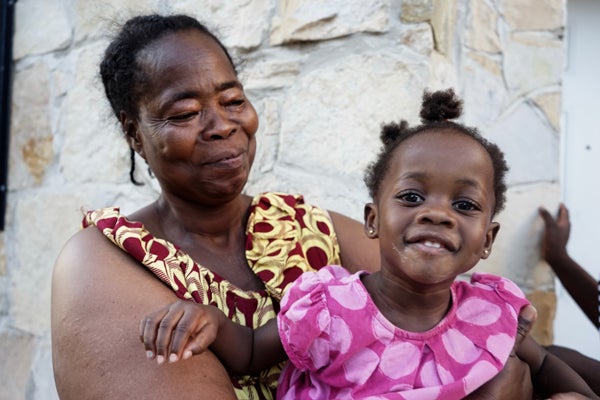 Certified by the U.N. High Commissioner of Refugees as "survivors of violence and torture," the family was resettled by Nationalities Service Center (NSC), a century-old, non-profit resettlement agency in Philadelphia.
In March 2011, the Angamas fled a bloody civil war in their native Ivory Coast, where shelling and heavy fighting killed thousands. Civilians, including the Angamas, fell victim to atrocities.
The country's incumbent president, Laurent Gbagbo, refused to leave office despite challenger Alassane Outtara winning the election. Fighting between the rival factions wrought havoc in the West African nation and displaced one million Ivorians.
Moving beyond trauma
The Angamas have no personal connection to Philadelphia. They ended up here because the U.S. Committee for Refugees and Immigrants, which processes cases, assigned them to NSC based on the Philadelphia region's capacity to accommodate their linguistic, dietary, and cultural needs.
In "We Are Neighbors," an NSC-co-produced short video to promote a clearer understanding of refugees, Giselle Angama bites back tears as she gives a glimpse of what the family has been through.
"To be honest, I need help. I need love. I have my mother — my father, my sisters, whose throats were cut in front of me," she says, recounting the horror. "So, to be honest, I am a refugee. I am not bad. As you love your children, love us … the refugees from the Ivory Coast, the refugees from all the countries of the world. Do not think badly of us. We are not bad, we are not mean …"
Under U.S. guidelines for refugee resettlement, the Angama family of five qualified for a one-time government subsidy of $1,125 per person. The family was expected to be self-supporting within 90 days. That meant the Angamas started with $5,625, out of which they immediately paid first and last month's rent, and a security deposit, totaling $2,550, leaving a remainder of $3,075.
Their apartment, arranged for them by NSC, was furnished with donated kitchen supplies and basic furniture, but the beds, linens, and pillows had to be purchased using funds from the remainder.
After they have been here for one year, they can apply for green cards. After five years, they can apply for citizenship.
On the family's third day in America, their NSC case manager, Chrissy Kubica, took them to the welfare office and signed them up for Refugee Medical Assistance, a short-term health insurance available to refugees for up to eight months. Ruth got a prescription for eyeglasses. Giselle has had two minor surgeries.
In the beginning, the family was eligible for $700 a month in food stamps. After Tatiana began earning money, the food assistance was cut to $300 a month, she said.
"From the moment I started working with them, they were all very willing to learn," said Kubica. "Giselle kept detailed notes from the very beginning, wanting to understand every monthly cost."
"The fact that Tatiana has taken on two jobs," said Kubica, shows her drive for an identity defined by more than her past trauma.
In Ghana, working as an assistant cook in a restaurant, Tatiana earned the equivalent of $30 a month. Here she earns about $9 an hour.
She said she doesn't harbor any great expectations about life in America beyond what she can achieve through hard work.
"I don't dream," she said. "When I wake up in the morning, I do what I have to do, and tomorrow is another day. I finish the day, and I take another day."