Some Philly activists praise Bush for ADA, others say he failed in face of AIDS epidemic
Listen
3:16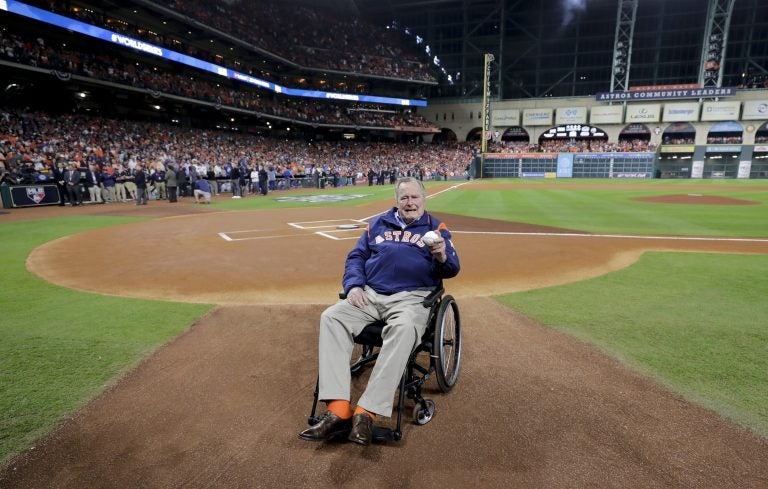 As George H.W. Bush's state funeral takes place in Washington, D.C., activists in Philadelphia are remembering the 41st president's legacy as a mixed bag.
One of the major pieces of legislation that Bush signed was the Americans with Disabilities Act, a law that prohibited public agencies as well as private businesses from discriminating against those with disabilities.
That covered everything from employment protections to listening-assistance devices on polling machines to curb cuts. It might be hard to remember now, but 30 years ago most sidewalks in downtown Philadelphia did not have slopes cut into the curb at crosswalks, making it tough for people in wheelchairs or using walkers.
It was a hard-won fight. When the bill stalled in Congress in 1990, activists with ADAPT — a direct-action disability rights group — wheeled themselves to the Capitol, abandoned their wheelchairs, and crawled up the stones steps on hands and knees.
One of those people was Cassie Holdsworth who recalled the roadblocks.
"It was stalling, and a lot of it was around the AIDS language, but we wouldn't give up on that being considered a disability," said Holdsworth, now vice chair of Liberty Resources, a Philadelphia disability advocacy organization. "We just kept the pressure up, and we won it."
When Bush signed the ADA into law in 1990, he made a point to invite everyone who had been arrested during the debate to come to the White House as witnesses. That included all the radicals with ADAPT.
"It was his most humane act," said Holdsworth. "He did respect disabled people. He didn't pat us on the head. I don't think his son got us. His son was patronizing. I think the father really saw us as equal human beings, worthy of a chance to work."
The enduring ADA legacy became more poignant as the former president's health deteriorated. Bush, who was 94 when he died Friday, used a wheelchair, a fact the former president did not hide. He was often photographed in the chair — and he even on the field in his chair for the first pitch ceremony in last year's Game 5 of the World Series in Houston.
Bush is remembered less fondly in the gay community.
"What we saw in the 1980s with Reagan and then the Bush administration was the lack of a strong leadership at a time of a big public health crisis," said Rob Reichard, CEO of the AIDS Fund.
The Americans with Disabilities Act specifically included protections for people with HIV — and Bush also signed into law a bill on hate crimes bill that explicitly recognized crimes against gay, lesbian, and bisexual people (the first federal law to do that). But some say it was too little, too late.
By the end of Bush's term of office, about 100,000 people had died of AIDS.
"People were dying," said Reichard. "We needed leadership and compassion and a president who would utilize that bully pulpit to address the epidemic and calm the fears of everyday Americans, show compassion for those of us losing our friends and loved ones, and being an advocate for a stronger response in regards research.
"All those things would have made a big difference in the epidemic."