Sixth Democrat enters race to oust Republican U.S. Rep. Pat Meehan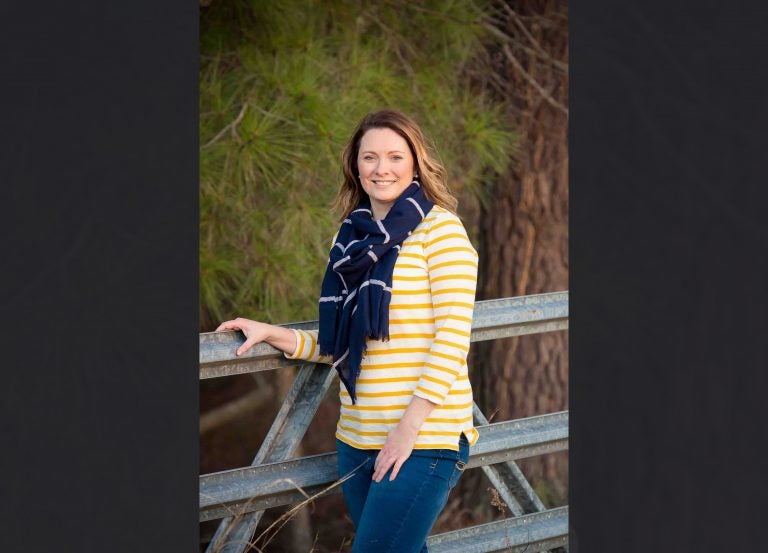 A new Democrat has emerged to run for the suburban congressional seat held by Republican U.S. Rep. Pat Meehan, who was named in a sexual harassment case over the weekend. The newcomer to the race is Shelly Chauncey, a 37-year-old veteran of the CIA and a first-time candidate for office.
Meehan represents Pennsylvania's 7th Congressional District, which includes parts of Delaware, Chester, Montgomery, Berks, and Lancaster counties.
There are already five announced candidates for the Democratic primary, but party leaders have been looking for another after the previous frontrunner, State Sen. Daylin Leach, was wounded by sexual misconduct allegations last month.
Democrats were looking at an uphill fight to capture seat from Meehan, a formidable four-term incumbent. That was before Saturday, when the New York Times reported that Meehan had privately settled a sexual harassment claim from a woman on his staff who was decades younger.
Chauncey actually registered her campaign committee Thursday, two days before the Meehan bombshell.
I asked Chauncey, who is married and a mother of three, whether she volunteered or was recruited to run for the seat.
"I think it was a combination of just talking to people and realizing I just couldn't sit back any more," she said.
Chauncey said she was considering running for a local race, and as she talked to Democratic leaders, "it was suggested that because of the issues that I care about that I should consider running for this seat."
Chauncey is a cancer survivor who said health care is a key issue for her. She said she favors a single-payer system, but believes that won't be possible for a long time. She favors beginning with ensuring that all children have health insurance.
The other announced Democratic candidates are Dan Muroff, a lawyer and former congressional staffer; bioengineer Molly Sheehan; realtor Elizabeth Moro,  IT executive Drew McGinty; and Leach, who said last month he was "taking a step back" from his congressional campaign.
Meehan's wounds
Meanwhile political observers now wonder whether Meehan can be a viable candidate for re-election now. He was removed from the House Ethics Committee, which will now conduct an investigation into his case.
Meehan has denied he sexually harassed the employee, and has called for the removal of confidentiality requirements on the settlement "to ensure a full and open airing of all the facts."
Alexis Ronickher, the attorney for the complainant, responded by saying that Meehan knows that "his former staffer prizes her privacy above all else," and adding that if Meehan "further violates the confidentiality strictures he insisted upon and he agreed to, he will leave our client no choice but to seek legal recourse."
Republican leaders are sticking with Meehan for now.
U.S. Rep. Steve Stivers (R., Ohio), head of the National Republican Congressional Committee, called the accusations "troubling" but said he'll wait to see what the Ethics Committee investigation yields.
"I'm not going to assume somebody's guilty until proven innocent," he said.
But the history of elected officials who've faced similar allegations is anything but comforting to Meehan.
We may soon find Republicans trying to get Meehan out of the race and scrambling for a replacement, while Democrats hope he stays in.
Whose district is this anyways?
Meanwhile the Pennsylvania Supreme Court has declared the state's districts unconstitutionally gerrymandered, so all candidates could be running in re-drawn Congressional seats when they file in March.
Meehan's district is widely regarded as the most gerrymandered in the state, and one of the most gerrymandered in the nation.
The court has called on the state legislature to approve new boundaries by Feb. 9, which is four days before candidates are permitted to start circulating nominating petitions. The court expects to have the map approved by the governor by Feb. 15, or face the prospect of the court drawing the new map itself.
Senate Republicans are going to the U.S. Supreme Court seeking a stay of the order, so what happens next is anyone's guess.
WHYY is your source for fact-based, in-depth journalism and information. As a nonprofit organization, we rely on financial support from readers like you. Please give today.