Six months after Hurricane Maria, Philly and Jersey offer lifeline to displaced Puerto Ricans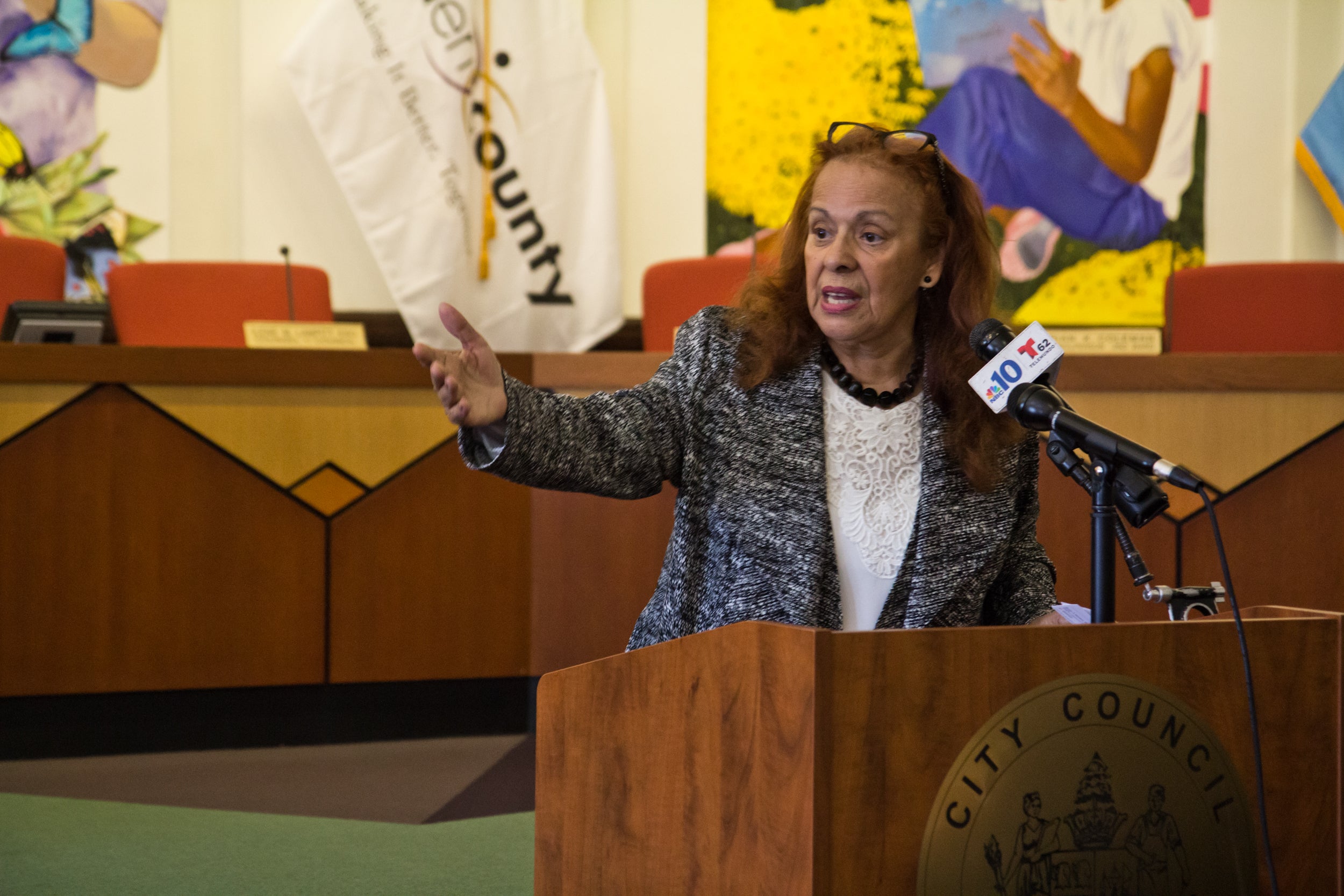 It's been six months since Hurricane Maria ripped through Puerto Rico, destroying thousands of homes and sending more than 900 displaced families to Philadelphia.
For many of those families, the past half-year was spent moving between hotel rooms, churches and the homes of friends or family. Still in the works across the region was a long-term strategy for housing people without a promise of sustained federal support. But after months of collaboration between nonprofits, faith-based organizations, local government agencies and the Latino community, institutions are adapting to the challenges posed by migration caused by extreme weather.
"We've had some productive things happen in the sense that we now have a long term recovery committee established that can connect with the Pennsylvania VOAD funding stream," said Will Gonzalez, executive director of the nonprofit group Ceiba. "There's also been some progress in the way that the city has allocated, to begin with, five special preferences [houses] with the Philadelphia Housing Authority; there's been some good conversations with HUD, they're taking some affirmative steps; some of the foundations are stepping up; some people are making great volunteer work in the community; and some nonprofit organizations are also coordinating their activities and meeting — so there's some good stuff going on."
On Monday, another piece of positive news was delivered to Ambler-based Lutheran Congregational Services (LCS). The non-profit received an almost a $98,670 grant from Lutheran Disaster Response – Evangelical Lutheran Church in America (LDR-ELCA) to support Puerto Ricans who relocated to Philadelphia, Allentown, and Reading areas following Hurricanes Irma and Maria.
Yet the work goes on. Six families had to move out of hotel rooms provided by FEMA this week, and local aid workers are still struggling to find long-term shelter for them.
"We are working on it," said Julia Menzo, coordinator of disaster preparedness and recovery for Liberty Lutheran and Southeastern Pennsylvania VOAD co-chair. "It is very difficult."
Another 22 families now in Philadelphia will lose their hotel rooms on April 20 or May 14. Pennsylvania Governor Tom Wolf and the Governor of Puerto Rico Ricardo Rossello still haven't come to a host state agreement that would enable Pennsylvania to tap federal aid for evacuees in the state, according to FEMA.
Kate Goodman, a community organizer with the Lillian Marrero Branch of the Free Library of Philadelphia who has been working with evacuees for months, said they're trying to find solutions on a case-by-case basis.
Hector Rodriguez, 66, is one of the people in need of shelter, said Goodman. Another is Muriel Rivera, 28, who came to Philly with his six-year-old child after Maria blasted their home.
"Hector, we hope he can live in this church, Muriel found a friend in Harrisburg and moved there, and Angel [Rodríguez], his wife and two young daughters… we don't know", Goodman said. "The long-term recovery group is scrambling to find resources right now. They could end in homeless shelters."
Last Friday, the Greater Philadelphia Long Term Recovery Committee, a group of over 40 agencies coordinating help for Puerto Rican evacuees initiated by Menzo's organization, and Unidos Pa'PR, along with local and federal emergency agencies, adopted bylaws that will help them continue to make progress.
Last week, the mayor agreed to open five spots for housing using a Philadelphia Housing Authority policy that gives "special" and "super" preference for people displaced by natural disasters.
González said that while different agencies are chipping in with help for long-term housing solutions, he is disappointed by PHA's slow progress in helping disaster evacuees using the "super" preference.
"They need to come up with a process, they need step up to the plate, they need to show their humanity. And we're looking forward to trying to establish that in the next few days," González said.
PHA, for its part, said on Tuesday that the agency is ready to help families as soon as the proper steps are taken by the city.
"The Super and Special Preferences both require that families be referred by agencies with oversight over disaster assistance. At this time, the City's Managing Directors Office serves as the referral agency… Once a family referred to us with the Super or Special Preference designation they go to the top of our waiting list, meaning they would be offered a suitable home as soon as one becomes available," said PHA spokeswoman Nichole Tillman in a statement.
"As we have said all along, we are prepared to serve these families," Tillman said.
The spokeswoman also noted that PHA operates permanent housing developments and "does not own or operate temporary or immediate emergency housing."
As of January, 2,568 evacuees who had registered with FEMA indicated that they were living in Pennsylvania, and over 2,000 displaced students from Puerto Rico have enrolled in Pennsylvania school districts — 380 in Philadelphia, 367 in Allentown, 229 in Reading, and 160 in Bethlehem.
Meanwhile, the number of Puerto Ricans who relocated to New Jersey after Hurricane Maria devastated the island has nearly doubled, since Governor Phil Murphy created a 18-member Commission on Puerto Rico Relief in February. On Monday, the commission told South Jersey elected officials that there are more than 60,000 Puerto Rican evacuees in the state, and about 866 Puerto Rican children in state schools. In February, the statewide estimate was 30,000.
According to the commission, housing ranks as the top challenge facing these 60,000 displaced Americans. About 65 families are still staying at hotels through FEMA's TSA program, and many more have been sleeping in sofas or couches for months in friends and family houses, at shelters, and even in cars.
But the joint commission is also hearing about another big problem. Many professionals coming from the island have not been able to land a job because their professional licenses are not valid once they cross the ocean. And it's like the chicken or the egg. Without a job, they can't pay rent.
Peggy Anastos, vice chair of the joint commission, said professionals coming to New Jersey from other states don't face the same issues.
"Why do the Puerto Rican people have to wait so long or have to go through so many loops to get the same license," Anastos asked South Jersey elected officials gathered at Camden City Hall. "Puerto Rico in its Constitution is considered like a state. Treat us then as American citizens and treat us like another state."
Commission member Sam Delgado asked South Jersey officials to support a bill proposed to the Assembly on December to revise the law on out-of-state licenses to include Puerto Ricans.
Camden mayor Francisco "Frank" Moran, who has family in Puerto Rico, said South Jersey needs a long-term vision plan and promised to endorse it.
"I, as mayor of this city, pledge to continue to work and create as much opportunity as possible for those Americans that are coming to New Jersey and Camden from Puerto Rico and I pledge to continue to work with this group and our leadership," Moran said.
Camden County received more than 400 Puerto Rican families after Hurricane Maria. A recent report from the Center for Puerto Rican Studies at Hunter College said that there were 139 Puerto Rican students relocated to Camden County school districts. But school authorities attending the meeting said the number was double that.
"My fear is in three more months hurricane season starts again, people will be without electricity all over again, so who knows what that is going to bring," said New Jersey state Sen. Nilsa Cruz Pérez.
Editors Note: A factual error contained in a quote has been corrected. The city agency with oversight of disaster assistance is the Managing Director's Office.