Shedding light on homeless youth, America's 'invisible children'
Homelessness is perhaps a bigger problem among our nation's youth than you may have imagined. And they are right here in our backyard.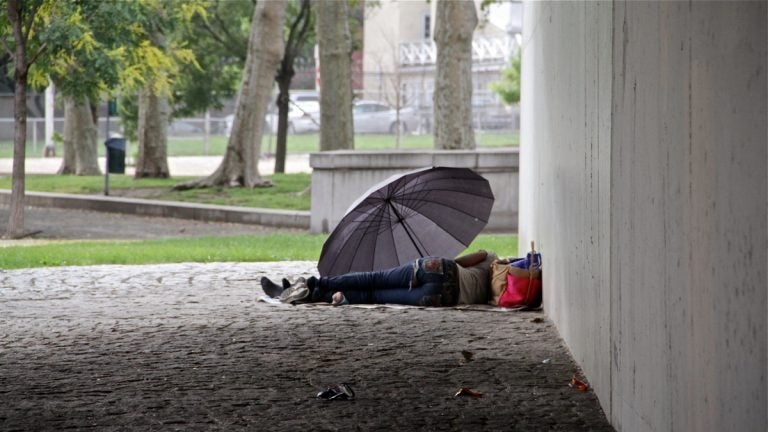 Homelessness is perhaps a bigger problem among our nation's youth than you may have imagined. And they are right here in our backyard.
600: the number of homeless youth estimated on any given night in Philadelphia

140: the number of beds available for homeless youth aged 18-24 in Philadelphia

29: the number of beds available for homeless youth aged 12-17 in Philadelphia

50: the percent of homeless youth who struggle with mental health issues (PTSD, depression, anxiety, suicidal thoughts)

40: the percent of homeless youth identifying as LGBTQ
Where are these kids? It's no wonder that we call them "America's invisible children."
Imagine yourself walking in the neighborhood where you live. You have the clothes on your back but nothing else to hold onto. You know the streets well and can find your way around. You're stuck in this familiar place, seeing the same passers-by every day. However, you can't set foot in your own home. Where do you go?
Now, rewind this scenario and play it back with the role played by the 13-year-old version of yourself, and it becomes a traumatic experience.
The U.S. Department of Education defines a homeless person as "an individual who lacks a fixed, regular, and adequate nighttime residence." However, this definition underestimates the real problems homeless youth face in our country. Children living with housing insecurity, poverty, lack of resources, and exposure to violence undergo extreme stress at an already difficult time in their development. On a physiological level, these adverse childhood experiences (ACEs) lead to an overproduction of cortisol, the hormone that our body creates under physical or emotional stress. From violence, victimization, and perpetration, early childhood experiences carry a lifelong impact on a person's mental and physical health.
What is most astounding about homeless youth is their resilience. With no money and perhaps a cell phone, the social Darwinism at play is telling us that these kids are resourceful. As a resident physician, I had the opportunity to work at Youth Emergency Service (YES), the only shelter in Philadelphia for children 12-17.
During this time, I met a young woman who sought shelter to escape violence in her home. Her mother was abusive, her father was incarcerated and her only family support was an older sibling who is deployed overseas in the military. Couch surfing and working part time became her way of survival, but she remained determined to obtain her GED and to enlist in the Marines by age 18.
It wasn't until a family friend took advantage of her income that she decided to seek help at YES. And while this short stay in a homeless youth shelter was a bump in the road, she didn't appear shaken by the events that led her to seek assistance. This young lady was inspiring. However, for every strong and determined homeless youth, there are dozens struggling to survive. These children are not only dealing with unstable housing. They often face a variety of challenges, such as food insecurity, physical and sexual abuse, fragmented health care, and frequent interruptions in education. LGBTQ youth face an additional layer of inequity and often struggle to find safe and accepting shelters. YES provides a secure and supportive environment for 20 youth in Philadelphia, but is only a temporary safe haven for up to 30 days. 
How do we help these individuals? The first step is to realize they exist. We rarely see homeless youth on the streets, so it's understandable that these issues are not more widely discussed. It's time to advance the conversation. 
Thankfully, there are individuals who are not only having these conversations, but intend to create change. Project HOME is preparing to close a deal on an LGBTQ-friendly project that will provide affordable housing for homeless young adults ages 18 to 23 in North Philadelphia. Thomas Jefferson University physician R. Patrick McManus has provided adolescents with medical care at YES as its medical director. By exposing young resident physicians to the many barriers seen by homeless youth, he is training the next group of individuals who can eliminate these healthcare disparities. Lastly, Fairmount Primary Care Center (in association with Delaware Valley Community Health) has recently agreed to provide expedited health care access to the homeless youth under shelter at YES. This agreement effectively provides primary care services to at-risk individuals who otherwise lack resources related to mental health, vaccinations, contraception, or other health care needs.
Homeless youth deserve the best possible chance to thrive and succeed despite the many obstacles in their lives. They deserve to have the support of our communities to ensure their healthy development and brighter future.
—
Scott Holmes, D.O., is a third-year combined internal medicine-pediatrics resident at Christiana Care Health System and Sidney Kimmel Medical College at Thomas Jefferson University.
WHYY is your source for fact-based, in-depth journalism and information. As a nonprofit organization, we rely on financial support from readers like you. Please give today.