September 16: Ken Trujillo in for #PHL2015 | Philly's high transpo costs | Back to the future with Carl Dranoff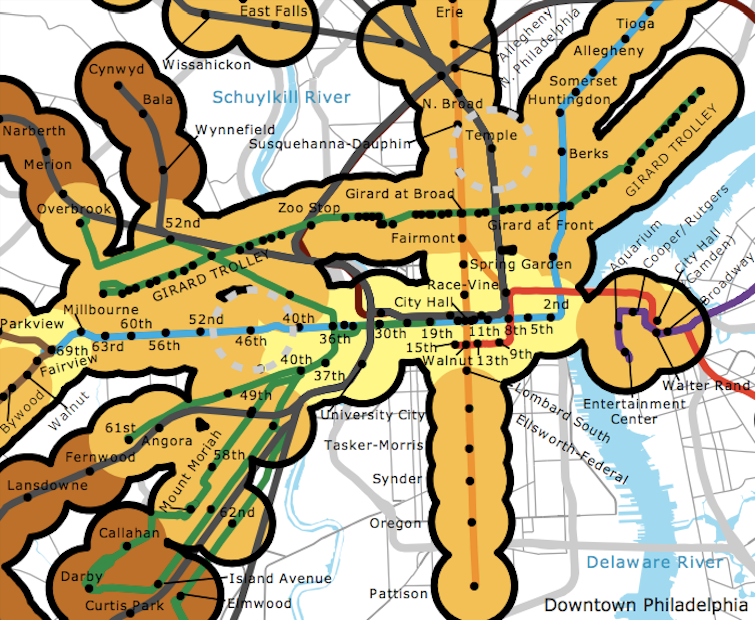 Former city solicitor Ken Trujillo is getting into the Philadelphia Mayoral race tomorrow. The choice of Bill Hyers as campaign manager is interesting, as Hyers ran NYC Mayor Bill DeBlasio's 2013 campaign, President Obama's 2012 statewide campaign in Pennsylvania, and Michael Nutter's 2007 campaign.
Everybody knows Philadelphia is more affordable than New York, but the advantage disappears if you own a car. Philly has lower housing costs than NYC, but higher transportation costs, and ends up with a similar location affordability profile when the whole housing and transportation affordability are considered together. Here's a map of transportation costs in Philadelphia, using 2000 Census data.
Cha-ching: a whole bunch of pedestrian and bike projects we've written about here at PlanPhilly will be receiving state funding, reports Sarah Clark Stuart, including the 40th St trolley portal, DRWC's Spring Garden St connector, the CHOP pedestrian bridge, and bike share among so many others.
Hidden City co-editor Michael Bixler remembers the old Dilworth Plaza, through the lens of Occupy Philly.
A poll conducted by HNTB Corp "found 79 percent of U.S. residents would support the addition of a toll on a non-tolled surface transportation facility if it resulted in a safer, congestion-free and more reliable trip. The poll found 83 percent of its respondents would also support tolls on highways that are currently free, which has been a source of contentious debate in Washington."
Sandy Smith interviews Carl Dranoff, who offers some thoughts on the state of the multifamily market and his investment strategy "I call this 'Back to the Future,'" he said. "We already had the playbook, we executed it, it was successful, and we bootstrapped ourselves up to a critical mass of residential new construction where we could offer a great selection to the buyer or renter."
WHYY is your source for fact-based, in-depth journalism and information. As a nonprofit organization, we rely on financial support from readers like you. Please give today.