Restoring Bucks service a hard sell
Oct. 7
By Anthony Campisi
For PlanPhilly
Paul Iverson seems like an unlikely advocate for restored train service to Newtown.
He has never lived in Newtown, and as a Chester County resident, he won't see his commuting time shortened by the new train line.
But as a passionate train proponent, the idea of more service in Bucks County was too good to pass up.
Iverson is part of a group of about 20 that is now pushing for SEPTA to bring back service along the old Reading line between Fox Chase and the Bucks County borough.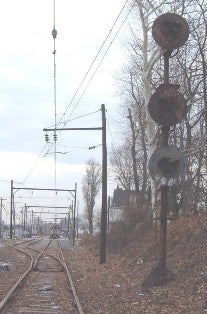 Fox Chase – Central Philly Line. Photo courtesy r8newtown.com
He argues the time is right to bring back service that was abandoned because of poor conditions and neglect in the early 1980s.
At the time, the Newtown branch was the black sheep of the SEPTA rail network. Since it wasn't electrified, riders had to transfer from a diesel train to an electric one at Fox Chase. The train cars weren't air conditioned, and service was plagued by labor disputes and protests from Conrail workers whom SEPTA replaced.
SEPTA discontinued service from Fox Chase to Newtown Jan. 14, 1983, a little over a year after it bought the line from Conrail.
Though several efforts have been made to restore service — most recently, Bucks County commissioned a study in 2005 to turn the unused right of way into a bus rapid transit line — none has panned out.
Advocates worry that time may be running out, since SEPTA has leased part of the old right of way to Montgomery County for a trail.
They argue that restored service to Newtown — which would also run through Richboro, Abington and Southampton — would alleviate congestion on neighboring lines.
"The nearby lines are maxed out in the morning," Iverson said, explaining that when he lived across the street from the Cornwells Heights station a few years ago, he noticed many commuters had to drive half an hour from the train station to their homes, which are closer to this proposed line.
His group projects that a Newtown extension would draw about 7,000 passengers daily and cost about $300 million up front to rebuild the line.
"To do it right and to do it smartly it doesn't have to be gold-plated," Iverson said.
The Reading Railroad installed a telegraph/trainline phone system along the Newtown line. The poles and equipment were located on the right side of this photograph. Just beyond the trees is the Street Road overpass, and a second Semaphore Signal tower which is also intact as the one next to the station is. Photo courtesy r8newtown.com
Though that number might be too conservative, even $300 million isn't an investment that SEPTA will be making anytime soon, according to Michael Boyer, manager of the Delaware Valley Regional Planning Commission's office of long-range planning and economic coordination.
The problem isn't that a Newtown extension is a bad idea, the problem is finding the money to build and operate a new line.
Act 44, which provided SEPTA with its first dedicated source of state funding, doesn't leave much money for expansion. Instead, the law was crafted to allow SEPTA to bring its network up to a state of good repair.
Most of the capital spending the DVRPC and SEPTA have planned is for renovations — replacing power substations and old rail tracks and rebuilding stations that have fallen into disrepair.
"There's a lot of things that you have to address when you have an older, mature system," SEPTA CFO and treasurer Richard Burnfield said.
The authority's major new capital project is the smart card system, which "benefits everybody," said Greg Krykewycz, DVRPC senior transportation planner.
Fare modernization is something that "everybody can get behind," he explained.
BEFORE and AFTER – RDC Leaving Newtown Station 1982 with the track to the right leading to the yard, and the immediate switch to the Frost-Watson lumber yard. Photo courtesy r8newtown.com
And even if SEPTA does get an infusion of capital dollars, the Newtown project will probably be behind other long-sought after extensions, like the plan to extend the Norristown High-Speed Line to King of Prussia or the R5 to Atglen.
Those projects, and the current one under way to extend the R3 to Wawa, represent a much smaller capital and operating investment on SEPTA's part. The King of Prussia extension only represents a two or three mile project with three stations, Boyer said, while the Newtown extension would "be one of the more expensive projects."
To get a project of Newtown's size built would require an infusion of dollars from the state or the federal government on a large scale or the implementation of a regional taxation scheme, which other regions have adopted but the Delaware Valley has so far avoided.
Even assuming the money exists on the capital side, SEPTA would also have to pay to operate the line, as all of its regional rail lines lose money.
Also lacking is political support. While some projects are moving slowly forward because of county support — like the proposed system extension along Route 422 — several Montgomery County communities object to a Newtown extension.
Communities like Bryn Athyn wouldn't see a train station but would have to deal with the noise of trains.
"You always want the buy-in for the municipalities," said Leo Bagley, Montgomery County assistant director of planning, who said that money was better spent on improving service on the adjoining R2 and R3 lines.
To get a project like the Newtown extension off the ground will require a large amount of political capital. Iverson said that his group has approached several area lawmakers, who have expressed interest in the idea.
The question is whether that interest can be leveraged to get results.
ON THE WEB:
Contact the reporter at campisi.anthony@gmail.com