A second look at I-95 artifacts, with a chance to tell your own river ward history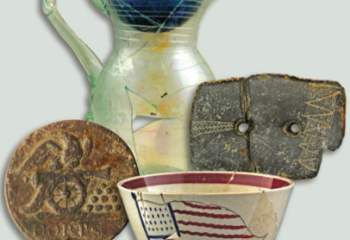 Artifacts discovered as part of the re-do of I-95 through Philadelphia's river wards will be on display during a Nov. 15 presentation at Kensington High School for the Creative and Performing Arts.
Response to a similar, but smaller event held last fall was overwhelming, said Doug Mooney, senior archaeologist with URS Corporation, the company doing the historical digging for PennDOT. So event organizers – URS, PennDOT, The Central Delaware Advocacy Group and the New Kensington Community Development Corporation – decided to hold a second event.
This time, Mooney said, the venue is bigger, so there will be twice as many tables of artifacts and related items. Just like last year, Mooney will tell stories of what was found, and the people who left them – from pre-history Native Americans to colonists and others. There will be an emphasis on objects and information discovered over the past year, but there will be some review, for anyone who missed last year's presentation.
A URS staff member will be stationed at each table to provide information and answer questions about the artifacts on display.
Totally new this year: One table will focus on what people ate, with plant and animal remnants of their meals on display. "This will include things like snapping turtle and sturgeon remains, fish scales from a variety of species," Mooney wrote in an email. Staff at the table will talk about what these meal remains say about the people who lived in the past and what they ate. A selection of recipes to prepare 18th and 19th century meals will also be on display.
At other tables, archaeologists will explain how they study what they find: The process for cleaning and sorting artifacts, for determining the identity of fragments and piecing multiple remnants back together.
Event-goers can also learn how archaeologists use new computer technology to make three-dimensional recreations of artifacts.
In addition to showing physical evidence of the past, event organizers want to capture living histories from older community residents who can talk about the river wards' past with first-hand knowledge. "Last year, we were approached by many older members of the community who wanted to share their stories of life in this part of the city when they were growing up," Mooney explained.
Drexel University Professor Glen Muschio and his students will set up a portable recording station to record these memories, which will be saved for later use. Mooney says the end result will be similar to the stories heard on NPR's StoryCorps.
The event will run from 6:30 to 9 pm at the high school, 1901 N. Front Street.