Scandal du jour: Team Trump shelters and defends wife-beater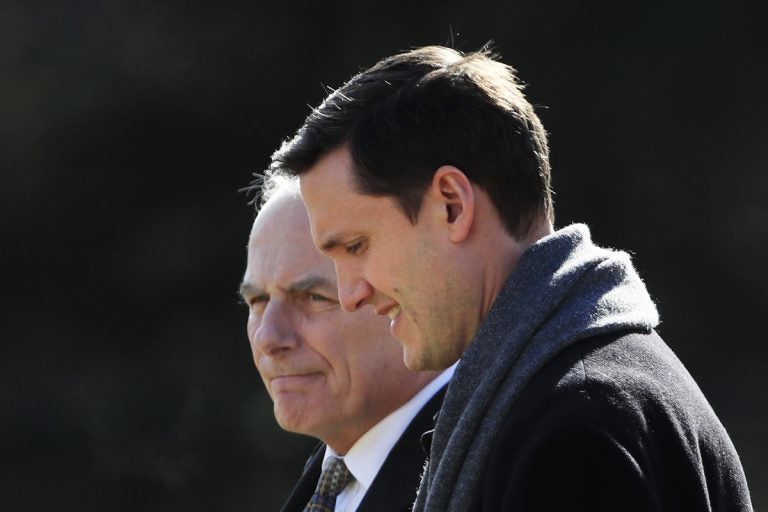 Seriously now. Is it even conceivably possible that we can go a whole day without the Trump crew oozing fresh sleaze?
This regime's contempt for women has long been established, starting with the top guy's sexual harassment boasts and the #MeToo testimonials of at least 16 women. So it's not a major shock that staff secretary Rob Porter, an influential backstage aide who legally vetted Trumpian documents and helped direct Trumpian policy, is suddenly heading for the exit after being outed as a serial wife abuser. Two ex-wives, actually. Plus an ex-girlfriend.
The facts were bad enough — there are photos of physical abuse; there's a court order that required Porter to stay away from wife #2 — and his initial reaction yesterday, after his ex-wives spilled the beans in the press, was worse. He dismissed the photos and protective order as "outrageous allegations … simply false … vile claims" — the kind of stuff that wife-beaters typically say, even when cornered by actual evidence.
But the real scandal here is the behavior of this historically incompetent White House. "Extreme vetting" is reserved for immigrants; if you're a white American wife-beater, no sweat, you're golden. Remember, Trump hires "the best people."
Turns out, the FBI unearthed Porter's serial abuse during its '17 background check. The FBI reportedly informed the White House last November that Porter was a problem, but it did nothing. Chief of Staff John Kelly — you know, the so-called Adult in the Room — knew all about the second ex-wife's protective court order, but he did nothing. Quite the contrary, in fact. Kelly kept expanding Porter's role, to the point where Porter helped write the State of the Union speech.
Trump trolls may well say, "So he was allowed to keep his job after two ex-wives talked about his private life to the FBI — what's the big deal?" Here's the big deal: The FBI, having probed Porter's notorious background, denied him full security clearance. But Porter, as staff secretary, handled a steady stream of classified information — a task that required full security clearance. John Kelly knew for months that Porter was a domestic abuser, and he knew for months that Porter was handling classified material for which he was not cleared. But he did nothing.
How would Fox News and Sean Hannity have reacted if this episode had occurred during President Obama's tenure? How would they have reacted if Obama's team had sheltered an abuser and security risk who'd been restrained by a court order (which said that "reasonable grounds exist to believe that he has committed family abuse and there is probable danger of a further such offense")? The chyron "Wife-Beating Security Risk" comes to mind. I also dimly recall that Trump stumped in '16 on the theme that Hillary Clinton played fast and loose with classified info, but that was so 18 months ago.
The Trump team has also handled this episode with predictable tin-eared ineptitude. Kelly's first reaction, after the initial press reports surfaced, was to hail Porter as "a man of integrity and honor. I can't say enough good things about him." For the millions of women sensitized by the #MeToo movement, Kelly's praise for the abuser will reinforce their accurate belief that the Trump regime is replete with reactionary piggery.
After all, this regime endorsed a credibly accused child molester for the U.S. Senate — discounting the allegations of multiple women — and this president has even suggested that a female senator, Kirsten Gillibrand, "would do anything" for a campaign donation. And this political party still hasn't coughed up the campaign donations it received from Steve Wynn, the serial sexual abuser and disgraced casino mogul.
Kelly and the rest of the Trump team had plenty of advance warning about Porter — not just from the FBI, but also, if it cared to look, from social media. One of the ex-wives wrote about her abusive marriage last April on Instagram: "When I tried to get help, I was counseled to consider how what I said might affect his career. And so I kept my mouth shut." But after the first wave of stories broke in the press, their first instinct, naturally, was to shelter the abuser and protect his job.
It was not until late yesterday, when a second wave of stories appeared, that Kelly miraculously saw the light and issued a new statement: "I was shocked by the new allegations released today against Rob Porter." (Thus mimicking Captain Renault's discovery that people gambled at Rick's Casablanca casino.) "There is no place for domestic violence in our society … I accepted his resignation earlier today, and will ensure a swift and orderly transition."
I hear Harvey Weinstein is available. OK, bad joke.
But are we surprised that this crew would show such disrespect for women? As the old saying goes, "A fish rots from the head down."