Richmond Street detour starts Feb. 3 for replacement of overhead railroad bridge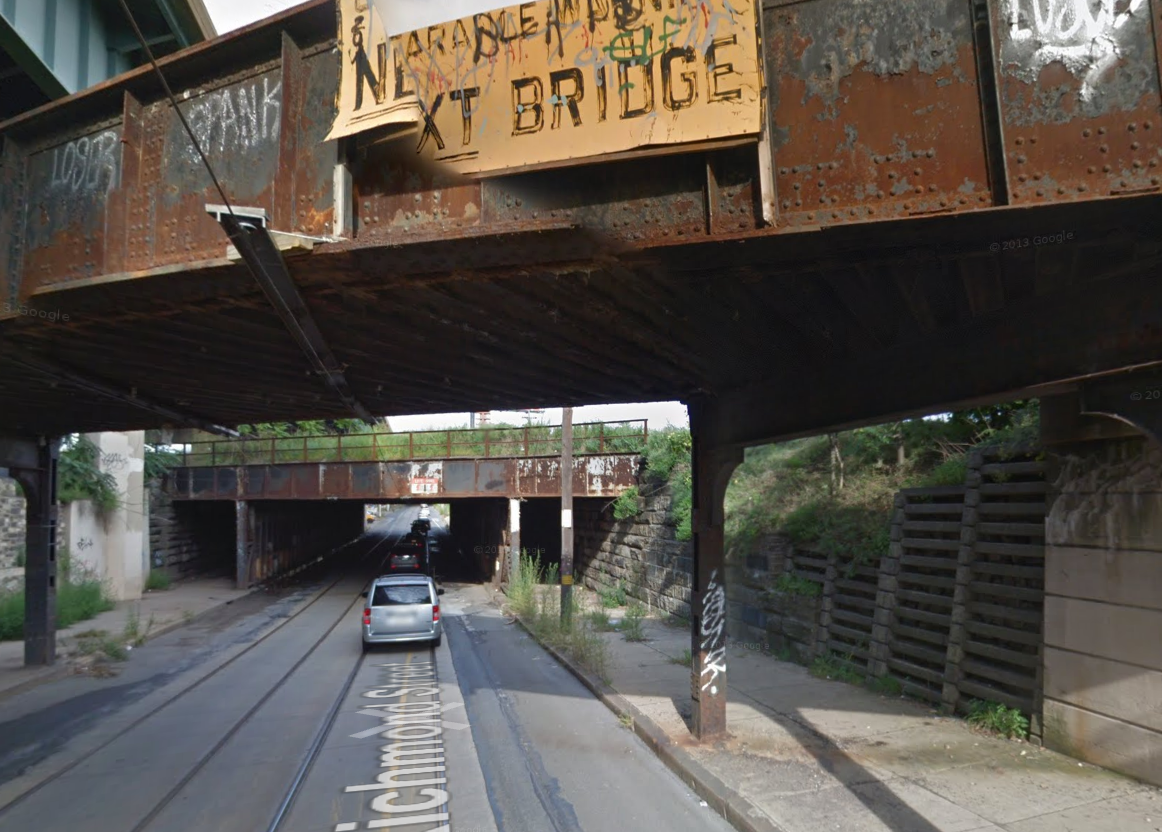 Operation part of $91 million improvement at I-95/Girard Avenue Interchange
Richmond Street will be closed to through traffic and detoured between Lehigh Avenue and Cambria Street in the Port Richmond neighborhood of Philadelphia for approximately two years beginning Monday afternoon, Feb. 3, for construction of four new overhead Contrail bridges and the replacement of a large sewer main, the Pennsylvania Department of Transportation said today.
Richmond Street was previously scheduled to close on Jan. 23, but the closure was postponed due to severe winter weather conditions.
Construction on Richmond Street is part of PennDOT's $91.3 million project to improve surfac streets and relocate utilities in the vicinity of the Interstate 95/Girard Avenue Interchange. This project, which is scheduled to finish in early 2016, is the second of six in PennDOT's program to rebuild and improve three miles of I-95 and its interchange at Girard Avenue.
A posted detour will take Richmond Street through traffic over Lehigh Avenue, Aramingo Avenue and Allegheny Avenue while crews build four new structures to carry Conrail tracks over Richmond Street. In addition, the contractor will replace a sewer main and finish relocating Richmond Street to the east between Lehigh Avenue and Ann Street.
In conjunction with closing part of Richmond Street on Monday (Feb. 3), PennDOT also will shift Richmond Street traffic over to the rebuilt and relocated section of the street between Dyott Street and Lehigh Avenue.
PennDOT is rebuilding Richmond Street on a new alignment to the east of the existing roadway to make room for a new ramp and other improvements on I-95.
The rebuilt and relocated Richmond Street will include two through lanes, a center turn lane, tracks for SEPTA's Route 15 trolley, northbound and southbound bicycle lanes, sidewalks and decorative street lights. A long retaining wall with "form liner" finishes depicting waterfront-themed images separates Richmond Street from the Conrail property on the east side of the street.
All improvements are expected to be completed and Richmond Street reopened in early 2016.
In addition to the work on Richmond Street, PennDOT is currently rebuilding I-95 between Palmer Street and Frankford Avenue, which is the third project in PennDOT's program to improve I-95 from Race Street to just south of Allegheny Avenue and to rebuild the interchange at Girard Avenue. The fourth project, which is scheduled to start by early spring, will reconstruct the northbound side of I-95 from Columbia Avenue to Ann Street and rebuild Delaware Avenue.
For more information on the I-95 improvements in the area of the Girard Avenue Interchange, visit www.95revive.com.
PennDOT reminds motorists they can log on to www.511pa.com or call 511 from any phone to check traffic conditions on I-95 and other major highways before heading out.
For more PennDOT information, visit www.dot.state.pa.us. Follow local PennDOT information on Twitter at www.twitter.com/511PAPhilly.