Review: The bittersweet tune in 'brownsville song'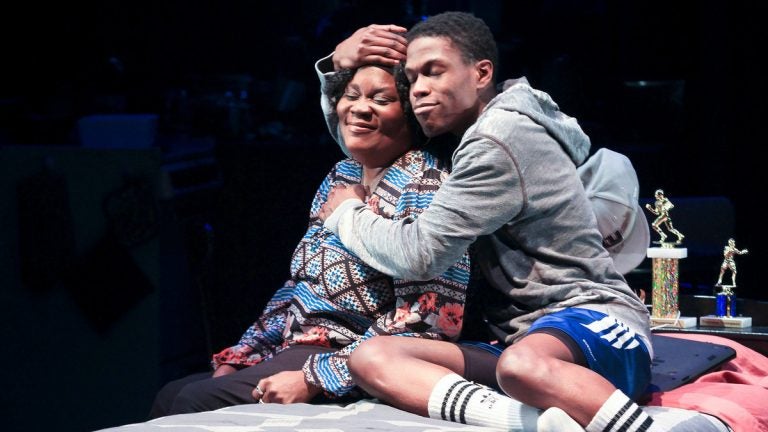 The sweeter that things seem in the new play "brownsville song," the sadder they are. Even when a black high-school senior named Tray has a rare moment he can really be proud of, the effect is devastating.
That's because from the play's start, we know that Tray is an inner-city statistic, a headline we read and then move on to the next item because, as Tray's grandmom explains through her grief in the play's opening scene, "It's too much, It ain't comfortable." In this, she sounds sadly like several women in the news these days, declaring that the violent deaths of the young men in their families matter.
You'd think that knowing about the fate of a play's prime character from the get-go might diminish its emotional power. But the opposite is true in "brownsville song." Its grip tightens evermore as it moves through its 90 minutes. And under Eric King's direction at the Philadelphia Theatre Company, where it opened Wednesday night in a co-production with Long Wharf Theatre, the play jumps seamlessly between the past and present from scene to scene.
Kimber Lee offers plenty of insight into the struggles of being poor and trying to break out of a place where "taking people down" is just another euphemism for murder and the sirens compete with the sounds of dense traffic echoing from the streets. The only thing about her play that comes off as artificial is its precious title – in full, the small-lettered "brownsville song (b-side for tray)."
And what a difference a terrific production makes. I admired "brownsville song" at its world premiere at the Humana Festival of New American Plays in Louisville last year, but I didn't understand its depth or feel its squeeze until the other night at Philadelphia Theatre Company. The world-premiere production had failed to bring it out, beginning with the opening scene I mentioned. That monologue of grief was delivered with rage in Louisville but in Philadelphia, it comes from a place of love – and everything else then falls into line.
Tray (the handsome, commanding Curtiss Cook Jr.) is a kid with a job at Starbucks, a passion for boxing, less of a passion for school work and a life whose complications he seems to understand well. His dad was a victim of violence, after which his stepmother (Sung Yun Cho, excellent) abandoned him and the half-sister she'd given birth to. Now, the woman is back, out of rehab and working with him as a tutor on the essay he's writing for a college scholarship.
Tray and his little half-sister (the sweet Kaatje Welsh) are being raised by their hard-working and straightforward grandmother – played at Philadelphia Theatre Company by the exceptional Catrina Ganey, who invests the character with equal parts humor, grace and big-mama sass. (Everyone curses freely in "brownsville song" except the half-sister.) In Ganey's clear interpretation of the script, Grandmom is the indisputable head of the tight ship she tries mightily to run; you can make her laugh but you better not mess with her. That goes for Tray's buddy Junior (Anthony Martinez-Briggs) as well as anyone in the family.
Depending on your familiarity with the English patois of many black teenagers, you may have trouble at the outset understanding some of the lines in "brownsville song," named for the tough Brooklyn neighborhood filled with public housing. But stick with it – in a few minutes the dialogue begins to show itself by context, then through the actual words. It's a part of the realism Kimber Lee works into her play about the many upheavals of urban life on the edge — a realism Ting underscores by his direction, and the cast imparts with an impressive punch.
—"brownsville song," produced by Philadelphia Theatre Company, runs through May 31 at its Suzanne Robert Theatre, Broad and Lombard Streets. 215-985-0420 or www.philadelphiatheatrecompany.org.
WHYY is your source for fact-based, in-depth journalism and information. As a nonprofit organization, we rely on financial support from readers like you. Please give today.