Review: Tangling with concepts in 'The Enchanted'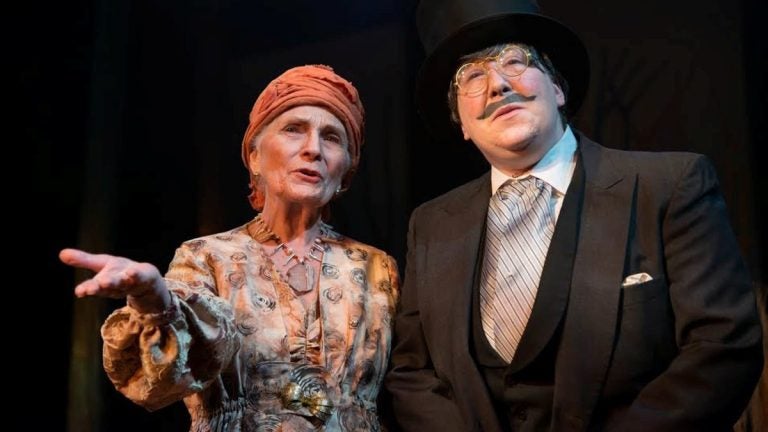 In "The Enchanted," an adaptation of a strange play written by Jean Giraudoux in 1933, life battles with death. And the real world brawls with the spiritual one. Giraudoux has a way with conflict, bringing big concepts down to everyday levels and having fun in the process.
I had a good laugh from time to time, despite a production from the Idiopathic Ridiculopathy Consortium that has its problems, or did at the opening Wednesday night. It's one thing for Jean Giraudoux to shoot himself in the foot by prolonging arguments that become so complex they're like knots not worth untangling. It's another thing for some of the cast to shoot Giraudoux's other foot by flubbing lines and wrecking your concentration in the process.
Maybe it was opening-night jitters, maybe "The Enchanted" needed more rehearsal. Whatever it was, the production will likely become jelled over the next few nights – as it is, it's almost there. Tina Brock, the company's artistic director, gives it oomph with her energetic staging and cool ideas: the show makes clever use of puppets that pop up now and then behind a hedge to play a class of sixth-graders and other roles, and the cast handles them wonderfully. (The puppet direction comes from Robert Ian Cutler.) Two men –Bob Schmidt and Tomas Dura – play gossipy women Giraudoux uses partly as a snide chorus.
What they comment on is the strange happenings in their provincial town, where a ghost (Daniel Barland) has been haunting a square (Erica Hoelscher's pleasant set design and costumes, too). Is a young citizen (Anna Lou Hearn) somehow in cahoots with the apparition, and is she being enticed into death? The mayor (nicely done by Melissa Amilani, as a man) seems to shrug it off and a town doctor (Jane Moore, who shines in the production) gets off on the whole idea, delving into its spiritual aspects. But the town's chief inspector (David Stanger), a bureaucrat specializing in self-righteousness, sees the mere notion of a ghost as challenge to reason, order and all-knowing government.
What ensues becomes more and more surreal, even absurd, as it pits concepts against one another. Giraudoux makes the case that the arrogance of power and ego wreck any serious ideas the powerful might advance and that normal citizens take comfort in ignorance. (You might understandably call "The Enchanted" very old and very modern, too.) There's a touch of Oscar Wilde in the way Giraudoux's characters make his case, right down to the not-so-hidden humor in their statements. The play is classified as a comedy. In a larger sense, it's a polemic with laughs.
At about an hour and 45 minutes and without an intermission, "The Enchanted" feels 15 minutes too long; when the banter sometimes lagged, so did I. The standard English-language version we see was translated and adapted by Maurice Valency. The production makes me wish I had more than a little French, to see whether Giraudoux framed the characters' arguments more succinctly than Valency. There's a hint that he didn't: Giraudoux's title for the play is "Intermezzo," later changed by Valency to "The Enchanted." Intermezzo is an interlude, a break, but from what? The characters representing all side of the Giraudoux's arguments might give the same answer: Reason.
—"The Enchanted," produced by the Idiopathic Ridiculopathy Consortium, runs through March 5 on the 5th-floor playing space at Walnut Street Theatre on Walnut between Eights and Ninth Streets. 215-285-0472 or www.idiopathicridiculopathyconsortium.org.
WHYY is your source for fact-based, in-depth journalism and information. As a nonprofit organization, we rely on financial support from readers like you. Please give today.