Review: 'Kinky Boots,' kicking
Listen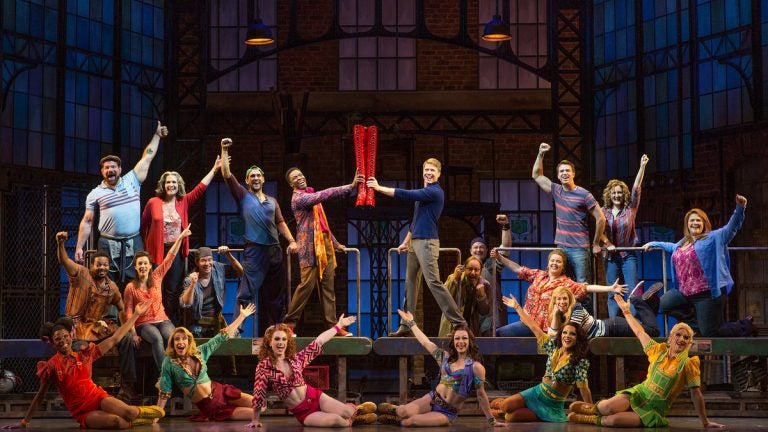 At "Kinky Boots" the audience applauds a shoe. It happens on Broadway and also these nights at the Forrest Theatre in Center City, where the Tony-winning show's national tour plays out for two weeks.
Adulation for the footwear is well deserved. By the time the tall, beckoning, stiletto-heeled and positively lickable boot rolls onto the conveyor belt, we're eager for it — the characters, who are desperate to save a tired shoe factory from closing, and the audience, with them all the way.
We've learned a couple things already, from Cyndi Lauper's infectious songs and Harvey Fierstein's fast-moving book for the show: A shoe can be The most beautiful thing in the world. And the sex is in the heel.
"Kinky Boots," the ebullient and affecting musical, makes you want to stand and shout "yeah!" with a fist it the air — which is what the cast does when their mission to succeed is clear. It's one of those shows that can't be tamped down, not even by the shamefully tinny opening-night sound at the Forrest that garbled the ensemble whenever it sang in unison and made a mockery of John Shivers' sound design, so crisp and rich on Broadway.
And not even when the show comes to Philly with at least one of director-choreographer Jerry Mitchell's rousing dances looking abridged. It's the aforementioned "Everybody Say Yeah," the electrifying first-act closing song guaranteed to fire up the house. Which it does at the Forrest — but not quite with the same extraordinary dancing by the Broadway cast on moving conveyor belts.
This won't matter if you're a first-timer at "Kinky Boots" — it's all you'll know. But people ask whether national tours are pretty much the same as Broadway versions, and you'd think one of the 27 producers of "Kinky Boots" — all listed in the Playbill bios — might have said, oh, wait a minute, doesn't this dance look way richer on You Tube when the Broadway cast performed it at the 2013 Tony Awards? Or some such thing.
As for replicas, the national tour cast puts its own mark on "Kinky Boots" — which is not unusual and this case, works. Steven Booth plays the guy who reluctantly takes charge of a failing shoe factory after his father dies. Booth doesn't emit the sweet vulnerability of Stark Sands, who created the role, but he gives the character more of a backbone. Kyle Taylor Parker is, like his Broadway counterpart Billy Porter, wildly engaging as the female impersonator who helps turn the factory into a production line for kinky boots that can hold up to the pressures of male feet — a big plus for cross dressers. Parker is fresh from playing the role on Broadway, where he took over during his counterpart's break. A love interest played by Lindsay Nicole Chambers is also different here — a little less kooky, a tad more wimpy.
It all works for the show, and I thank the theater gods that the sound was clear for one remarkable number, "I'm Not My Father's Son," a song about failing to meet parental expectations but discovering yourself in the process. It's delivered by the two men, and it's an anthem for finding dignity — the sort of piece that at once deepens a musical while lifting it higher. Here, it's a touching rendition.
"Kinky Boots" is "Rocky" set in a shoe factory – both are about making it against all odds. But the difference is that "Kinky Boots" plunges into parts of life that "Rocky" only begins to examine. Sure, "Kinky Boots" is about an uphill battle to save a shoe factory – but along the way, it's a call to understand and have faith in yourself, and to accept the many differences around you. These "Kinky Boots" have a powerful kick.
"Kinky Boots"runs through May 10 at the Forrest Theatre, Walnut Street between 11th and 12th Streets. 800-447-7400 or www.forrest-theatre.com.
WHYY is your source for fact-based, in-depth journalism and information. As a nonprofit organization, we rely on financial support from readers like you. Please give today.