Review: 'How to Succeed in Business' by trying anything you can
Listen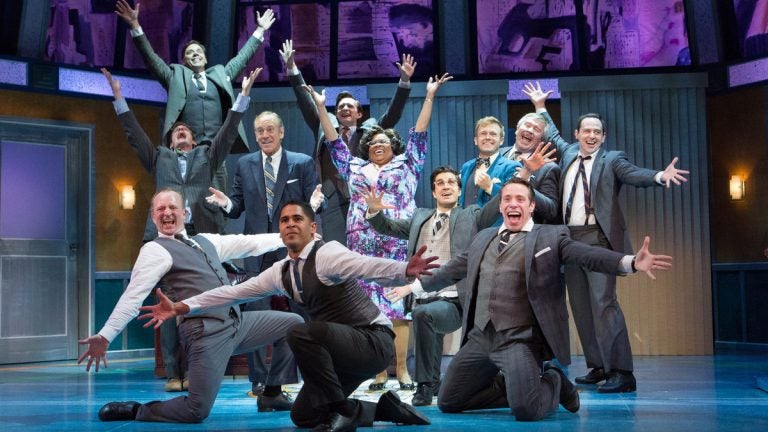 Let's take a moment to consider the mismanagement that defines American business leadership in the new century. On second thought, let's not. Instead, we'll discuss the many themes of the effervescent musical "How to Succeed in Business Without Really Trying." It covers all the same points and it's so much more fun.
"How to Succeed" is so glibly entertaining at the Walnut Street Theatre, where it invokes the spirit of American corporate life in the '60s, that it makes the Broadway revival three years ago seem sort of dull in memory – and that was a really good time. At the Walnut these nights, the show is being done under Casey Hushion's direction in a way that makes solid sense nowadays: It's a furiously paced comic book. Or, if you want to be completely current, a highly stylized graphic novel.
And why not? Here's a musical of extremes, about oily, insincere people – all of them with an angle and a thirst for treachery. They're as duplicitous as they are ambitious, and as ambitious as they are amoral. Whew! If that's not enough, they are sexist to a fault, all of them: the men are letches, the women, willing leeches.
Fifteen minutes into "How to Succeed," the love interest, a secretary named Rosemary, is singing about the new mailroom clerk she's just met, and how he'll eventually be whisking her off to New Rochelle and a life of, well, being parasitic. In the very next number, the men in the office jump into the song "A Secretary Is Not a Toy" but the unspoken joke is that not one of them believes it.
Ah, the underside of the '60s. "How to Succeed" is based on Shepherd Mead's book written in 1952, a satirical self-help guide to trashing everyone on the way to the top. That same year saw the first issue of Mad Magazine. Frank Loesser, Abe Burrows and other collaborators got their hands on "How to Succeed" and turned it into a musical with terrific songs and bang-bang joke lines, pretty much like a stage version of a Mad Magazine takeoff – totally goofy yet grounded in truth.
And that's precisely how it plays at the Walnut, with no holds on the goofy part. As a result, there's a feel of freedom in the production – no character seems bound to walk the earth on a solid footing, yet each one represents an unsettling bit of reality. (Yes, men could really be jerks back then during a typical office day. Yes, women could use their attractiveness, the very things men were jerks about, to control at least a part of these guys. Yes, back-stabbing among the workers could prevail as a way up, and probably still does.)
But here's the thing: Anyone who takes "How to Succeed" as a serious treatise has severe intensity management issues. It's a total goof, this story of a mail-room clerk who back-stabs and double-deals his way to his executive destination with a wink to the audience at every major milepost.
That wink is particularly sweet — with a hint of innocence and a lot of 'gotcha — from the eye of Jeremy Morse, a Havertown native with a nice acting resumé and, in his Walnut debut, a triumphant home-town stint. It's almost eerie to watch Morse as he gleefully portrays his character, an imp in a bright blue suit, matching bow-tie and suspenders. (Lisa Zinni's Populuxe costumes are, well, a stitch.) From some angles, Jeremy Morse looks so much like the young Robert Morse, who created the character on Broadway in 1961, you wonder just what lengths the Walnut went to in this co-production with Riverside Theatre in Vero Beach, Fla., in order to clone the genes. For the record, though, Jeremy Morse and Robert Morse are not related.
The secretary Rosemary, who becomes his gal, is bright and pert in a portrayal by Becky Gulsvig, and a host of others shine: Mark Jacoby as the head of the World Wide Wicket Company, where the story unfolds; Joilet F. Harris as his secretary; Scott Langdon as a pragmatic chief of staff; Amy Bodnar as the boss' fave squeeze (a perfect dumb-blond rendition), and the wonderfully expressive Brian Shepard as the boss' jealous and entitled nephew.
They, in turn, are backed by an excellent supporting cast that brings off Michele Lynch's playful, snappy choreography as if it were everyday walking. The office settings by Robert Andrew Kovach and Paul Black's lighting design that sometimes shoots through them in lit colored panels are so '60s, all I could think of was Melmac.
The big numbers – there are several – are great fun, executed in the unwavering wacky style of the production. One of these just before the finale, "Brotherhood of Man," is a signature number in musical theater – strange, given its relevance to the plot: None. But the creators of "How to Succeed" recognized a winner when they came up with one, so they made "Brotherhood of Man" work to bring the plot to a close in its silly way.
It becomes the final deception of these corporate clowns, done in high style at the Walnut. Today, everyone sings surprisingly about the brotherhood of man. But we know that tomorrow, they'd all best guard their backs.
_"How to Succeed in Business Without Really Trying" runs through July 13 at the Walnut Street Theatre, on Walnut Street between Eighth and Ninth Streets. 215-574-3550 or www.walnutstreettheatre.org.