Review: 'Bitter Homes & Gardens,' a botanical hoe-down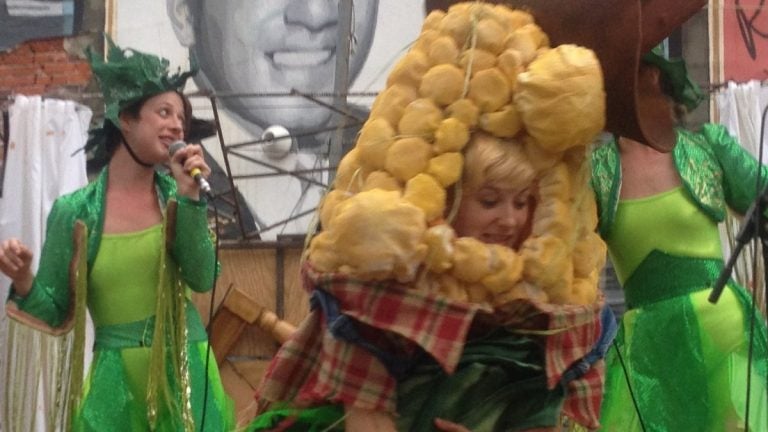 Lettuce now praise singing vegetables, fruits and plants. And we will not squash the actors who portray them. Oh, pardon me. I just left a performance of "Bitter Homes & Gardens," which will do this sort of thing to you. It's a piece of inspired lunacy, and at times idiocy, from the steadfastly unconventional Bearded Ladies Cabaret.
It's a hoe-down in which all the participants are plants, singing what plants would sing in at such an event: the old rock hit "Poison Ivy," for instance, or Tom Waits' "All the World is Green." And for the many cabaret bits with nothing available to sing, composer Heath Allen provides the peppy score, and also leads "Professor Plum and the Constant Gardeners," the three-piece accompaniment with Jimmy Parker and Peter Taney.
The show's seven actors dress in Rebecca Kanach's playful costumes as tomatoes, a fern, a honeysuckle, a form of smoking leaf (any guesses which one?), a potato and many others, and also the disappearing bees that pollinate. ("Rub it together, rub it together – pol-in-ate! Pol-in-ate," sing a trio of scouts, teaching us how to take the bees' places.) The hoe-down is led by a greatly oversized ear of corn, otherwise known as the gamely theater artist Mary Tuomanen, who's built up to this characterization in lesser roles like Hamlet. She and John Jarboe, excellent as an invasive seedling and other plants, wrote the script.
Under the direction of Sally Ollove, the show plays on a tiny, open-air stage inside the perfect venue for a cabaret of singing plants – a pop-up garden at Ninth and Wharton Streets, across the street from Pat's Steaks. The garden, complete with a bar and food concession, is one of the summer gardens run so successfully by the Pennsylvania Horticultural Society, a partner in the show.
The Bearded Ladies Cabaret developed "Bitter Homes & Gardens" at a residency at University of the Arts. It's a little bit high concept, a little low concept, but mostly orbital. The idea of plants putting on a musical revue that spans a little over an hour (about 10 minutes too much) is on the face of it, preposterous, and just the sort of enterprise that gives the Bearded Ladies its bizarre cache.
The troupe generally doesn't perform in theaters; on July 11, they'll celebrate Bastille Day at Eastern State Penitentiary with their show called "Let Them Eat Tastykake!" The Ladies also are highly collaborative. They're the Wilma Theater's resident cabaret, and in the upcoming Fringe Festival, they'll unveil a "popera" about Andy Warhol – with Opera Philadelphia as their partner.
For the time being, Tuomanen, Jarboe and the rest of the cast – Kristen Bailey and Kate Raines (Mary and Jane Hash, high-concept for sure), Aaron Bell (as drinkable hops), Jenny Fernandez and Maggie Johnson – are out there blossoming among the other trees and grasses. They sing about genetically modified produce. (This number, from the apples: "Dont' Graft Onto the Apple Tree with Anyone Else, with Me.") They warble warnings, a la Joni Mitchell, about paving paradise to put up a parking lot. Clearly, a tour-de-forest.
_"Bitter Homes & Gardens," created and produced by The Bearded Ladies Cabaret, is performed without admission price, and the troupe is encouraging donations of $15 or more instead. From now through July 10, the show is at the pop-up garden at 9th and Wharton Streets in South Philadelphia. From July 14 through July 19, the show will be performed at the pop-up garden at 15th and South Streets. For times and information: http://beardedladiescabaret.com/calendar.