Review: A 'Mary Poppins' that flies high
Listen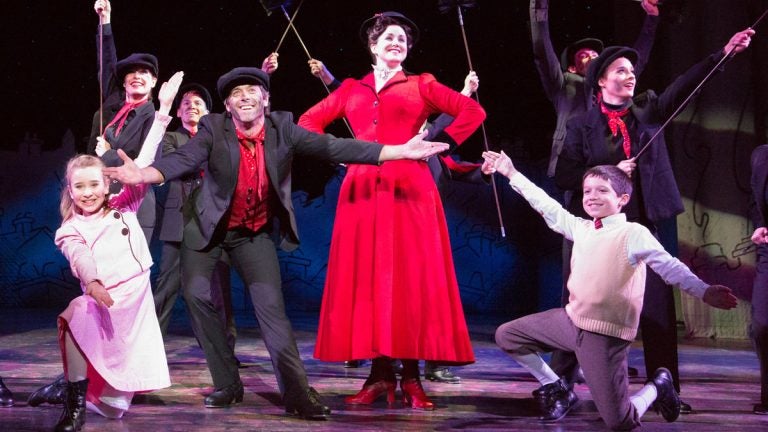 "I'm practically perfect in every way," Mary Poppins sings to her two young charges, but she could be describing the Walnut Street Theatre's current production of her own tale. I challenge you to sit through it without clapping to "Supercalifragilisticexpialidocious" (which, in this staging is simply supercali… well, you know), and smiling at the little zingers thrown into its script by Julian Fellowes (yes, the creator of "Downton Abbey"). And wanting to spring up and dance because Linda Goodrich's killer choreography for the Walnut is both a workout for a willing cast and an inspiration.
Under Wayne Bryan's fluid direction, the Walnut's holiday show (and here, we chuckle that its wonderful song "Jolly Holiday" is sung without a hint of a holiday in the script), is a hands-down delight. The stage company has spared nothing; the flood of elaborate early 20th-century costumes by George T. Mitchell, the umpteen sets by Chicago-based designer J Branson, Douglass G. Lutz's 11-piece orchestra that sounds more like 20 – it all makes for the sort of sendoff Mary herself deserves.
This nanny – she flies through the air with an open umbrella, makes statues dance, lights up the stars and teaches children that anything can happen if they let it — was born in a series of books by P.L. Travers, a woman of wide imagination. Her books came out over several decades beginning in the '30s. A half-century ago (really!) Disney turned the stories into what would become a beloved movie with Julie Andrews and Dick Van Dyke and in 2006, the studio recreated it as a stage musical along with producer and creator Cameron Mackintosh. It closed on Broadway last year, after more than 2,600 performances and a national tour.
It's a simple tale: The young and professional-class Banks parents (Rebecca Robbins and Jeffrey Coon) can't keep a nanny for their son and daughter (four kids who revolve in the roles). But look who the East Wind blows in: Mary Poppins – young, determined, possibly experienced and strikingly immodest as though her own perfection were a simple fact. She wins the kids over, as well as the household (Mary Martello as the cook and housekeeper, Owen Pelesh as the dim butler). And with her friend Bert, she teaches the children and their stern, stuffy dad lessons she could have lifted from a rack of Hallmark cards.
Okay, okay, I can't get cynical here – what Mary Poppins has to say, in the context of "Mary Poppins," is not only perfectly reasonable, it's welcome. And I can't think of anyone sweeter to deliver Mary's sunshine than Lindsey Bliven, who's played the role before and understudied it for the national tour. She screws her face into a tight smile, very nanny-like but with an air of wonderment behind those bright eyes, and she sings in a soprano flourish (sometimes a little garbled in the Walnut's sound). Bliven even sounds like Julie Andrews, but not like an imitation of her, which would be un-Poppinesque in any case.
She has an equal in David Elder, who plays Bert and who at times steals the show. Elder is a strong and crisp singer and a facile dancer as well – he doesn't need an umbrella to fly, at least momentarily. He also has a big smile and half-moon eyelids that light up his face – if you're going to have a chimney sweep calling everyone to tap-step in time, it may as well be the charismatic Elder setting the pace.
The talented cast is huge – I stopped counting at 25 – but still, Deborah Jean Templin plays four roles, including the nastiest of nannies, Miss Andrew. But the role I'll remember her in is the poor Bird Woman who sells bags of feed in the park – her rendition of the musical entreaty "Feed the Birds" is a beauty.
It's a sign of the magic of this production – and, of course, of the show – that the adults who composed almost the entire audience at Wednesday's opening night tittered with delight when Mary popped her umbrella and flew, even though the Walnut production doesn't quite hide her support strings. These were not your kids at a children's theater matinee – I noted a few captains of industry sitting around me. Your stage and status in life doesn't matter here. This "Mary Poppins" soars.
"Mary Poppins" runs through Jan. 4 on Walnut Street Theatre's main stage, Walnut Street between Eighth and Ninth Streets. 215-574-3550 or www.walnutstreettheatre.org.