Religious, civil rights leaders urge Delaware to address racial, gender disparities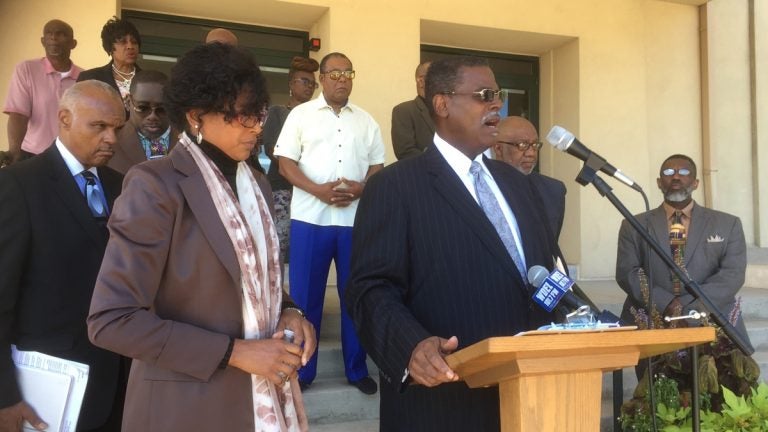 Following the release of a study showing significant racial and gender issues within the Delaware Department of Transportation, a group of religious and civil rights leaders are calling on the state to enact change.
IMAC and Delaware Faith in Action Coalition members say they want the state to enact a comprehensive plan to address inequities across the entire state system.
"We have a major crisis here," said Alicia Clark, founder and organizer of Delaware Faith in Action. "It has not erupted into violence like Baltimore or Ferguson, but it's only a matter of time before we see similar acts of destruction and despair in our communities unless we move with all deliberate speed."
The group is calling for an improved grievance and complaints process within state agencies, a permanent independent body charged with investigating civil rights issues and increased economic development opportunities for minorities.
They're also urging Gov. John Carney, D-Delaware, to nominate Dr. Patrice Gilliam Johnson as Secretary of Labor, a position she's held since last year following the previous secretary's retirement. The change came after the coalition made public allegations of racism within state agencies, including the Department of Labor.
"She was appointed because [Markell] saw she could handle the responsibility and culture of racism that was prevalent in the Department of Labor," Beaman said. "She has to complete the task. We're concerned we're now in October, and Dr. Gilliam Johnson has yet to be confirmed."
For more than two years, the coalition has researched discrimination in state government workplaces and advocated for new anti-discrimination measures.
The group formed the Committee on Racism in State Government released a report on discrimination and racism in state agencies.
The committee was made up of members from IMAC, the Interdenominational Ministerial Alliance of Dover & Vicinity, the Interdenominational Faith Coalition of Sussex County and the NAACP.
After interviewing more than 100 state employees the committee released a report in January 2016, alleging racism and discrimination, and claiming workers feared retaliation if they reported a hostile work environment.
According to the report, the greatest complaints came from Department of Labor workers, and participants were most fearful of retaliation in Kent and Sussex counties, where the report says blatant racism was more common. After hiring Johnson during Markell's administration, the department said it took steps to address these issues.
Following the report, the committee released several recommendations:
Request the U.S. Department of Justice Employment Litigation Section of the Civil Rights Division to launch an investigation into employment patterns and practices in state government;
Urge remedial action for state employees filing retaliation complaints;
Ask the General Assembly to put aside funding for an independent assessment of human resource management at the Office of Management & Budget and HR;
Create a task force focused on racism in state agencies;
Create a uniform anti-discrimination complaint process;
Review and revise Delaware's discrimination laws and establish a civil rights commission.
Some of those recommendations have been enacted.
In the fall of 2016, during former governor Jack Markell's administration, the state contracted with Ivy Planning Group to conduct an independent study of diversity and inclusion-related policies, procedures and organizational culture in state agencies.
In March, the governor, signed an executive order updating anti-discrimination policies within state agencies.
Carney's executive order came out of several recommendations Ivy Planning Group put in place during the assessment process, and it was something Carney's transition team made a top priority as well.
In July, the Carney announced the appointment of Sandy Johnson to lead the newly-created Department of Human Resources. The department is currently hiring a chief diversity officer, and its top priorities include the promotion of diversity and inclusion across state government, according to Carney's spokesman.
However, coalition members say while those actions are a step in the right direction, more needs to be done.
"We are now in a new administration and we are standing here to say we have not seen any changes," Beaman said.
The independent Ivy Planning Group report released last week on DelDOT's Maintenance & Operations North District, located in Newark found the work environment is not inclusive. The report also pointed to systematic biases and barriers impacting opportunity, and an an "us vs. them" culture. The report also found issues go unresolved, leading to resentment towards managers.
The report made several recommendations to improve the work environment, including an increase in performance management and people management processes and activities, establishing accountability for performance and culture and increasing communication and education.
Clark said she hopes the report won't sit on a shelf. Historically, she said, there have been managers in Delaware who have held the same position for decades and are barriers to creating positive change.
"The concern we have is who is driving the process internally?" Clark said. "Because if you don't have the right talent or those who understand the necessity of moving toward a more inclusive environment all the efforts you put forward or resources you expend will not result in real deliverables or positive outcomes."
The coalition said it will work with the state and agencies to address the issues and improve diversity and inclusion. They also plan to host strategic sessions and events throughout the state.
"We know this is a marathon, it's not a sprint, and it will take time to invest in some of these issues, but we do expect to hear from [Carney's] office and Secretary Gilliam Johnson, and a path forward," Clark said. "We don't want to be adversarial. Our role is to advocate for the state to address these issues on behalf of so many."
In a statement, Carney's spokesman said; "Specifically at the Department of Labor, Secretary Gilliam-Johnson is providing necessary leadership for the agency. She has been working with the Ivy Group to foster a positive work environment with a focus on diversity and inclusion. Consistent with our discussions with legislative leadership of both parties, the Governor plans to submit a nomination for this position when the legislature reconvenes in January."