Reinventing the American mall: Can the Burlington Center Mall be revived?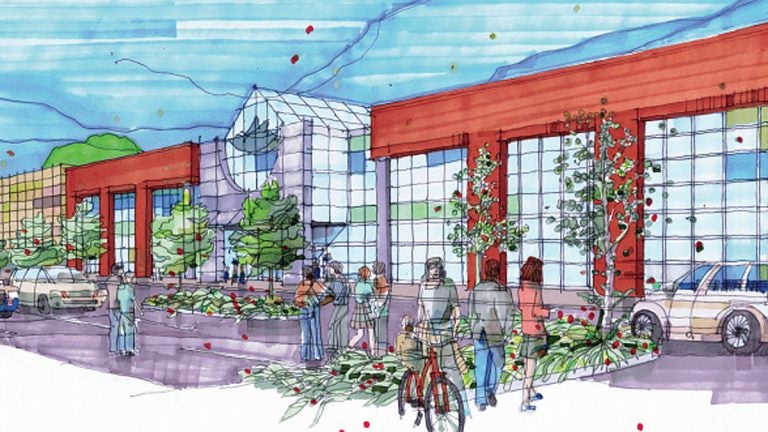 On a recent weeknight, a couple of hours before the mall's 8 p.m. closing time, the scene was eerily desolate at the Burlington Center Mall in Burlington Township, N.J.
Like survivors in a zombie apocalypse movie, about 70 patrons wandered in lonely clusters among the scattering of merchants still open, holdouts in the vast stretches of empty, shuttered stores.
The sole remaining anchor store, Sears, was virtually depopulated — entire departments devoid of customers, televisions in the electronics section playing for a nonexistent audience.
Officials with Moonbeam Capital Investments, the Las Vegas-based firm that acquired Burlington Center in 2012, estimates that about 40 percent of the mall is vacant.
Adjacent to the mall, a shopping plaza that includes a Target, a Kohl's and a Dick's Sporting Goods was doing brisk business. Among the shoppers were Burlington Township residents Michael Duffy and his 10-year-old son, D.J., both of whom said they're pleased that the Burlington Center may soon be making a comeback.
Moonbeam, which specializes in resuscitating ailing properties, acquired Burlington Center for a paltry $4 million. Now the company is planning a $200-million-plus revival of the mall, to be rechristened "The Marketplace at Burlington."
"We're hoping some restaurants are going to go in there," Duffy said.
The decline
Even D.J. remembers a time when Burlington Center, opened in 1982, was a happening place. Around Christmas, the parking lot used to be full. Then it went into serious decline.
These days, the mall contains outlets of some national chains, such as GameStop and Foot Locker. A few specialty stores such as one that sells collectible comic books and baseball cards, a beauty supply place that appears to specialize in wigs, and a shoe repair shop. A video arcade, like some time capsule of decades past. The food court was empty save for three eateries serving Japanese food, Chinese food or pizza.
For a while, Duffy said, he didn't like his wife going alone on weekend nights because of troublemaking teenagers. Eventually, there wasn't enough in the mall to attract even the troublemakers.
In 2007, seven people were arrested following a fight in the mall that reportedly involved as many as 20 juveniles. Shawl Pryor, Moonbeam's senior vice president, said security is now "paramount" at Burlington Center Mall, and will continue to be during and after the renovation.
Mall makeover
But Moonbeam CEO Steven Maksin believes the real reason for the Burlington Center's decline is that the previous owner wasn't in a financial position to adapt the mall for changing times.
Maksin said modern malls can't get by simply providing a place where people buy stuff. Modern malls have to provide an overall experience. They must be a retail outlet, entertainment venue, restaurant district and social center combined in one destination. Though Maksin said talks with potential tenants are ongoing and it's premature to say which ones will move in, he has every intention of making the reopened mall fit that description. "It will be a shopping experience that provides our customers with anything that is needed," Maksin said.
The money is out there
Maksin said he's particularly confident about the local retail base. Moonbeam's calculations put the average household income at $87,250 within a three-mile radius of the mall.
Burlington Center isn't tucked in the middle of dense suburban development, like some South Jersey malls. It occupies a relatively open parcel, along a commercial stretch of Route 541 on the outskirts of both Willingboro and Mount Holly. Still, housing developments in Burlington Township are close by. And the mall is located between exits for Route 295 and the New Jersey Turnpike, giving it easy accessibility.
The construction schedule will depend on which tenants eventually sign on. For now, the objective is to renovate in phases, with groundbreaking for the first phase tentatively planned for early spring of 2015. When it's completed, Moonbeam anticipates more than 1.2 million square feet of leasable space. Pryor said there's no scheduled completion date yet, but the total renovation could take anywhere from three to five years.
Malls aren't dinosaurs
Malachy Kavanagh, spokesman for the International Council of Shopping Centers, agrees that adaptability is important for malls.
Despite the common perception that they litter the American landscape, only about 1,200 enclosed malls exist in the United States, Kavanagh said. And there aren't likely to be many more.
Most traditional shopping malls sprang up during a suburban development boom, in a relatively narrow window of time when wide swaths of open land necessary to build them were available, and surrounding residential developments necessary to sustain them soon followed.
Today, regulatory hurdles necessary to build a new mall can take upwards of 10 years, to say nothing of the construction to follow.
Kavanagh said another common misconception is that traditional malls are dinosaurs, bound for extinction at the hands of online retail. In reality, he said, online sales account for about six percent of retail sales nationally. Online retailers didn't wrest that share from brick-and-mortar stores, so much as supplant the niche occupied by catalogs.
Which isn't to say mall owners can afford to be complacent. Malls that thrive in modern times are the ones that make allowances for change, Kavanagh said. They'll offer services such as WiFi, and the option to browse store catalogs online.
Regardless of how The Marketplace at Burlington fares in these changing times, it will have two likely customers — Duffy and D.J.
"We're keeping our fingers crossed," Duffy said.
WHYY is your source for fact-based, in-depth journalism and information. As a nonprofit organization, we rely on financial support from readers like you. Please give today.