'Red flag' firearm-restraining legislation considered in New Jersey, Delaware
The measures allow family members and law enforcement agents to petition a judge to restrict a person's access to guns — if they believe that person could be a threat.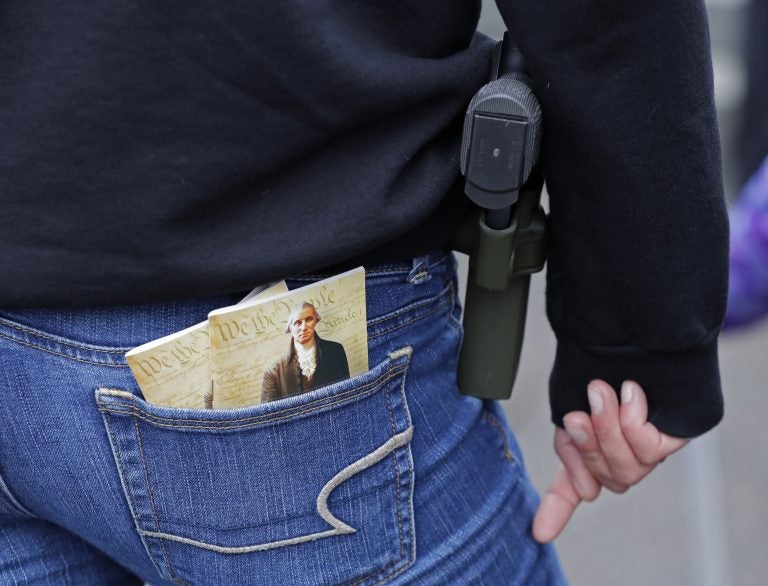 In the wake of the Florida school shooting and other mass killings, legislators in New Jersey and Delaware are considering risk-based gun removal laws. Also known as "red flag" laws, the measures allow family members and law enforcement agents to petition a judge to restrict a person's access to guns — if they believe that person could be a threat.
Laws like these are already on the books in Connecticut, Indiana, California, Oregon and Washington. New Jersey and Delaware are two of 18 more considering them.
Studies have found that most who commit mass shootings do not have a mental health diagnosis. In most states, and under federal law, an individual must be deemed mentally ill to take away his or her firearm. Therefore, many who may pose a danger can still legally access guns.
Family members are most likely to notice that a person has become dangerous — and are often aware that their loved one poses some sort of threat, said Allison Anderman of the Giffords Law Center, named for the former Arizona U.S. Rep. Gabby Giffords who survived an assassination attempt. Often, Anderman said family members don't feel like there is anything they can do about it.
"We've seen this time and again with major, high-profile mass shootings," said Anderman. "In Tucson, the shooter that shot Gabby Giffords and several others, his parents knew he was dangerous, but they had no way to intervene."
The "red flag" laws give families and law enforcement recourse where there has been none, she said.
New Jersey measure nearly ready
Proposed New Jersey legislation calls for allowing a gun owner's family — who believe that individual poses a danger — to petition a judge to have the gun removed and to prohibit further firearms sales. If the judge found the concern to be credible, he or she could issue a restraining order immediately. The gun owner would then come in for a hearing within a week or two, at which point the length of the restraining order would be determined. Orders can last for up to a year.
Anderman likened the process to that of a domestic violence restraining order, in terms of affording due process to those in question — and offering options to those on the front lines of someone in crisis.
"These types of laws actually allow loved ones to take the risk away without doing something as intrusive as committing the person," she said. "This allows them to continue going to school or to work, which are activities that can be very important in stabilizing a person in crisis."
Gun control has been a priority for New Jersey Assemblyman John McKeon, the bill sponsor, for a long time. But he said this is the political moment to make it happen.
"The former governor, there was no shot in him signing any of it into law," he said of former Gov. Chris Christie. "So we bided our time, it's now a new dawn, and I believe our state has gotten our soul back."
Pending some new language from the Giffords Law Center, which is helping states craft these bills, McKeon said his legislation will be ready for a vote in the coming weeks.
Laws like these aim to target a specific group of people: those who are not diagnosed with mental health conditions and would therefore be more likely to pass a background check to buy guns — but who are experiencing crisis or exhibiting dangerous behavior and may pose a threat to themselves or others if armed.
While the intention is clear, measuring the success of such a law is trickier. Connecticut's law, though slightly different than the model the Giffords Law Center is pushing, has been on the books the longest, since 1999. In 2016, researchers from Duke University and elsewhere published a study examining the Connecticut law from its inception until 2013. They found that the law was used most often to prevent people from accessing guns who were at risk of self-harm. The study found that for every 10 to 20 gun seizures, one suicide was averted.
In Delaware, state Rep. David Bentz is sponsoring a House bill affording mental health professionals a formal process for restricting firearm access to those they deem dangerous. Bentz said the bill was high on his priority list — higher than another bill he is also sponsoring, similar to New Jersey's, which allows broader access for family members to appeal to judges as well.
In Pennsylvania, state Rep. Stephen Carter has issued a memo outlining his intention to introduce a firearm-restraining order bill in the near future.
WHYY is your source for fact-based, in-depth journalism and information. As a nonprofit organization, we rely on financial support from readers like you. Please give today.