Reader submission: Tacony's Dietz & Watson brings the Northeast (and sandwiches) to the rest of Philly
Who says there's no such thing as a free lunch?
Thousands of people stood in fast-moving lines on Dilworth Plaza outside City Hall yesterday, with good reason: Dietz & Watson was there to give each and every one of them a freshly made wrap sandwich and a bottle of ice-cold water. Our corporate neighbor, in that big, shiny, 600,000-square-foot facility at 5701 Tacony St., sure knows how to throw an anniversary party!
They did so by inviting everyone to celebrate the company's 70 years in Philadelphia by giving people a free lunch. A group of 550 employees from the neighborhood plant were on hand to make the sandwiches (moving fast) and hand them out to all of us with a description (mine was baked turkey with roasted garlic-infused American cheese and D&W's own cranberry honey mustard) and a smile.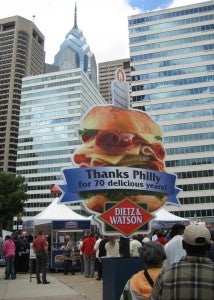 It was delicious – the flavors reminded me of that sandwich you always have the day after Thanksgiving – and it made me smile that the idea, the people and the products all came from Northeast Philly. It's no wonder that Dietz & Watson's entry-level employees often turn out to be Northeast Philly residents who make D&W their career, bringing in their families and neighbors along the way.
Dietz and Watson is truly an excellent corporate citizen! And not just because of today's free lunch.
Susan Conboy is a 1985 Archbishop Ryan graduate and lifelong resident of the Northeast who resides in Bustleton. She works in City Hall as an administrative aide to Councilman Jack Kelly.
If you have something to submit to the editor, you can do e-mail NEast Philly here.