Reader Submission: Melted records, high school shirts found during Friends of Pennypack Park clean-up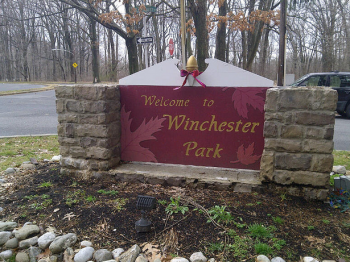 If you didn't get out with us on April 28, then you didn't get a snazzy Earth Day button with this year's bird, the Osprey, faithfully drawn by Friends of Pennypack Park member Roland Williams.
You also missed hanging out with your fantastic 45 friends and neighbors (123.5 hours) and CLIP. The volunteers picked up 44 bags of trash and CLIP got 56 bags of curb-hugging trash (the stuff organic and non-organic that seems to settle in the street against curbs).
Working together on Lexington Avenue from Solly to Rhawn including curbs, street, and dirt path; on Lexington Avenue from Rhawn to Ryan, that dirt path and into Little City; the entrances to the park from Holmehurst; and the upper and lower parking lots at Little City, Pennypack Park now looks a lot better than before our Earth Day crew came out and did battle with that most devastating of insects – the litter bug.
Although we must admit that this time, according to three of the crew, the area was in better shape than in years past. We credit this to park users and volunteers known and unknown, who are actively kicking some serious litter bug butt.
None of this would have been possible if the following people had not cared enough or had time enough to come out to hunt for and remove trash from our park. We would like to thank:
our youngest volunteer, 4-year-old Giovanni Arbelaez
his grandmother Elizabeth Cruz
new cleaners Jimmy George, Larissa George, Vik Patel, Sam Varghese, Charlie Troy, James Brophy, Bill Kleschick, and Louise Kopena
the two Mary Janes – Roberts and Young
Diane, Billy (community service for Penn State Abington) and Kyra (community service for Archbishop Ryan) Burgess
two young volunteers
the community service contingent from Father Judge – Michael Perri, Nick Darmohray, Patrick Del Buono, Hunter Lange, Keith Kennedy, Jordan Streaker, Walter Rex, Michael Orlen and Aidan Brophy
the returning Donna Lewis-Love, Leo Magazzu III, Jim and Sandy Stewart, Louise Susar, Audrey Walmsley and Linda Davies
Corinne Stobbe (our treasurer) and Alan Kaminsky (vice president of environmental affairs)
the 2012 "habit makers" – Miriam Adler, Sondra Greenberg, Betty Landolfi and Alan Ostrow
Hal Phillips and our Gator Crew – Jim Smyth, Joyce Ferrero and Kevin Sweetra
Jim Ryan (he asked CLIP to come out – big thanks!) and Nance Kerns.
we greatly appreciate the assistance of CLIP for putting us on their list of priorities – Michael Beutenmuller, Ed Hill, Ryan Hill and Larry Gladden
The volunteers picked up 44 bags of trash, one bag of cans, two unopened cans of beer, half a shopping cart, 5 cents (donated to the Pennies for the Park fund), a 22-gallon tote, a string of Christmas lights "to light up your life," a cell phone, a plastic resin table top, a barbecue grill cover, a 6" diameter circle cut from an inner core door, a pair of rusted pliers and a garden trowel.
Last month we found a St. Hubert's T-shirt; this weekend we found a Father Judge T-shirt (kids do not remove your T-shirts in public). We also picked up two and a half hubcaps, a big piece of wet soggy burlap, the yellow plastic cover for overhead wires (be thankful that the wind got the wire cover and not the wires themselves) and an empty old pull tab can of Miller with the admonition "Please don't litter" on top. CLIP obtained an additional 56 bags of curb hugging trash.
And finally, this month's piece de resistance — a melted stack of 45 records (the 45 on top was Bread's "It Don't Matter to Me"). This was all promptly removed at 1 p.m. by the trash truck from Parks and Recreation, for which we and the neighbors are grateful.
Submitted by The Friends of Pennypack Park, written by member Nance Kearnes
While the volunteers were out, they noticed that a man hole cover for a sanitary sewer line was off on the dirt path entrance from Holme Avenue near the Northeast Community Center.
They reported it and thanks to Sergeant Mortimer of the 15th District, who came by to check on us, for putting it back on before someone got hurt. If you see this kind of thing in the park, or anywhere else for that matter, report it in immediately. It's easy to think that somebody else will make the call, however, the next person could get hurt because the call wasn't made.
Your next chance to join us, weather permitting, is Saturday, May 26th from 10 am to 1 pm at Sandy Run (Ryan and Sandyford Avenues). You bring yourself and a friend. We'll bring the gloves, grabbers, water, and pretzels. If you need to contact us, call the park phone 215 – 934 – PARK or e-mail FOPPMonthlyCU@aol.com. If you need to check wether we are having a weather problem, please check the park phone before coming out.