Public artworks approved for Maplewood Mall, MLK Older Adult Center, and Sister Cities Park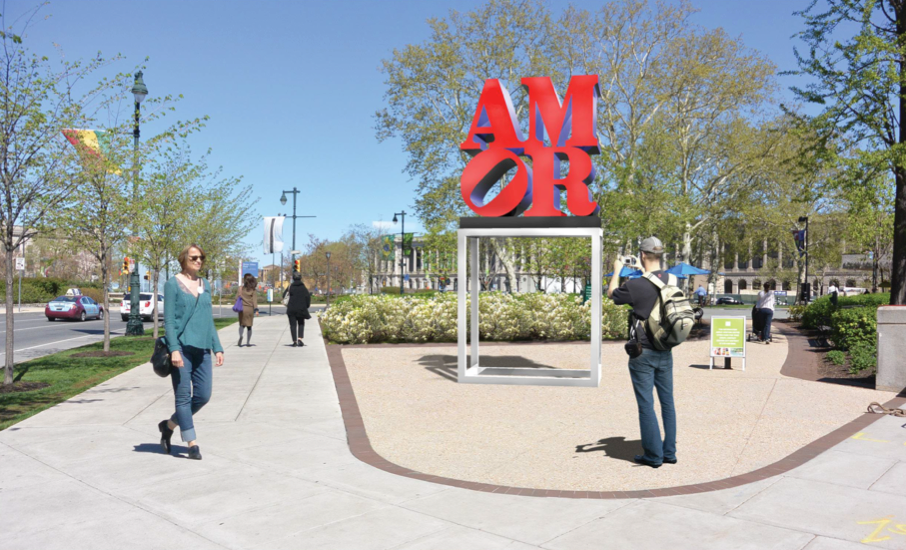 At its September meeting the Philadelphia Art Commission reviewed and approved three permanent works of public art: Maplewood Mall will see lumber in mosaic, older adults in Sharswood will take a flying carpet ride of learning, and Sister Cities Park is getting a love of its own.
Mosaic benches for Maplewood Mall
Germantown's Maplewood Mall is being remade into a more attractive and functional public space for the neighborhood. The Art Commission saw the project in June and at its September meeting offered final approval of the site design. Commissioners also had a first look at the Percent for Art component, which will be part of the seating design for Maplewood Mall's plazas at Germantown Avenue and Greene Street.
The design process has included historical research and was informed by a dozen community meetings, and the theme for the upgrades is an interpretation of the lumberyard that once stood on the site.
To that theme, plaza pavers will be laid in "plank" patterns, alternating in long bands of color like a hardwood floor. Instead of the more than 200 red steel bollards that stand there today, designers propose 90 new ones designed in metal with either compressed wood inserts or left open to serve as a bike rack. Trees on site are in fair condition, and the project saves some that are an Armat Street and on Greene Street Plaza, explained designer Julie Bush of Ground Reconsidered. Plaza seating will include board-formed concrete seat walls, which will show the wood grain in the concrete.
The Percent for Art component is a $23,000 commission. Philadelphia artist Jennie Shanker was selected for the project and she's been at community meetings since the project's earliest phases.
The artwork Shanker developed for the site is a mosaic installed on the top of the concrete seat walls. Shanker said her design draws inspiration from logging, and the practice of floating wood down rivers. Here the flowing rivers comes in form of the long seat walls and the tiles installed would be in proportion to the dimensions of boards of lumber, like 2×4 or 4×4. The grout, which will include a polymer to resist moisture and tile displacement, would be a color gradient that runs from pale to dark as tiles run dark to pale. Interspersed would be "knots" in the wood composed of silhouettes of community members. Knots, she notes, are "the most resilient part."
Shanker said she's been in touch already with Germantown's deep artistic community and is hoping to draw from that well to create these knots.
Commissioners' questions about durability, maintenance, and community engagement were answered, and offered final site approval and conceptual approval for the public artwork.
Maplewood Mall mosaic concept | Art Commission presentation Sept. 2016

Concept for seating benches with mosaic in Maplewood Mall plazas | Art Commission presentation Sept. 2016

Maplewood Mall, April 2013 (Gary Reed, EOTS Flickr Group)

Maplewood Mall proposed reconstruction plan | WRA and Ground Reconsidered

Maplewood Mall proposed reconstruction plan | WRA and Ground Reconsidered
FLYING CARPET for MLK Older Adult Learning Center
The MLK Older Adult Learning Center at North 21st Street and Cecil B. Moore is getting a new facility of its own across from its existing home within the Martin Luther King Rec Center. SMP Architects has designed a small single-story building to serve the older adult community in North Philadelphia, and the project officially broke ground this summer. To complement the new public project, a $40,000 Percent for Art commission will welcome visitors into the building.
Philadelphia artist Ava Blitz has designed a "flying carpet" mosaic of glass vitreous tile to be installed in the glass entrance vestibule.
Blitz told the Art Commission that the "spirit of adventure" embedded in journeys of study and learning inspired the flying carpet concept for the Adult Learning Center. Its textile inspiration also gives a sense of home, Blitz said.
Up close the imagery will seem abstracted but there are hidden figurative elements that reward repeat visitors as they are revealed.
MLK Older Adult Center | Art Commission presentation Sept. 2016

screen shot 2016 09 13 at 4 41 03 pm
AMOR for Sister Cities Park
Robert Indiana's AMOR, the sister sculpture to our iconic LOVE sculpture, will be moved from its temporary home on the steps of the Philadelphia Museum of Art to Sister Cities Park, toward the corner of 18th Street and the Benjamin Franklin Parkway.
The Association for Public Art (aPA) and Philadelphia Museum of Art installed AMOR on the museum's East Terrace for Pope Francis' visit to Philadelphia during the World Meeting of Families last September. The new location, near the Cathedral Basilica of Saints Peter and Paul, will commemorate that event and places it near LOVE, on the Parkway's axis. The site was chosen, the city's Public Art Director Margot Berg said, to provide ample place to gather around it, just as people do wherever LOVE is, and to create a visual connection to LOVE Park.
Center City District and Studio Bryan Hanes worked together to revise this corner of Sister Cities to accommodate the sculpture on a paved area, and oriented the sculpture to the Parkway's axis, so the word faces you directly on the approach from LOVE Park to Logan Circle.
A new pedestal will be fabricated for the sculpture, from square stainless steel tubing, to suit Indiana's preference for display.
AMOR was initially borrowed from its spot in overseas storage. It was acquired through a combination of City, aPA, and museum funds from the Morgan Foundation, Berg said. The city will be the owner of the artwork.
Rendering of AMOR at Sister Cities Park | Art Commission presentation Sept. 2016

Rendering of AMOR viewed from across the Parkway | Art Commission presentation Sept. 2016

Rendering of AMOR looking southeast toward City Hall | Art Commission presentation Sept. 2016

AMOR at the Philadelphia Art Museum, 2015 | Kimberly Paynter / WHYY