Prestigious violinist Urioste returns to Delaware Symphony Orchestra
Nearly 10 years after her DSO debut, Elena Urioste returns in a performance of Beethoven's Violin Concerto, part of the orchestra's ongoing exploration of his works.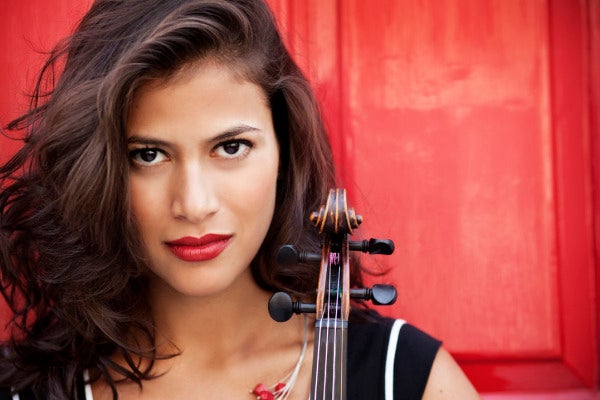 When Elena Urioste first performed with the Delaware Symphony Orchestra back in 2010, the then 24-year-old violinist had already earned a reputation as a rising star in the classical music world.
And with good reason. Just days before her DSO appearance, Urioste accomplished what would have rattled the nerves of even the most seasoned musician. She made three orchestral debuts in just 18 days, the first of which occurred on less than a week's notice. All three performances garnered critical acclaim.
Before that, Symphony magazine featured Urioste and five other emerging musicians on the cover of its January/February 2008 issue.
But there was much more to come. In 2012, she was named a BBC Radio 3 New Generation Artist, a prestigious two-year appointment that included studio recordings, concerts with various BBC orchestras and appearances at several music festivals.
She released her second CD "Echoes" in 2016 and is readying a third for release.
She's even explored the world of acting, playing a leading role in last year's award-winning independent film "But Not for Me."
Tonight Urioste, now 32, returns to the DSO in a performance of Beethoven's Violin Concerto, part of the orchestra's ongoing exploration of the works of that composer and one of her favorites.
"It's a silvery masterpiece," she said. "It's very long, but I find it fits my body in a really comfortable way. And the piece is in D major, a key that the violin loves. The violin resonates very easily in D major. So physically it feels like a very generous and pleasurable world to explore."
Still, Urioste notes the piece presents "infinite" challenges. "Concentration is always one I have to work on," she said. "It's a lot of minutes of music, so to stay focused from beginning to end is a challenge. Intonation is another big challenge because it is so exposed. There aren't a lot of frills just lines of simple scales and arpeggios so that in this piece more than any other, the purity of every note counts."
Although Urioste has earned critical acclaim for her tone and technical skill, she insists her artistry is one borne of dedication and hard work, not prodigious talent. A native of Hartford, Connecticut, she grew up in Montgomery County, Pennsylvania. She moved to Philadelphia to enroll in the Curtis Institute of Music, then on to New York City and Juilliard.
Her career trajectory has been both steady and impressive. She performed with the Philadelphia Orchestra at age 13 as the winner of the children's division of an annual student competition.
Three years later she soloed with the Atlanta Symphony Orchestra as winner of the junior division of a competition sponsored by the Sphinx Organization, which encourages development of African-American and Latino musicians. (Urioste is of Mexican, Italian, Russian, and Hungarian descent.) In 2007, she won the senior division of the competition and a management contract from an agent who saw her performance.
Urioste became infatuated with the violin at age 2 when she saw Itzhak Perlman playing the instrument on Sesame Street and begged her parents for lessons. She began her training in public school before moving on to private study. She recalls a childhood full of playing outdoors, reading, and making crafts at the kitchen table, and says she wouldn't have wanted it any other way.
"Music is such a colorful art," she said. "How can you understand the full range of emotions in music, like ecstatic joy and deep sorrow, if you've only ever known the inside of a practice room? You have to be a person first; you have to experience life."
DSO Music Director David Amado says that Urioste brings warmth and humanity to her music. "Art shows you what the creator is, and she is a thoughtful, generous, dynamic human being, and I think her playing is thoughtful, generous, and dynamic," he said. "That's just what she is, and that informs everything she does and everything she touches."
Urioste's quest for new experiences led her to discover the personal and professional benefits of Bikram yoga. Indeed, she may be the only professional musician with a section on her website dedicated to the practice. "If you can get through profuse sweating for 90 minutes in 105-degree heat, you can get through just about anything," she said. "Technically, my muscles are much more relaxed. My arms and hands can receive instruction much more easily so I have to drill things a lot less."
Urioste's passion for music education and yoga has led her to create — along with longtime friend and fellow violinist Melissa White — Intermission, a project that combines yoga and musical training for both professional musicians (retreats) and students of all ages (sessions). "We've been friends for a very long time and this phase of our friendship has been so exciting getting to combine both of our passions," she said.
Urioste has also established a summer chamber music festival — Chamber Music by the Sea — in Berlin, Maryland, the town where her now-retired parents make their home. "It's such a beautiful area of the country, and Berlin is such a cute little town. I thought it had everything except classical music," she said. "So I started a little festival down there."
—
The Delaware Symphony Orchestra will perform their Classics Series Concert 3 (Beethoven's Violin Concerto, and Stravinsky's "The Rite of Spring") on Friday, Jan. 26, at the Grand Opera House, 818 N. Market Street, in Wilmington. The concert begins at 7:30 p.m. and is preceded by a lecture at 6:30 p.m. For full program information, visit www.delawaresymphony.org. To purchase tickets, visit: www.ticketsatthegrand.org or call 302-652-557
The Music School of Delaware, in collaboration with the Delaware Symphony Orchestra, will host a master class with Elena Urioste on Saturday, Jan. 27, from 11:30 a.m. to 1:30 p.m. in Room 224 of the school's Wilmington Branch, located at 4101 Washington Street. The class is free and open to the public. For more information, contact the Music School at www.musicschoolofdelaware.org or call 302-762-1132.
WHYY is your source for fact-based, in-depth journalism and information. As a nonprofit organization, we rely on financial support from readers like you. Please give today.