PPA executive reveals Papal plans: 700,000 on the parkway, security perimeter around Center City, SEPTA bus suspensions and more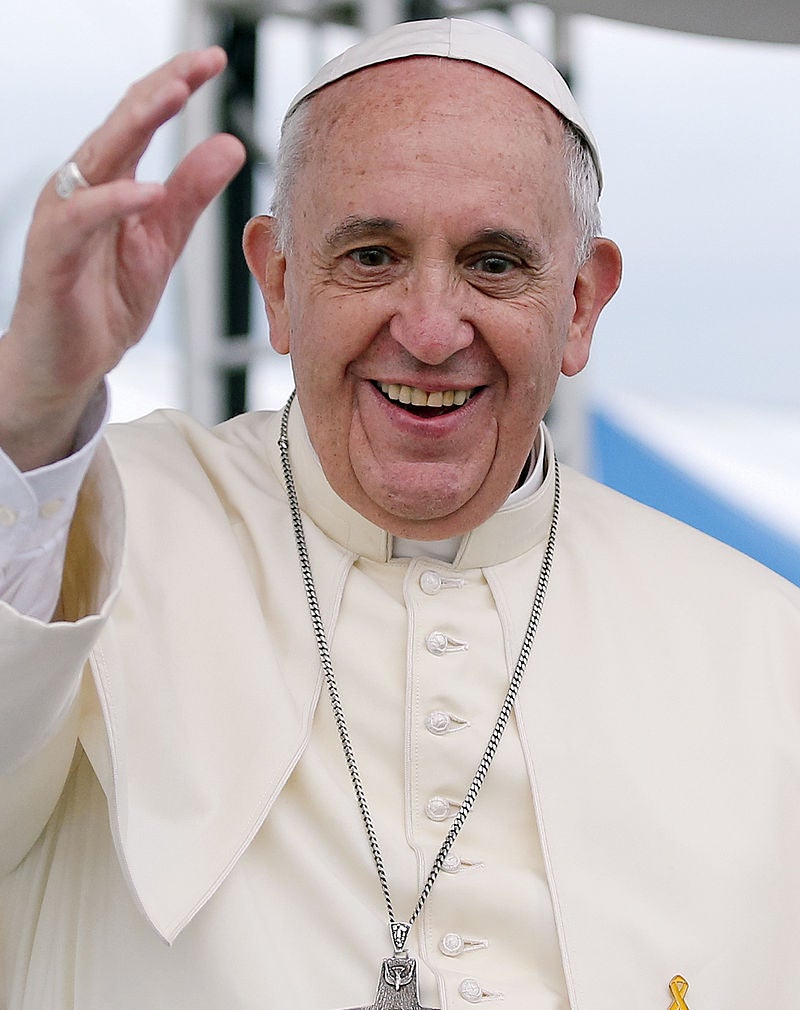 Philadelphians thinking about renting out their homes for the Pope's weekend visit on September 26th and 27th might want to consider tacking on that Friday: That's when the most—if not all—of Center City will begin to shut down due to security concerns.
At least, that's according to a briefing Richard Dickson gave to the Philadelphia Parking Authority's board Wednesday morning.
Dickson, the PPA's deputy executive director, began his remarks with an extremely important caveat: "Plans change by the hour." Dickson then rattled off a number of plans and expectations for the security and transportation matters around the Papal visit.
That caveat bears repeating: none of the details have been set in stone. That said, Dickson's report offered a rough snapshot of what Philadelphia could see in September.
Dickson said that there will be a "significant security perimeter basically going from Girard Avenue to South Street, river-to-river." He added that it was unlikely that the Secret Service would confirm that until September, a few weeks before the visit. Additionally, Dickson said that parts of University City extending perhaps as far as 38th Street, would be included in this security perimeter.
It wasn't clear what "significant security perimeter" meant. Based off of the example of Barack Obama's 2009 Inauguration, which saw an estimated crowd of 1.8 million, it's likely that this perimeter would refer to an primary security zone, wherein only residents' and businesses' vehicles in Center City would be allowed to travel. Closer to the areas where Pope Francis will be, the restrictions will probably increase.
If this report proves to be accurate, then closing the Ben Franklin Bridge wouldn't come as much as surprise – the roads leading onto and off of the bridge would be closed to vehicular traffic anyway. The Inquirer reported that this bridge closure has been discussed recently, and PATCO officials told PlanPhilly earlier that part of the reason why they chose the Broadway station in Camden as one of the three New Jersey stations to run was due to its proximity to the Ben Franklin Bridge, in the event it is closed.*
Dickson also said that it was "likely that the city will not operate normally on Friday," noting that the Pope is scheduled to arrive Saturday morning.
The Pope is then scheduled to hold a closed Mass at Cathedral Basilica of SS. Peter and Paul that morning, followed by a trip to Saint Charles Borromero Seminary, then give a speech on immigration and religious freedom at Independence Hall, and cap of Saturday with the Festival of Families on the Benjamin Franklin Parkway. The weekend's main event, though, will be a Sunday afternoon Mass on the parkway. The Inquirer's Julia Terruso reported crowd estimates of 800,000 to one million for the Saturday Festival and 1.5 million for the Sunday Mass.
Dickson said that during the visit, SEPTA buses would not run through Center City. SEPTA confirmed this, noting that bus services may be suspended or truncated starting Friday – when it starts all depends on when the security perimeter goes into place.
SEPTA spokesperson Jerri Williams noted that some lines will be truncated or run split services. Route 23, for example, usually runs from Chestnut Hill to South Philly via Center City. During the Papal visit, the northern route will stop and turn around at Cecil B. Moore, and the southern route will only run between Washington Avenue and Oregon Avenue.
Compare that to Route 21, said Williams. That bus goes from Penn's Landing to 69th Street. During the Papal visit, the line will only run from 69th Street to 40th Street.
Shorter bus routes that operate primarily within the security perimeter expected in Center City will be suspended.
Williams also cautioned that riders can't expect SEPTA buses to drop them right at the security perimeter. "We will be stopping several streets before you get to that perimeter," she said, citing the traffic issues expected closer to it.
Even with all the security and blocked streets, Philadelphians can still expect a bit of Center City traffic that weekend as the Bishop of Rome travels across town. Despite Francis' avowed aversion to the Popemobile, the Vatican leader reportedly rates the second-largest motorcade when visiting America (the president is first and the Israeli prime minister is third).
Dickson also reported to the PPA board that 50 Jumbotrons would be set up throughout Philadelphia to simulcast the Sunday afternoon Papal mass, which will be held on the stairs of the Philadelphia Museum of Art and will extend the full length of the Benjamin Franklin Parkway. Dickson then added that the Parkway "holds about 700,000 people," which is significantly less than the estimated 800,000 and 1.5 million expected to over the two days.
Those Jumbotrons wouldn't just line the Parkway, but would be positioned elsewhere to provide those that wouldn't get close enough to watch the Mass in person at least a chance to watch on a large screen.
When asked to confirm Dickson's statements, the United States Secret Service either refused to comment citing security concerns or referred PlanPhilly to the Mayor's Office or the World Meeting of the Families.
As of publication, neither the Mayor's Office nor the WMOF responded to PlanPhilly's requests for comment. This article will be updated if either does.
UPDATE (10:42 P.M. 7/22/15): Meg Kane, a spokesperson for the WMOF, emailed with some responses.
Regarding the 700,000 person projection for the Parkway: "All projections in terms of attendance were never predicated that all would be on the Benjamin Franklin Parkway "proper." Rather anticipated crowd figures would account for the overflow back to LOVE Park, around City Hall and other streets/areas as identified and deemed appropriate by the City and U.S. Secret Service."
Regarding the Jumbotrons: "We can confirm that there will be Jumbo-trons throughout the city, including locations away from the Parkway. Exact locations remain TBD and a firm number of Jumbo-trons is still to be confirmed."
Finally, Kane also addressed would-be drivers to Philadelphia: "Regarding private vehicles, we do not expect vehicular traffic to be a viable option. We strongly encourage attendees to make alternative plans for transportation."
CHARTING A COURSE ON THE SCHUYLKILL EXPRESSWAY
Dickson also said that Papal pilgrims were expected to drive around 150,000 private vehicles to Philadelphia for the weekend. That's in addition to the 5,000 charter buses being handled by GO GROUND, a transportation management company hired by the WMOF to handle the charter bus logistics.
GO GROUND CEO Bill Maulsby told PlanPhilly that "about 85 [to] 88 percent" of the charter buses that have registered so far intend to drive in Saturday morning, leave Saturday, then return again Sunday morning and the head home Sunday night.
Only some of the buses will park overnight, arriving Saturday and staying until after the Papal mass on the parkway Sunday afternoon.
With about 5,000 buses expected, that somewhere around 4,000 charter buses will make their way into and out of Philadelphia both days. If you add in Dickson's report of 150,000 private vehicles, hundreds of intercity buses, area residents just trying to get around and interstate through traffic, then the region's already clogged arteries seemed destined for major blockage. For comparison, PennDOT reports that an average of 136,000 vehicles pack the Schuylkill Expressway.
Maulsby said GO GROUND was finalizing contracts for bus parking spaces "in major areas around the city," but declined to say exactly where at this time. He later clarified, "You can expect large parking areas on the perimeter of the city."
All of this underlines something Mayor Nutter said at a press conference in June: "Be prepared to walk at least a few miles or more."
*UPDATE: This paragraph was added after initial publication.
WHYY is your source for fact-based, in-depth journalism and information. As a nonprofit organization, we rely on financial support from readers like you. Please give today.