Postcard recalls Gateway's connection to past glory
Dec. 30
Previous postcards: Detroit Part 1, Austin, China, San Francisco, Germany, Pittsburgh, New Orleans, New York City, Boston, San Antonio, Minneapolis, Detroit Part 2, Templehof, Chicago, Italy
By JoAnn Greco
For PlanPhilly
What if at 8th and Market, a vacant patch of ground was replaced not with a surface parking lot, but with native plantings, fountains and, most remarkably, two dozen sculptures by the likes of Fernand Leger and Keith Haring? It's already happened, except "Citygarden" blooms not in Center City's former Disney hole . . . but at the intersection by the same name in downtown St. Louis.
Shivering in the cold, with the famous Arch in full view, I watched as a man lazily made his way over the park's stepping stones, while a mother pointed out a gleaming red Mark di Suvero piece to her toddler. It was easy to believe Deputy Mayor for Development, Barbara Geisman, when she spoke of how popular the park had been during its summer unveiling. This privately-funded $30 million space (a figure that excludes costs associated with acquiring the sculptures), she said, "is one of the best things to happen in downtown in many decades."

Citygarden
And that's saying something. Geisman points out that when the current administration first took office in 2001 (Mayor Francis Slay, 54, just started his third term) it identified 70 historic buildings downtown that were under-utilized or vacant. "By 2008, that number had dropped to just ten," she said, "and about six of those are currently being renovated."
Indeed, huge signs advertising upcoming loft conversions adorned buildings on seemingly every downtown corner as I strolled about last month. Inside this square mile or so — a neat grid which extends west from the Mississippi River to Union Station, the grand railway terminus that's now a faded "festival marketplace", and north from the newly-built (2006) Busch Stadium to the Edward Jones Dome, respectively, the city's baseball and football venues — plenty of indicators suggested this hard-hit city is on the upswing.
One of the greatest pieces of evidence, I'd been told over and over, is Washington Avenue, a Soho-like canyon of warehouses that once housed shoe manufacturers and garment showrooms. (Founded by French fur traders back in 1764, by the time Anheuser-Busch had set up shop a hundred years later, St. Louis had become "first in shoes, first in booze, and . . . last in the American League," a reference to the dismal St. Louis Browns baseball club.)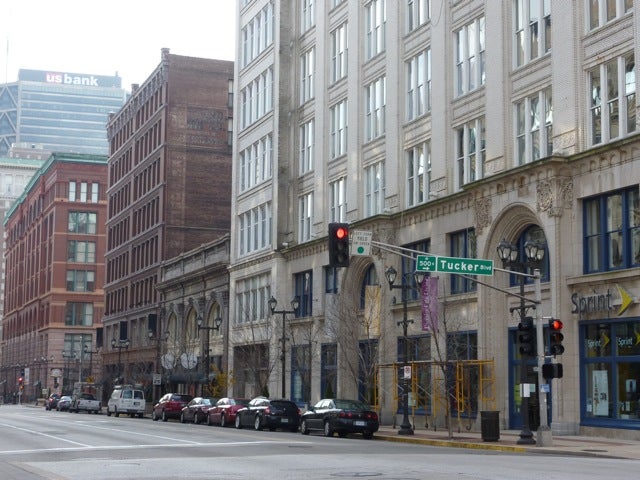 A recent $17 million streetscaping improvement (lighting, pavers, etc.) has just been completed, funded with U.S. HUD and state DOT money and created by Philly's own Wallace Roberts & Todd, working with five local firms. The project won WRT a 2008 Merit Award from the American Society of Landscape Architect's PA/DE Chapter, and while the sub-freezing temps of my recent visit saw precious little pedestrian traffic, the strip's restaurants, at least, were lively during lunchtime and dinner.
Retail was another story. I spotted a few galleries and two bookstores (one a recently-opened independent, the other from the local AIA) in this corridor, but browsers were scarce. One very dead mall, the St. Louis Centre, sat forlornly shuttered, right across from the convention center. Last month, developers announced a plan to convert its top three floors to parking, and the ground floor to remain retail, with street entrances added. St. Louisans, who seem to have a great attachment to the car and its attendant parking, are very excited about this. But a dollop of caution may be in order, especially since a previously ballyhooed re-do effort last year fell apart when the then-owner went bankrupt.
The fate of the Centre is one piece of a much larger plan that includes the upgrading of the 25-story office tower and the conversion to an apartment/hotel complex of an attached Dillard's department store that's been empty since 2001. The Railway Exchange building, another tower connected to the Mall, is a massive and highly-ornamented 1914 terra cotta structure. It, too, is slated for redevelopment.
This building once housed offices for several railroads, as well as the headquarters for the May department store chain, and now offers more than one-milion-square feet of retail and office space on 21 floors, with a Macy's occupying the bottom seven. Developers are seeking Tax Increment Financing money to shrink the store to three floors and retrofit the rest of the building for modern office needs. Whether the city can support such new office space remains to be seen. According to a report by St. Louis-based EVS Realty Advisors, third-quarter office vacancies were at nearly 18 percent.
One preservation effort that's already a success is the stately portico'd Old Post Office a few blocks away, which reopened in 2006 after a $35 million renovation. It now serves as home for a handful of nonprofits, as well as the St. Louis Business Journal, and a library branch. This summer it introduced a new tenant: an upscale general store, Culinaria, that offers not only gourmet groceries, but a pharmacy, health and beauty products, and household items. It's a start, but for true livability, the neighborhoods just outside of downtown are still more impressive.

Yogi Berra's boyhood home decked out for ther holidays
These include The Hill, a sort of Bella Vista with shotgun houses that's crowded with Italian-American eateries, bakeries and salumerias. A bonafide tourist attraction, it features the boyhood homes of Yogi Berra and Joe Garagiola, facing across the street from each other. The continually-emerging Loop, near the 1,300-acre Forest Park, grooves to a slacker vibe with comic book retailers and vintage boutiques nestling against a retro-hip bowling alley and a memorabilia-filled diner named Blueberry Hill. Lafayette Square, with a collection of Victorian painted ladies (and a small retail strip) fronting a serene park, plays Rittenhouse Square to the Loop's South Street.
Soulard, my favorite, is lined with red-brick townhomes reminiscent of Baltimore and uses a 1840s-era Farmer's Market as its focal point. Long home to a dozen or so beer gardens — remnants from the days when this neighborhood served as worker housing for the Anheuser-Busch plant that looms over it — entrepreneurs in the still-gentrifying area have gradually introduced some gift shops and other retail.
Natives head to Soulard or The Loop for their evening fun, but I spent some time hanging out within a two-block grouping of divey honkytonks back downtown, around Busch Stadium. Consecutive 9 p.m. visits found them mostly empty, but the bands kept on jammin', with musicians coming and going, on and off stage and in and out of the audience. It made for a convivial, insider atmosphere that's hard to find in suddenly chic Philly.
For culture of a higher level, the city's riches are ghettoized into two neighborhoods, each about three miles west of downtown. The edgy Grand Center neighborhood is primarily the place for performing arts and includes two orchestral halls, as well as a Fox movie palace that now hosts touring shows. Museums cluster in Forest Park, and include the St. Louis Museum of Art, — where a planned expansion has stalled — Missouri Historical Society, Zoo and Science Center.
These attractions add up to a sturdy tourism business, cemented, of course, by the Arch, where each year four million visitors squeeze through just two straight-from-the-'60s turnstiles. (It's slated for federally-funded renovations that will update its presentation, as well as better link it to downtown.)
Even in a down tourism economy, St. Louis has fared well due in large part to the fact that four interstates converge downtown, helping the city garner a good share of regional and "staycation" travelers. The last year or two has seen a down-on-its heels Adams Mark renovated and reflagged as a Hyatt Regency, a ground-up boutique hotel added to the Loop (courtesy of a developer who's singlehandedly rejuvenated the neighborhood over the last two decades), and a stunning Four Seasons, part of a new casino project.
That casino, the $500 million Lumiere, marks a departure from others near and around town which, in accordance with legal regulations, are all located on dockside "boats". Instead, this building appears to be solidly on terra firma a block inland, rudely turning its back to the city and divided from it by a highway. Accessible on foot only by a water-side approach, the casino goes out of its way to circumnavigate the rules. Its casino floor, though, is actually an eight-foot-thick concrete raft floating in an unseen 1.5-million gallon basin of water. Voila — a watery locale.
The shenanigans have residents referring to the property as "riverboat gambling" in arch quotation marks, but the development's worth noting if only because such new construction is a relative rarity in town. "St. Louis is fortunate to have a really large stock of historic architecture," Geisman said. "It's always going to make more sense for us to look at reusing our existing buildings."
With the exception of the new ballpark (a promised accompanying mixed-use "Ballpark Village" on the adjacent site of the demolished historic stadium has yet to materialize), and a new-built-apartment building now going up across from the Old Post Office, St. Louis has indeed concentrated on reusing old assets. And, it's earned a good (though by no means impeccable) preservation reputation for doing so.
Geisman counts Citygarden as part of those efforts. Now that downtown is on the right path, she said, the spotlight is shifting to the public realm. More than just a pretty park, Citygarden — which runs between 8th and 10th Streets and Chestnut and Market Streets — is but a small part of a master plan to redevelop the Gateway Mall, a 1.2 mile-long ribbon designed to connect the Arch with Union Station. Although it was conceived as a sweeping City Beautiful project when Eero Saarinen was still a gleam in his daddy's eye, the Mall was never fully realized until the '80s.
The idea spouted when St. Louis was in its heyday — shortly after it hosted both the 1904 World's Fair and the first Olympics to be held in the U.S., and when it was among the five most populous American cities. But through the city's cycles of growth and abandonment (when buildings erected on the site were razed), all that ultimately resulted was a patchwork assemblage of empty lots.
Intended as a link between the north and south sides of downtown, this haphazard strip acted more as a barrier, according to Geisman. Bordered by significant civic buildings like City Hall, Municipal Courts, the central library, and a defunct opera house (also up for renovation, if funding comes through), the space is generally unused, save for programmed events like parades, rallies, and concerts. Think of it as a tattier Benjamin Franklin Parkway.
With a downtown residential population of 15,000 (a doubling over the last decade) and a daytime worker population of 90,000, the potential for increased usage is untapped, say planners, and Citygarden is just the beginning. And retail will come to the Mall's fringes, Geisman said, recoiling in horror, half mock, half real, at the notion that the Gateway Mall itself be less about open space and more about infill. "There's an optimism now that the Mall can be a beautiful space as well as an economic generator," she said.
Sounds promising. For now, though, downtown St. Louis still suffers from a dearth of desirable retail and a lack of things to do. Until that changes, urbanites might just be better satisfied with the host of lovely nearby neighborhoods.
Contact JoAnn Greco, ASJA, SATW, at 215 413 3137 or www.joanngreco.com
Check out her new online magazine, TheCityTraveler at www.thecitytraveler.com