The politics of celebrity: Oprah stokes the buzz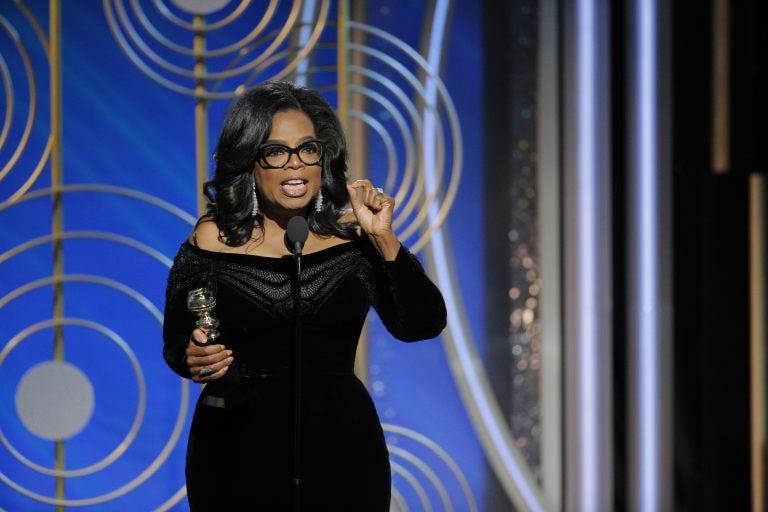 If governing credentials don't count anymore, if a dearth of electoral experience is now deemed to be an asset, if Trump has indeed lowered those bars forever, then by all means let's stir the pot for Oprah.
I'm instinctively skeptical that the Democrats, who believe in the goodness and efficacy of government, would ever nominate someone who hasn't served a day in government, but perhaps my instincts need to be retooled. Millions of people hate politics. They hate the patois of politicians, all that talk about bills introduced and passed. They love celebrities who, by dint of their ubiquity, seem knowable and relatable. They pine for the outsider who can ride to the rescue and fix our broken politics.
If Oprah Winfrey intended to hose down her noisome boosters during last night's speech at the Golden Globes, she failed miserably. As an entrepreneur who's reportedly worth $3 billion, perhaps she just figured it was good for the brand to comport herself like an undeclared candidate speaking at a party convention. But surely she knows there's no downside to keeping her options open – which is why her nine minutes on stage played like a nascent stump speech. Here's what we got:
A Horatio Alger story
Oprah definitely has one; her childhood (broken home, teenage pregnancy) was harrowing. Candidates who came from nowhere, who pulled themselves up by their bootstraps, always mention their trajectory. It's a character self-reference, and it can inspire their listeners. Last night Oprah said that at age 10, she was "a little girl sitting on the linoleum floor of my mother's house in Milwaukee … a kid watching from the cheap seats, as my mom came through the door bone-tired from cleaning other people's houses."
A potent campaign theme
Sexual harassment is an issue that can potentially power a 2020 presidential bid — as Kirsten Gillibrand and other female senators clearly recognize. Oprah seized it with a candidate's rhetorical cadence, declaring that harassment "is not just a story affecting the entertainment industry. It's one that transcends any culture, geography, race, religion, politics or workplace. So I want tonight to express gratitude to all the women who have endured years of abuse and assault, because they — like my mother — had children to feed and bills to pay and dreams to pursue. They're the women whose names we'll never know. They are domestic workers and farm workers; they are working in factories and they work in restaurants, and they're in academia and engineering and medicine and science; they're part of the world of tech and politics and business; they're our athletes in the Olympics, and they're our soldiers in the military."
Note, in that passage, her nonpartisan pitch, seeking unity across race and class. It brought to mind Obama's speech at the 2004 Democratic convention, when the Illinois state senator sought to cross the blue state/red state divide.
A wee bit of humble-brag
Candidates need to tout their track records without too much boasting. Oprah can't talk about bills passed (as senators do) or taxes slashed (as governors do), so last night she cited the moral authority she's earned as a broadcaster and entertainer: "In my career, what I've always tried my best to do, whether on television or through film, is to say something about how men and women really behave — to say how we experience shame, how we love and how we rage, how we fail, how we retreat, persevere, and how we overcome. And I've interviewed and portrayed people who've withstood some of the ugliest things life can throw at you, but the one quality all of them seem to share is an ability to maintain hope for a brighter morning even during our darkest nights."
A catch phrase
Obama had "Yes we can." Oprah referenced powerful abusive men: "Their time is up. Their time is up. Their time is up." Plus, we got the upbeat message — not just "hope for a brighter morning even during our darkest nights," but this, near the conclusion of her speech: "I want all the girls watching here and now to know that a new day is on the horizon!"
So if the aim is to beat Trump at his own game, why not Oprah? She has global name ID, and she doesn't talk like an ignorant demagogue. She wasn't born on third base with daddy's money; she conquered poverty and childhood sexual abuse to become a billionaire. She hasn't gone bankrupt multiple times, or been rescued with the help of Russian oligarch money. And unlike Trump's uncharitable charities, hers have actually made a tangible difference in people's lives. She has built homes for displaced Katrina victims. Her Oprah Winfrey Foundation has reportedly built 60 schools in 13 countries, and her Oprah Winfrey Leadership Academy for Girls, a boarding school for impoverished South Africans, has produced college graduates.
The latest breathless word is that she's "actively thinking" about a bid. But presidential prospects always look pristine before they take the plunge, and I question whether grassroots Democrats would look kindly on someone whose governing creds are no better than Trump's.
On the other hand, perhaps politics and celebrity have been irrevocably fused. What Trump may fear most is someone who's virtually as famous as he is. We'll know whether he truly fears her if he retreats to Twitter, and demands that the Justice Department probe her empire and throw her in jail.