Police report 'storm debris everywhere' in West Wildwood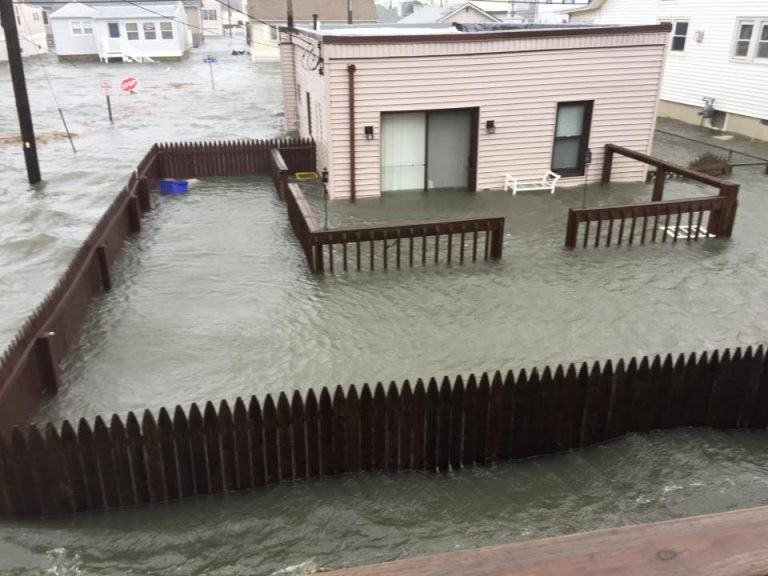 Police in West Wildwood are asking the public to remain patient as authorities survey damage from the weekend storm that brought record tidal flooding.
In an early afternoon posting on its Facebook page, the West Wildwood Police Department says the municipality is assessing storm damage.
"We have some very minor tidal flooding currently on our roadways. We are asking anyone driving here please use caution. There is storm debris everywhere. Crews are doing their best to remove sand and other storm debris," the posting said.
It continues:
We ask everyone to be patient we are doing everything we can to get the island back to normal. Thank you for all your kind words and acts of kindness to your neighbors and all of our departments. We are all in this together and as a community we will persevere. We have the best residents anywhere.
Tidal levels at the Cape May ferry terminal Saturday morning surpassed the record by a few tenths of a foot for Sandy and the Storm of 1962, according to the National Weather Service.
At Stone Harbor's Great Channel, the high tide reached 10.52 feet, surpassing the 9.3 foot record level, according to the US Geological Survey.
To put that in perspective, the highest Sandy surge occurred in Monmouth and Ocean counties, not in Cape May County, where the Sandy surge was lower. Saturday's high tide in central and northern sections of the Jersey Shore was well below Sandy levels.
Numerous Cape May County residents were rescued from their homes as the tide surged inland.
Several Ocean City residents were rescued, and a West Wildwood couple that narrowly made it through icy waters to a military vehicle.
Speaking on MSNBC this morning from New Hampshire, Gov. Chris Christie said there is no remaining flood damage in New Jersey.
"There is no residual damage, there is no residual flooding damage," he said. "All of the flooding receded yesterday morning. And there was no other damage. People were driving around the streets yesterday morning of New Jersey."
WHYY is your source for fact-based, in-depth journalism and information. As a nonprofit organization, we rely on financial support from readers like you. Please give today.