Plans underway to revitalize outdoor space at J.B. Kelly School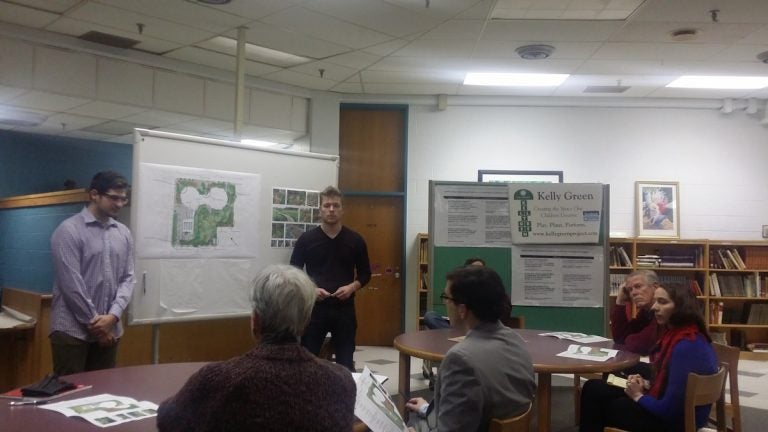 Members of the Kelly Green Project, an initiative to revitalize the John B. Kelly Elementary School grounds in Germantown, held a meeting on last week to discuss the latest renderings of a potential redesign plan.
Philadelphia University landscape architecture students Nick D'Ottavio and Alex Trunk revealed the latest details of the landscape redesign plan, describing a future school yard space that would feature lots of green spaces that could be used to teach students about nature, while giving them a fun space to play.
"Right now there's literally no play equipment for the students and there's nothing to do. So, we wanted to give them a site where they could do whatever they wanted, and really make it multi-purpose and useful; not just for the kids but for the teachers and the community as well," D'Ottavio said.
D'Ottavio and Trunk presented visual landscape plans that would combine active play, constructive play, social play, and accessibility to the school yard.
Some potential features of the landscape plan include a green roof, orchard-style trees, a walking trail, a sun dial, and half-sized basketball courts to deter non-elementary school aged kids from hanging out in the space.
Attendees also discussed having teachers teach history and geography lessons based on the two watersheds that run through the school's grounds, and making every outdoor entrance to the school ADA accessible.
Dennis Barnebey, Hansberry Garden and Nature Center board member and leader of the Kelly project said the landscape design is right on target with the Kelly Green Project's goals.
"One of the goals has always been for this to not just be a school yard space, but a community space," Barnebey said. "This will connect curriculum with outside space, and also bring the community together."
Funding was, of course, an unavoidable part of the night's discussion. The most promising piece of funding that the project is hoping to obtain is storm water management program grants available through the Philadelphia Water Department.
Barnebey says Kelly Project is looking to submit a proposal to the program within a few months. If granted, the program could award up to $100,000 in water remediation funds to the project.
Now that sufficient community and school feedback has been received, Trunk said the landscape aspect of the project is about 30 to 45 percent near completion.
"We wanted to get the input from everyone possible to make sure that anything that is going to happen is not going to upset anyone," Trunk said. "So far, everyone seems to be on board with what we're suggesting so we're just going to try to do as much as we can get done with the money that we get."
D'Ottavio said the project will likely be completed in phases as funding comes in, but is confident that the completion of each phase will reel in even more contributors.
"I think as people see the progress, they will become interested when they see what we've done and commit more money to the project."