Planning Commission recommends zoning approvals for new Whole Foods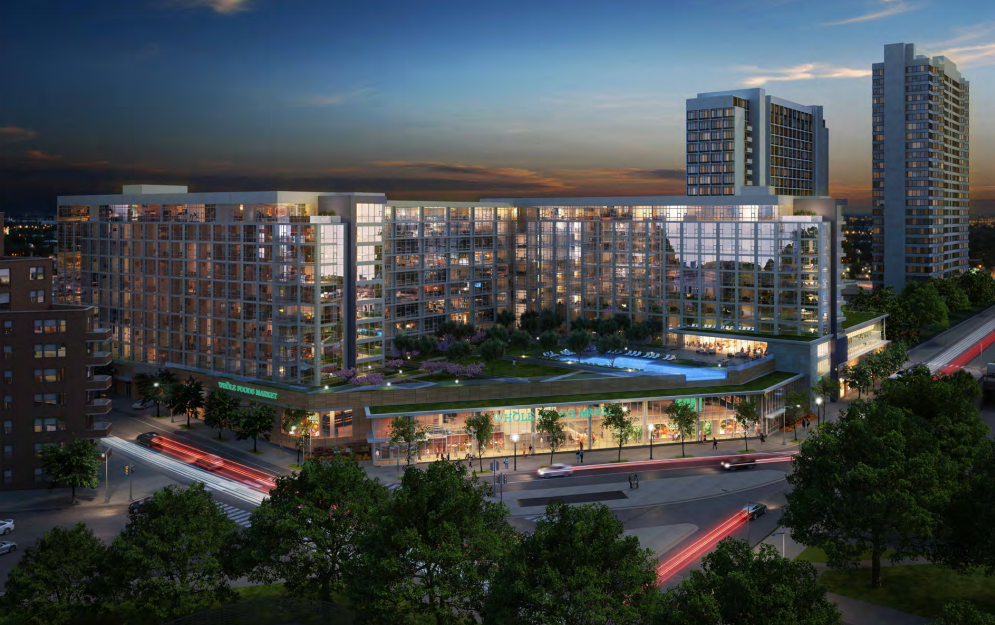 The Philadelphia City Planning Commission recommended approval of a handful of zoning variances for a proposed Whole Foods grocery store at 22nd and Spring Garden streets during its monthly meeting Tuesday afternoon. The proposal includes 293 apartments and 496 off-street parking spaces in addition to the grocery store, and will entail demolition of an existing Best Western hotel.
The parking spaces will be split up between the residents and the Whole Foods customers, and will be below and above grade. The developers need a special exception for above-ground parking in a CMX-4 zoning district. They are also seeking variances for larger curb cuts than the code allows.
The Planning Commissioners were in general agreement that the project is a good one for the neighborhood and the city generally, but many specifics need to be worked out. Some Commissioners and neighborhood residents pointed out that there is already a traffic problem at one corner of the property, 21st and Hamilton streets, exacerbated by perpendicular street parking at a Wawa and the existing Whole Foods at 20th and Callowhill.
The Civic Design Review Committee had asked the developers two weeks ago to consider adding more pedestrian lighting and entrances to the grocery store along Pennsylvania Avenue, along with several other comments. The architect did not make any changes to the plans since that time, and partially because of that, CDR Committee chair Nancy Rogo-Trainer did not join her fellow Planning Commissioners in voting to recommend the zoning approvals. Rogo-Trainer said she doesn't want to be an "obstructionist," but wants the Civic Design Review process to be taken seriously, and that her vote was a "vote of conscience."
The project architect, Jim Volsky, said that the developers' interests are completely in line with those of the Civic Design Review Committee, but that the project is in too early a stage to make specific commitments about things like the placement of entrances. He said the design for the grocery store will not be nailed down for another two years.
The Planning Commission's motion for approval included provisos that the developer commit to putting additional entrances on Pennsylvania Avenue, studying the pedestrian environment surrounding the retail portion of the project, and working with the Streets Department on the particulars of lighting and traffic abatement. Developer Neil Rodin agreed to those conditions through its attorney, Michael Sklaroff.
The proposal will go before the zoning board next Wednesday, August 28th, at 5 p.m.
WHYY is your source for fact-based, in-depth journalism and information. As a nonprofit organization, we rely on financial support from readers like you. Please give today.