Planning Commission OKs rezoning of 67-acre waterfront parcel in Bridesburg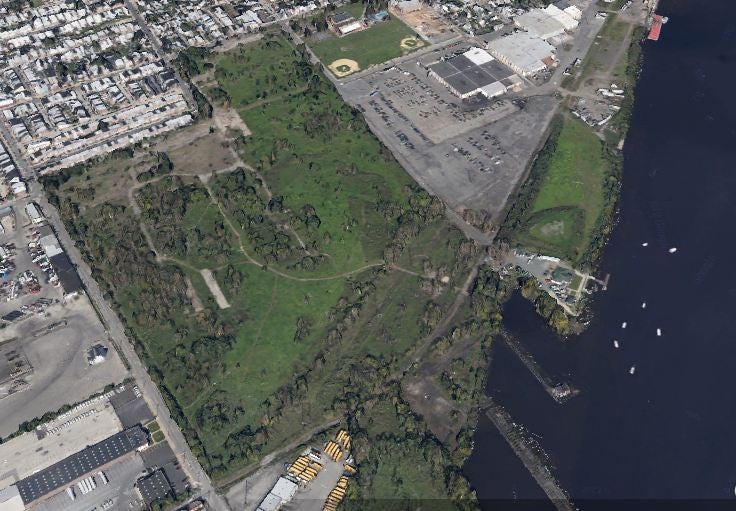 Back in 2007, a 67-acre plot of mostly vacant waterfront property on the Delaware River in Bridesburg was remapped from industrial zoning to Waterfront Redevelopment zoning for a proposed 720-unit housing project that never got started. Now, under a bill introduced by Councilman Bobby Henon, the site—which was home to the Philadelphia Coke Company from 1927 to 1982—is being re-classified as industrial.
Why? A company—as yet unidentified by Councilman Henon's office—is considering locating on a portion of the site controlled by the Philadelphia Authority for Industrial Development, and the anticipatory rezoning is being offered as a deal-sweetener. The company is apparently also considering settling down in Chicago.
On Tuesday, the Planning Commission voted to approve the bill, which is scheduled for a hearing before City Council's Committee on Rules on January 29.
Specifically, the bill would rezone the land from RMX-2 to a combination of I-2 and I-3, medium and heavy industrial, and ICMX, an industrial/commercial mixed-use category. Portions of the property are subject to the 50-foot buffer to development in the new zoning code and to separate regulations that apply to land within the 100-year floodplain. The area to be remapped is bounded by Orthodox Street, Garden Street, Lefevre Street, Richmond Street, Buckius Street and the Delaware River.
The bill originally would have made all 67 acres of the property I3, heavy industrial. According to Paula Brumbelow, a Planning Commission staff member who presented the bill at Tuesday's meeting, Commission staff recommended adding in the somewhat more restrictive ICMX zone in the portion of the property adjacent to residential zoning. The staff also recommended adding the large I-2 zone, and restricting the I-3 district to the portion of the property closest to the water.
"Our recommendation is, instead of going straight from I-3 to residential, to do a combination of industrial uses going from most restrictive to least restrictive as we move away from residential properties," Brumbelow told the Commission.
According to Brumbelow, Henon's office agreed to the recommended changes. Craig Schelter, the Development Workshop spokesman who also represents the unnamed company that may or may not come to Philadelphia, also agreed to the recommendations.
Contact the reporter at jbrey@planphilly.com and follow him on Twitter @jaredbrey