Planning Commission hears from Praxis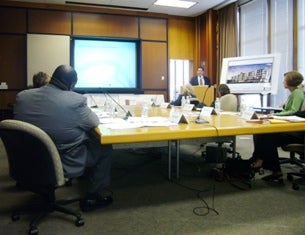 Oct. 16
By Matt Blanchard
For PlanPhilly
It was just an informational meeting, a courtesy call. But hot words at the Philadelphia Planning Commission on Tuesday appeared to foreshadow a coming battle over the PennPraxis riverfront vision.
With a month to go before the work's Nov. 14th public unveiling at the convention center, lead planner Harris Steinberg addressed the commission's monthly meeting with an impassioned summary of the exercise that, at times, verged on a call to arms.
"This is about protecting the public good," Steinberg said. "It's about taking power out of the hands of the 5 or 6 people who typically make development decisions in this town, and putting it into the hands of the citizens."
But Steinberg was soon tangling with a population he once hoped might embrace the plan: riverfront land owners.
Michael Sklaroff, a development attorney with Ballard Spahr, and Craig Schelter, a development consultant representing the owner of the 46-acre Cramps Shipyard site in Fishtown, decried a series of perceived shortcomings. See comments: Pages 1, 2, 3, 4.
"The vision is highly idealistic and not grounded in reality," Sklaroff told the commission. "… A serious plan for the waterfront is based on economic reality, acknowledges costs, and understands the limits of the city budget … A serious plan for the waterfront avoids inflammatory rhetoric and spin."
Steinberg stung right back: "Don't confuse long term concerns with short term concerns when you're trying to obfuscate the issues."
The debate provoked a worried response from members of Planning Commission, some of whom seemed unfamiliar with the Praxis vision despite about a year of involvement by Planning Commission staff.
"I love the vision of doing great things with the river," said member Pat Eiding, "but in that vision I see a whole lot of obstacles."
The debate also modeled what will no doubt be an increasingly public struggle for the life of the PennPraxis plan as it goes before the public next month and, just one month later, tries to survive the change of mayoral administrations.
Grids gone wild?
At the core of the dispute is what Steinberg calls "the grid," a network of new streets that are crucial.
The grid is essentially an extension of the dense Philadelphia street grid to the river's edge along the seven-mile study area from Oregon Avenue to Allegheny. It would chop up large-lot former industrial properties along the river, preventing suburban-style development.
The grid grew out of public design workshops in which citizens called for a riverfront that "felt like Philly," and Steinberg believes it will foster the growth of dense, visually diverse neighborhoods after the model of neighborhoods like Rittenhouse or Bella Vista.
Maps shown to the Planning Commission on Tuesday show two new city neighborhoods gradually evolving as the city plats new streets – one in the big-box kingdom of South Philadelphia, home to Ikea and Wal*mart, and a second to the north in Northern Liberties and Fishtown.
"Undergirding this plan is a street grid," Steinberg told the commission. "It was good enough for William Penn and it's good today."
Yet the grid alarms some property owners.
Schelter offered his client's Cramps property as an object lesson in a grid gone wild. Should the Praxis plan be executed in its current form, Schelter said the addition of 10 new streets, and an "excessive" 100-foot public access setback along the river would reduce his client's 46-acre site to just 16 developable acres spread across 9 undersized, irregularly-shaped parcels.
"That, in my eyes, is a serious public taking," Schelter said. "When William Penn did his plan he owned all the land, so it was up to him. In this situation, only about 10% of the land is owned by the public." See comments: Pages 1, 2, 3.
Someone has to pay for all these streets, Schelter said, later predicting that such infrastructure upgrades could cost the city $10 to $15 million on the Cramps site alone. With competition from other waterfront projects such as the Schuylkill River trail, Schelter argued the city would be hard-pressed to afford new streets.
It's a concern Steinberg sought to head off early in his speech: "Planning [streets] does not constitute a taking. It does not mean building 400 miles of roads. It happens over time."
"These are not final plans, the final grid, or final dimensions," Steinberg had said. "This is about moving toward a vision."
And Steinberg had urged the city to start moving toward that vision post haste, before developers move ahead with he has called an incoherent collection of 22 towers now on the drawing boards:
"Call me a communist of whatever you like, but it is the responsibility of the city to set these rules," he said, calling for a new zoning overlay to enact development controls immediately.
But Schelter's concerns resonated with some on the planning commission: Commissioner Gloria Levin worried committing to a street grid might reduce "flexibility" in future development, while acting chair Marcia Moore Makadon questioned whether a "constrained" grid of streets would allow for institutional uses such as health care, education or museums.
Support from CNU…
On Monday, the PennPraxis plan received the endorsement of the Congress for the New Urbanism, an influential national association of architects and planners devoted to bringing traditional urban design principles to 21st century cities.
Philadelphia developer Sam Sherman announced the endorsement before the Planning Commission, arguing that the hot market for downtown housing is "driven by the demand for an intricate street grid."
"It's astonishing that the development community would not recognize that this proposal will add value to the land along the river," Sherman said. "Sometimes you gotta think beyond yourself."
… and caution from PIDC
While the broom of history has swept the seven-mile Central Delaware study area almost entirely clean of industry, chairman of the Philadelphia Industrial Development Corporation John Grady lobbied for development sites like the vast and partially abandoned Conrail Yards to remain industrial.
The site in Port Richmond has been declining for decades, but Grady said it was "ripe for industrial development" and urged Praxis not to recommend the area for residential or other development.
Further, Grady asked that larger, industrial-sized parcels dominate a swathe of land from Penn Treaty Park north to Allegheny Avenue, that the 100-foot public access setback along the river be reduced in width, and that open space in the corridor be reduced.
Grady offered no details on what industries might appear on these sites.
***
Cira Centre South zoning a picture of what is possible
With the city's zoning code about to undergo a total overhaul, a package of zoning controls proposed for the massive Cira Centre South project offers a glimpse of what a future zoning code might ask of large-scale developers in Philadelphia.
The joint project of Brandywine Realty Trust and the University of Pennsylvania would build a 40-to-50-story office tower and a 25-to-30-story residential tower on a 14-acre site south of the 30th Street Post Office in West Philadelphia.
Zoning for the project has so far taken the form of a proposed "special controls" overlay district developed by the Planning Commission. It would tweak the site's C5 zoning to require a raft of progressive innovations from the developers.
This includes energy-efficient design up to the LEED "Silver" standard; a green roof open to the public; public spaces at street level; bicycle and car-share parking; streetscape improvements; an ornamental façade and the willingness of the developers to submit to design review by the planning commission.
"If you're gonna give away all that F.A.R., you should get something for it," said veteran PCPC planner Bill Kramer.
Approved by the commission, the special controls district is scheduled to go before City Council on Wednesday as bill # 070674.
In other news:
For the most part the debate on a sustainable Philadelphia Monday night was a conflict free discussion featuring mayoral candidates Michael Nutter and Al Taubenberger. Daily News coverage.
Rendell continues paving the way for port expansion. Inquirer coverage.
WHYY is your source for fact-based, in-depth journalism and information. As a nonprofit organization, we rely on financial support from readers like you. Please give today.