Philly's Bastille Day tradition goes out with a bang
John Jarboe, portraying Edith Piaf, crowd surfs off of the stage at the conclusion of the Bastille Day celebration at Eastern State Penitentiary. (Jonathan Wilson for WHYY)

Revelers (from left) Francesca Negron, Ann Patricia, and Katherine Patterson, wear period costumes for the final Bastille Day performance on July 14, 2018. (Jonathan Wilson for WHYY)

A member of the crowd in the "masses" section of the audience holds a portrait of Marie Antoinette aloft to a chorus of boos. (Jonathan Wilson for WHYY)

The executioner, played by Sean Kelley, releases the guillotine to slice watermelons which were then handed out to lucky members of the crowd. (Jonathan Wilson for WHYY)

Executioner, played by Sean Kelley, psychs up the crowd before slicing watermelons with the guillotine. (Jonathan Wilson for WHYY)

After receiving a watermelon from executioner Sean Kelley, a member of the crowd wears the melon on his head. (Jonathan Wilson for WHYY)

Anthony Martinez-Briggs inserts his head into a rendering of the Mona Lisa during one of the cabaret numbers. (Jonathan Wilson for WHYY)

Reprising his role as Edith Piaf for the last time, John Jarboe rappels from the tower of Eastern State Penitentiary wearing a gold lame jump suit, wings, and gold heels. (Jonathan Wilson for WHYY)

Members of the Bearded Ladies Cabaret satirize the Handmaids Tale along with John Jarboe, as Edith Piaf and Virgil Gadson playing the character Butter. (Jonathan Wilson for WHYY)

From the tower of the Eastern State Penitentiary, Mark Zuckerberg, played by Mary Tuomanen, sings "Every Breath You Take." (Jonathan Wilson for WHYY)

With her mobile phone taped to her sword, Jackie Soro, portraying Joan of Arc, calls Pennsylvania Senator Pat Toomey's office to let her feelings be known. (Jonathan Wilson for WHYY)

John Jarboe portraying Edith Piaf, rouses the crowd at the start of the Bastille Day Cabaret. (Jonathan Wilson for WHYY)

Fans enjoy the Bearded Ladies farewell Bastille Day performance.(Jonathan Wilson for WHYY)

Anthony Martinez-Briggs, playing Benjamin Franklin, struts along the stage. (Jonathan Wilson for WHYY)

Members of the Bearded Ladies Cabaret march onto the stage. (Jonathan Wilson for WHYY)

On stage, the Statue of Liberty, portrayed by Messapotamia Lefae, Butter, portrayed by Virgil Gadson, and Sojourner Truth, played by Veronica Chapman Smith, lead the Bearded Ladies in the cabaret's finale. (Jonathan Wilson for WHYY)

Marie Antoinette, portrayed by Terry McNally, is escorted from the tower to confront Edith Piaf, portrayed by John Jarboe. (Jonathan Wilson for WHYY)

Philadelphia District Attorney Larry Krasner condemns U.S. Immigration and Customs Enforcement to the cheers of the attending crowd in July 2018. (Jonathan Wilson for WHYY)

People in the crowd reach for the sky as Marie Antoinette and her minions throw Tastykakes from the top of the Eastern State Penitentiary wall. (Jonathan Wilson for WHYY)

For nearly a quarter century Terry McNally has played Marie Antoinette for Philadelphia's Bastille Day satirical celebration in the city's Fairmount section. She put her wig on for the last time Saturday.(Jonathan Wilson for WHYY)

The character Butter, played by Virgil Gadson, mourns the death of his friend Bread played Kristen Bailey. (Jonathan Wilson for WHYY)
For nearly a quarter century Terry McNally has played Marie Antoinette for Philadelphia's satirical Bastille Day celebration in the city's Fairmount section. She put her pouf wig on for the last time Saturday.
Eastern State Penitentiary, which has hosted the event outside its formidable walls in Philadelphia's Fairmount neighborhood for 24 years, announced it would no longer produce the neighborhood celebration, citing the burden of costs.
McNally, co-owner of London Grill, started the tradition, looking for a way to drum up business during the slow summer months for her restaurant just a block from the giant stone walls of the historic prison.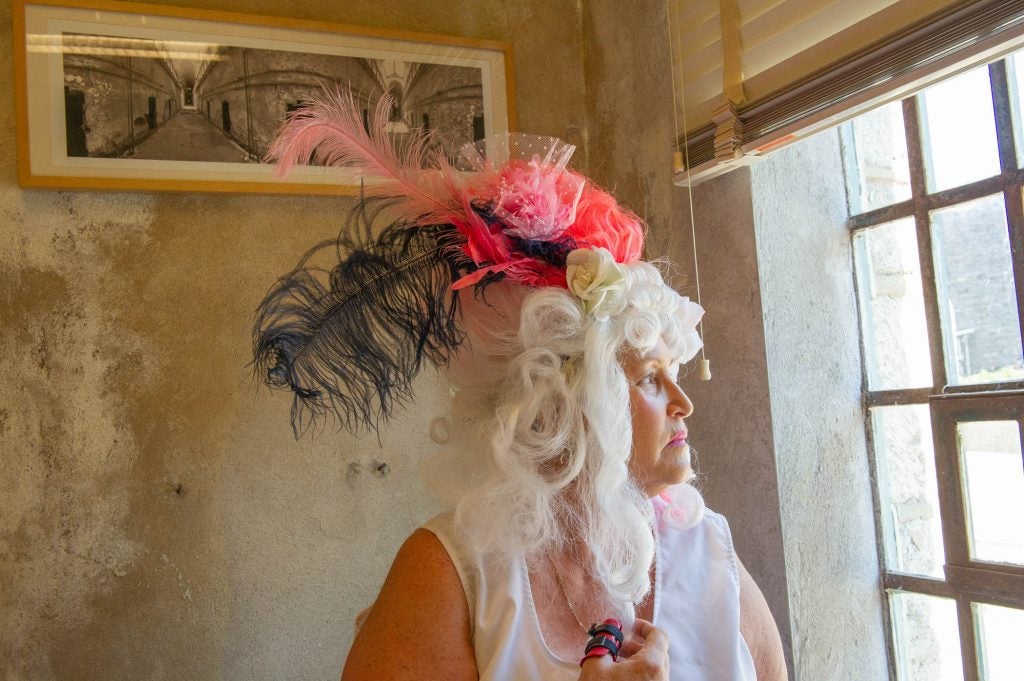 The drag cabaret troupe The Bearded Ladies put on the satirical re-enactment of the storming of the Bastille. Philadelphia District Attorney Larry Krasner made an appearance, joining Edith Piaf, portrayed by John Jarboe, in condemning the office of Immigration and Customs Enforcement. Krasner dressed in a dark suit, his only nod to the day's theme was a blue, white and red striped tie.
Jarboe made his annual rappel down the prison wall wearing a gold lame jumpsuit, wings, and golden high heels.