Philly Soccer Club goalposts stolen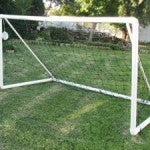 In an effort to deter thieves, coaches and other employees with Philly Soccer Club are painting goalposts white – something that devalues aluminum.
To date, eight goalposts have been stolen, in addition to nets, which are worth approximately $150 apiece.
Rob Calasanto, who works at Philly Soccer Club, told CBS3 he believes the thieves are cutting up the posts and selling them as scrap metal.
It's been reported that the white paint has slowed the thefts so far, but other fields, like those at Eden Hall in Torresale, have been target as well.