Philly officials: DHS proposal would penalize legal immigrants for kids' public assistance
The latest immigration battle between the federal government and cities like Philadelphia: public assistance programs, such as food stamps and Medicaid.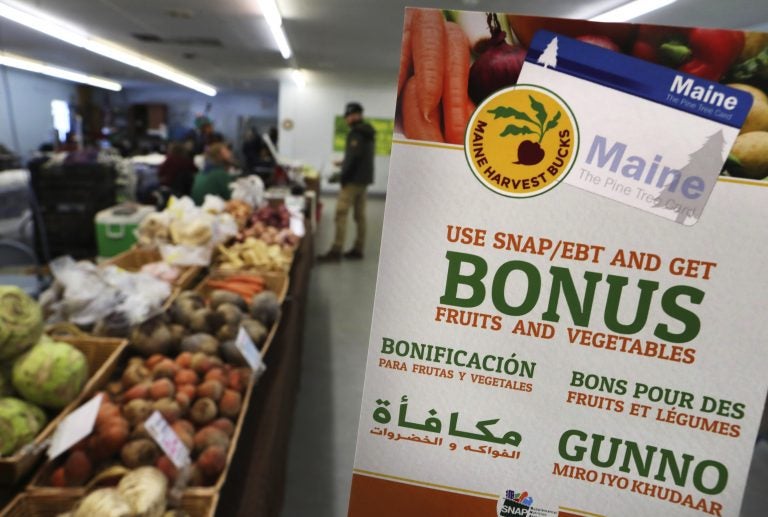 Changes to federal immigration policy under President Donald Trump have triggered a series of standoffs between cities such as Philadelphia, which has a sizable immigrant population, and the federal government.
The latest battleground? Public assistance programs, such as food stamps and Medicaid.
In a draft proposal, leaked to several news outlets earlier this year, the U.S. Department of Homeland Security proposed expanding the type of information it would consider when deciding whether to allow a visa holder or green card applicant to stay in the country. The proposed policy would take into consideration the person's use of non-cash assistance programs, including heating assistance; food assistance programs such as SNAP and WIC; the Earned Income Tax Credit (EITC); as well as Medicaid and the Children's Health Insurance Program (CHIP), among others.
Philadelphia city officials argue such a policy would hurt the city's economy and families that include at least one immigrant member. Community social service agencies say the draft proposal is already sowing confusion and scaring families away from benefits their U.S. citizen family members are entitled to.
"We think it could have potentially devastating effects on benefit access in Philadelphia," said Julia Hinckley, policy director for the Health and Human Services Cabinet in the Managing Director's Office.
Immigrants living legally in the U.S. qualify for few public benefits, and the small sliver who do qualify for benefits already face consequences if they accept cash assistance, such as Temporary Assistance for Needy Families (TANF) or Supplemental Security Income (SSI).
The exceptions are humanitarian immigrants, refugees and asylees, who tend to arrive in the U.S. with few belongings and may require more support to begin working in this country. But, under the draft proposal, advocates for the poor and city officials fear  that an immigrant mother could have her green card application denied because she signed her U.S. citizen kids up for government assistance.
"The Medicaid, food stamps, or CHIP that her kids get could be used against her," said Maripat Pileggi, an attorney who specializes in welfare benefits for Community Legal Services of Philadelphia.
In an April meeting with the U.S. Office of Management and Budget, which oversees the federal rulemaking process, Philadelphia city officials registered their concerns that the change could have a broad impact on the city's economy. They estimate that more than 30,000 households with at least one immigrant member access some of these programs, and pulling people out of them cost the city millions of dollars.



The city governments of Seattle, Los Angeles, and New York have all had or requested meetings with OMB, according to Miriam Enriquez with the Philadelphia Office of Immigrant Affairs. The timeline for considering the draft is unclear.
In their proposal, DHS officials say they are simply clarifying existing laws meant to weed out immigrants who may become dependent on government assistance. "The primary benefit of the proposed rule would be to help ensure that aliens who apply for admission to the United States, seek extension or change of status, or apply for adjustment of status, are self-sufficient," wrote DHS officials in the draft proposal. The goal is to ensure that benefits do not entice immigrants to come to the U.S., and that immigration is not a tax burden, according to the proposal.
Groups that want to limit immigration have long pointed to benefits programs as a sign that immigrants put an undue burden on American taxpayers. Immigrants working in the country illegally pay billions of dollars in taxes each year, while they are ineligible for most forms of public assistance.
Even though the proposed rule is not in effect, and, as written in the leaked proposal, would not be retroactive, some social service providers say their clients are already shying away from treatment.
"I'm already hearing from health clinics, and community-based agencies and social service providers across the state who are working with families who are afraid of this, and who don't want to apply for benefits," said Pileggi, the attorney with Community Legal Services.
"What I think it does is create more fear and confusion," said Alisa Jones, CEO of La Comunidad Hispana, a community health clinic in Chester County. She said the challenge for social service providers is educating clients without fanning their fears.
—

WHYY is one of 19 news organizations producing Broke in Philly, a collaborative reporting project on solutions to poverty and the city's push towards economic justice. Follow us at @BrokeInPhilly
WHYY is your source for fact-based, in-depth journalism and information. As a nonprofit organization, we rely on financial support from readers like you. Please give today.