Philly man with Alzheimer's battles for inclusion after controversial remarks
Listen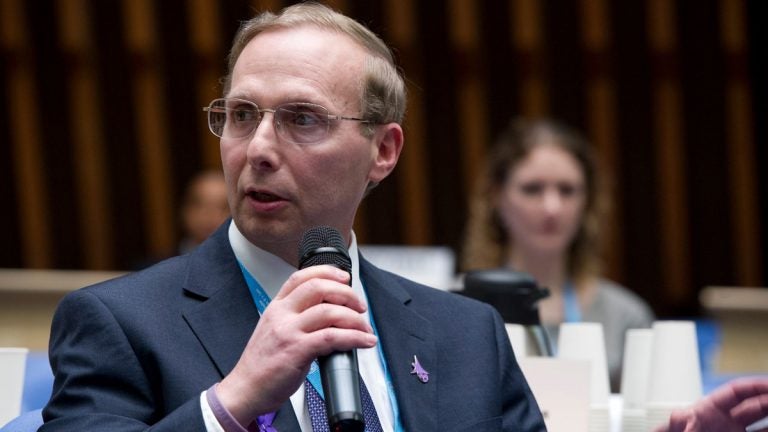 A Philadelphia man with Alzheimer's is under fire for submitting controversial comments to a gathering of those involved with the National Alzheimer's Project Act in January.
Michael Ellenbogen was unable to attend the conference, so the comments that got him in trouble were read for him.
"What do we need to do to get the attention of people like you? Will it take someone like me to have some sort of shootout like Columbine before someone will take notice?
"I would not do that, but I am trying to get your attention, and I am failing and dying at the same time," his testimony read.
Even after those comments, Ellenbogen was vetted and asked to speak at a World Health Organization conference on dementia in Geneva in March.
Upon his return to the U.S., Ellenbogen said he was banned from speaking at further NAPA events and any other events sponsored by the federal Department of Health and Human Services.
The comments were meant to shock but were not a threat of violence, Ellenbogen said.
Ellenbogen, who has apologized, said the Alzheimer's Association also has requested that he not attend any gatherings or meetings.
"That's the worst part of this," he said. "You can't even find someone who will talk to me. I called numbers, they find out who I am, and they don't want to talk to me. Won't even tell me where to go or what to do."
A statement issued by the Department of Health and Human Services encouraged him to submit future comments in writing and watch meetings via webcast.
Kate Meyer, a spokeswoman for the Alzheimer's Association, said the group did not ban Ellenbogen from attending events, but requested he stay away, even from peer support groups, until Health and Human Services resolves "the security issue." It's unclear if or when that will happen.
Asked if that was an overreaction, Meyer said, "We take any reference to violence seriously. It wouldn't be acceptable to ignore such remarks."
The Alzheimer's Association has offered Ellenbogen and his family online and phone support, she said.
Shari Ellenbogen, Michael's wife, denied they were personally offered phone and online support.
Ellenbogen was diagnosed with Alzheimer's eight years ago at age 49. He said his struggle with officials has left him feeling depressed.
"I don't know if I'm going to continue to do it [work as an activist]. If I cannot win this case here, to undo this, I believe I lost a battle for people with dementia," he said.