Philly Girls Jump! Draws Hundreds to Double Dutch in Awbury Park, 19138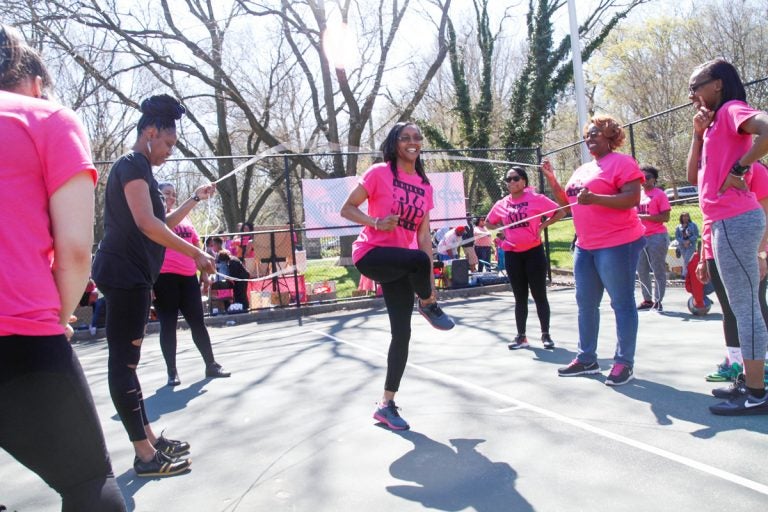 Della Burns and Tanisha Rinehardt missed jumping Double Dutch. It was their favorite childhood game. Two long jump ropes turn in opposite directions, while one or more players jump at the same time to the rhythm of a song.
Tanisha Rinehardt, Philly Girls Jump Co-Founder
So Burns and Rinehardt decided to create a Facebook event page and named it "Philly Girls Jump!" They hadn't jumped Double Dutch in nearly twenty years and were hoping that just ten of their friends would show up to play again at Awbury Park in Germantown.
Overnight, about 300 people registered for the event. Within a week, that number rose to over 1,000. The overwhelming amount of interest made the two organizers want to find a way to unite all of the jumpers, so they designed a Philly Girls Jump 2016 logo and had it printed on pink t-shirts, tote bags and wristbands. They also started facilitating weekly Double Dutch practices prior to the event.
The inaugural Philly Girls Jump event occurred on April 17 and it was a huge success with hundreds of people coming out to play. Many of the women hadn't jumped in over 30 years. Others were learning for the first time. They tried to remember the old songs they used to sing and showed off their moves in the rope.
"They have new songs they started in the 1990s when I wasn't jumping," said Isalene Johnson, "They have one called "Criminal Minded" that I couldn't tell you what it's about. But that's just one of the new songs that's out."
Della Burns, Philly Girls Jump Co-Founder
Many of the people at the event mentioned that it was great to see younger generations of girls playing Double Dutch.
"You don't see kids jumping Double Dutch like they did when we were kids," said Leslie Stones.
Due to the success of the event, monthly Philly Girls Jump events have been planned throughout the summer. The organizers hope the events will bring a renewed level of enthusiasm to their favorite childhood game.
"I'm hoping that with this big kick off that it will start Double Dutch again," says Leslie Stones, "It's a dying art and we don't want it to die out."