Philadelphians rally to protect limits on power plants carbon emissions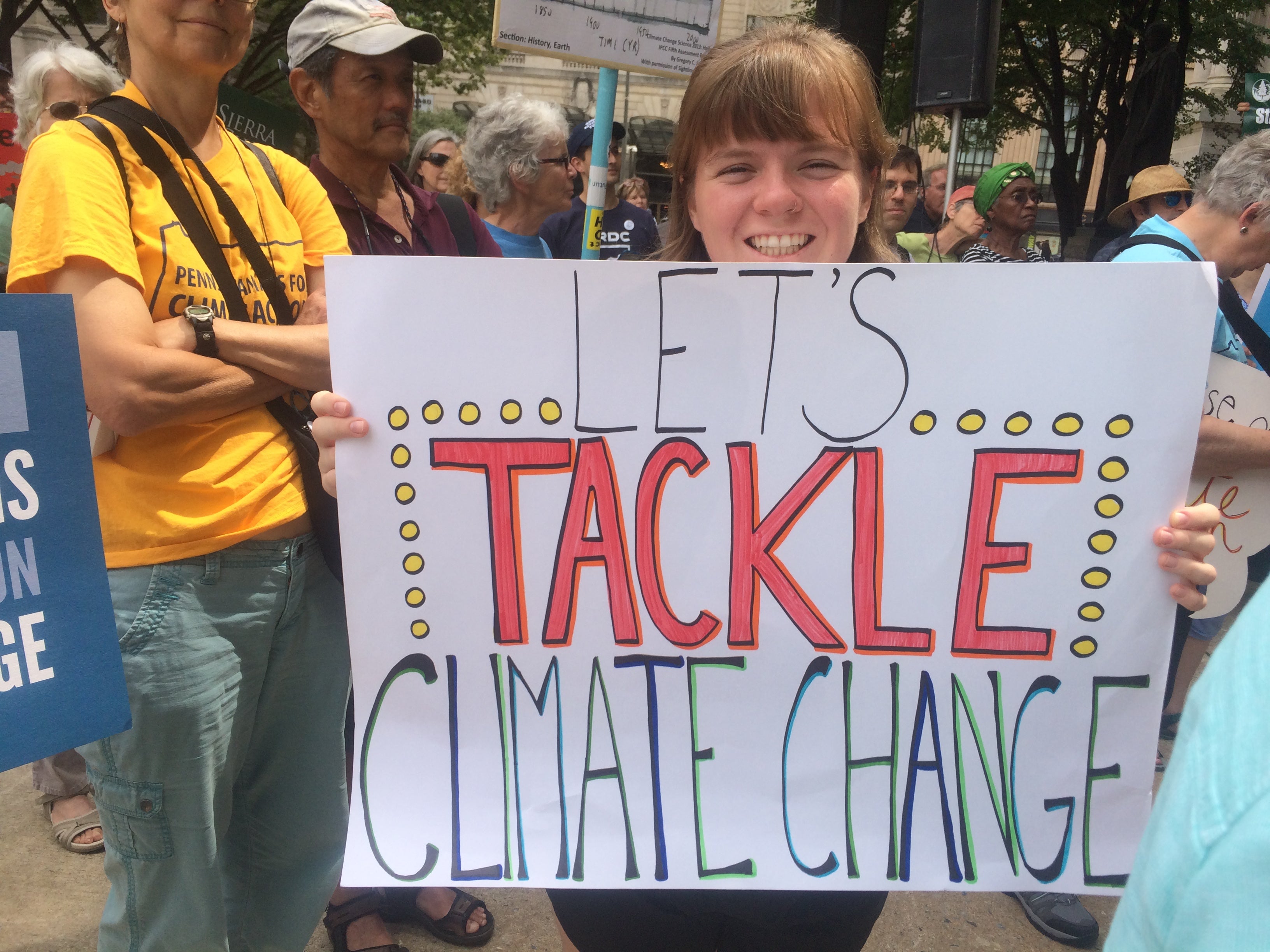 Almost two years ago, on August 3, 2015, the Environmental Protection Agency set carbon dioxide emission limits for new fossil fuel-fired power plants for the first time. Plant emissions represent about 40 percent of the the national carbon dioxide footprint.
The EPA edict, called the Clean Power Plan, created state-by-state targets for reducing carbon emissions, with an overall goal of reducing greenhouse emissions up to 32 percent by 2030.
But this February, the Supreme Court placed a hold on it after 27 states sought judicial review. Among those who originally challenged the plan, arguing it would kill jobs, was then Oklahoma attorney general — and now EPA Administrator — Scott Pruitt.
In March, President Trump signed an executive order "in favor of energy independence, economic growth, and the rule of the law," and to "reduce unnecessary regulatory burdens associated with the development" of energy resources, including oil and gas.
But many Philadelphians see the Clean Power Plan as the biggest step the country has ever taken in the fight against climate change. And some think Pruitt is going to put forward a plan to dismantle it very soon.
"Honestly, I wouldn't be surprised to see it tomorrow, or as far out as a few weeks," PennEnvironment's Elowyn Corby said.
On Tuesday, leaders from 13 local environmental organizations and local elected officials rallied in front of City Hall to protect the Clean Power Plan.
"Climate change is a serious challenge which requires action," said Geoffrey Mock a staffer for U.S. Senator Bob Casey. "Whether holding administrator Pruitt accountable or fighting to protect the Clean Power Plan, Senator Casey won't stop fighting until the administration tackles this challenge head on."
Gary Morton, president of the American Federation of Government employees, Local 3631, representing EPA employers in Philadelphia, said he and his coworkers feel torn.
"We keep the air clean, we keep the water clean, but this administration does not want us to do our jobs," Morton said. "They want you to have an environment that's contaminated."
The organizers said Philadelphia is already feeling the heat. Keynote speakers said the rising temperatures have led to increased smog and dangerous heat waves. And activists, public health experts, academics and business owners gave testimony about how climate change is impacting them.
One of the most heated testimonies came from reverend Greg Holston, executive director of Power, a local interfaith organization that representing about 50,000 people.
"In Philadelphia about one-in-five children suffers some form of asthma," Holston said. "You don't have to go to 2045 or 2035 to talk about the effects. You can talk about the effects right now particularly in poor areas of this city where children right now, in the summer, are gasping for air, gasping for breath, trying to live."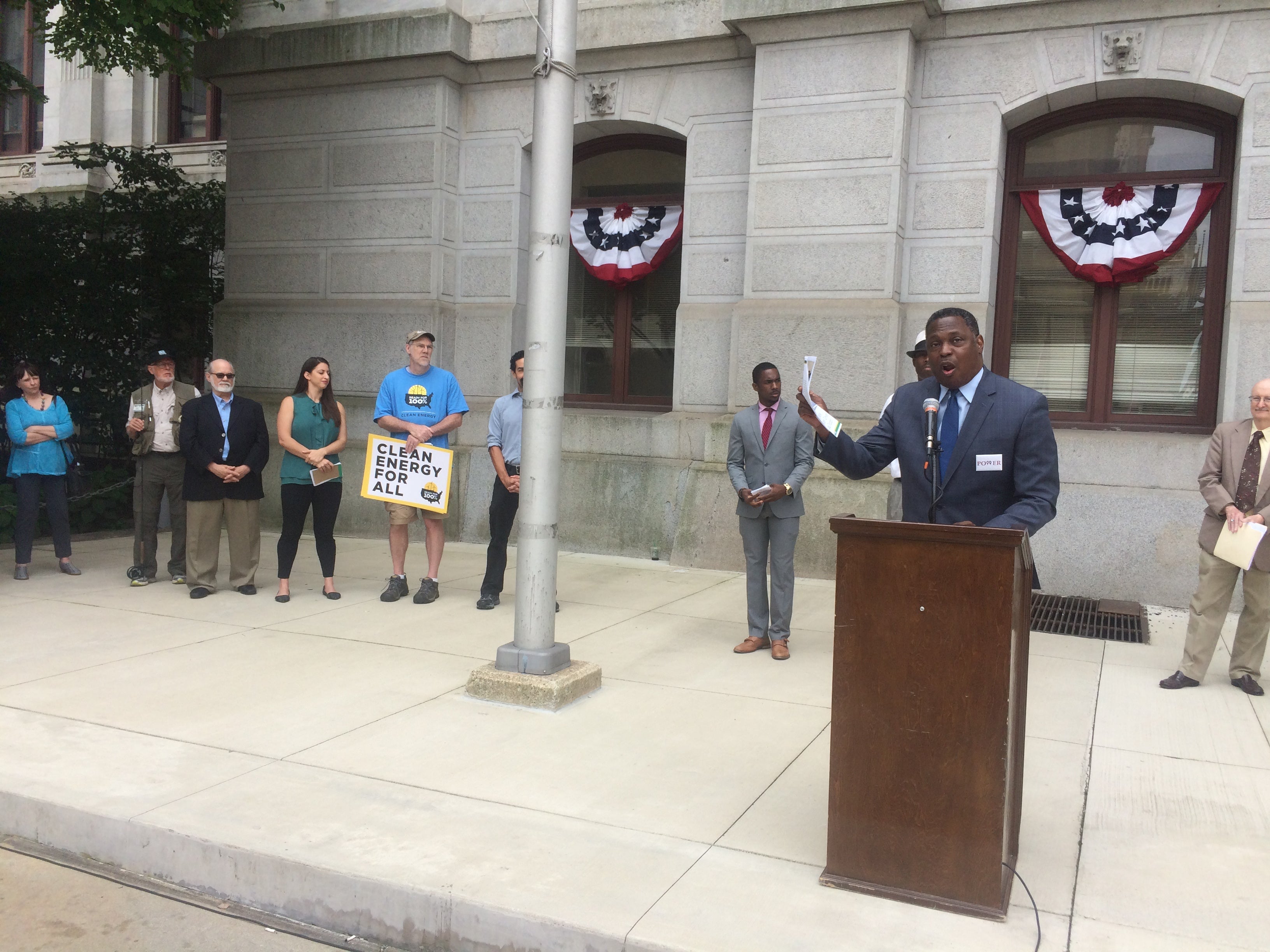 On Monday, the New York Times obtained a copy of an unreleased report by scientists from 13 federal agencies that concludes that Americans are feeling the effects of climate change right now.
Councilman Derek Green said this summer made Philadelphia felt like Miami. "We've had various times this summer when it rained, and then sun came out, and then the rain began [again]. And a humidity that just stayed in the area," he said.
Green warned that if nothing is done to combat climate change, the average summer temperature will rise from 83 to 95 degrees by 2100.
"Think about the impact that will have on our agriculture and the food that we eat, and the farmers that grow food in our region," Green said. "Think about the impact on construction workers and economic development."
National Wildlife Federation's Ed Perry said fisherman and hunters like him already see the impacts of climate change in Pennsylvania's wildlife. "We're on the process of losing our state fish the Brook trout, our state bird the Ruffed grouse, and our state tree the [Eastern] hemlock."
Christine Dolle from Mom's Clean Air Force stood in front of the crowd with her 7-year-old twins. She said parents usually teach their kids that denying a problem doesn't make it go away and to clean up their own messes. "The U.S. has long been the largest carbon polluter per capita in the world. We have a responsibility to ourselves, to the global community but most importantly to our children who will inherit this horrific mess to clean it up," she said.
After living in Philadelphia for five years, Dolle moved to Swarthmore because she wanted her kids to breathe cleaner air.
"We had the luxury of being able to chose to move someplace with more trees and less traffic pollution and industrial pollution," Dolle told PlanPhilly. "We love this city, we come back often, but for now, I'm happy to give them cleaner air."
The organizers offered ice-cream to the attendants to calm the heat. But ironically, the weather on Tuesday was cooler than the historic average.
"But here in Philadelphia it has been smoldering this summer and if you look historically 2016 was the hottest year on record, 2015 was the hottest year before that, 2014 was the hotter year before that," PennEnvironment's Corby said. "This is what we'd love to see everyday. But unless we move forward with climate solutions, we can say goodbye to climate like this."
And according MotherJones' reports, the Clean Power Plan would not be easy to repeal.
(Catalina Jaramillo)

(Catalina Jaramillo)

(Catalina Jaramillo)