Philadelphia loses last bit of control over city's billboards [updated]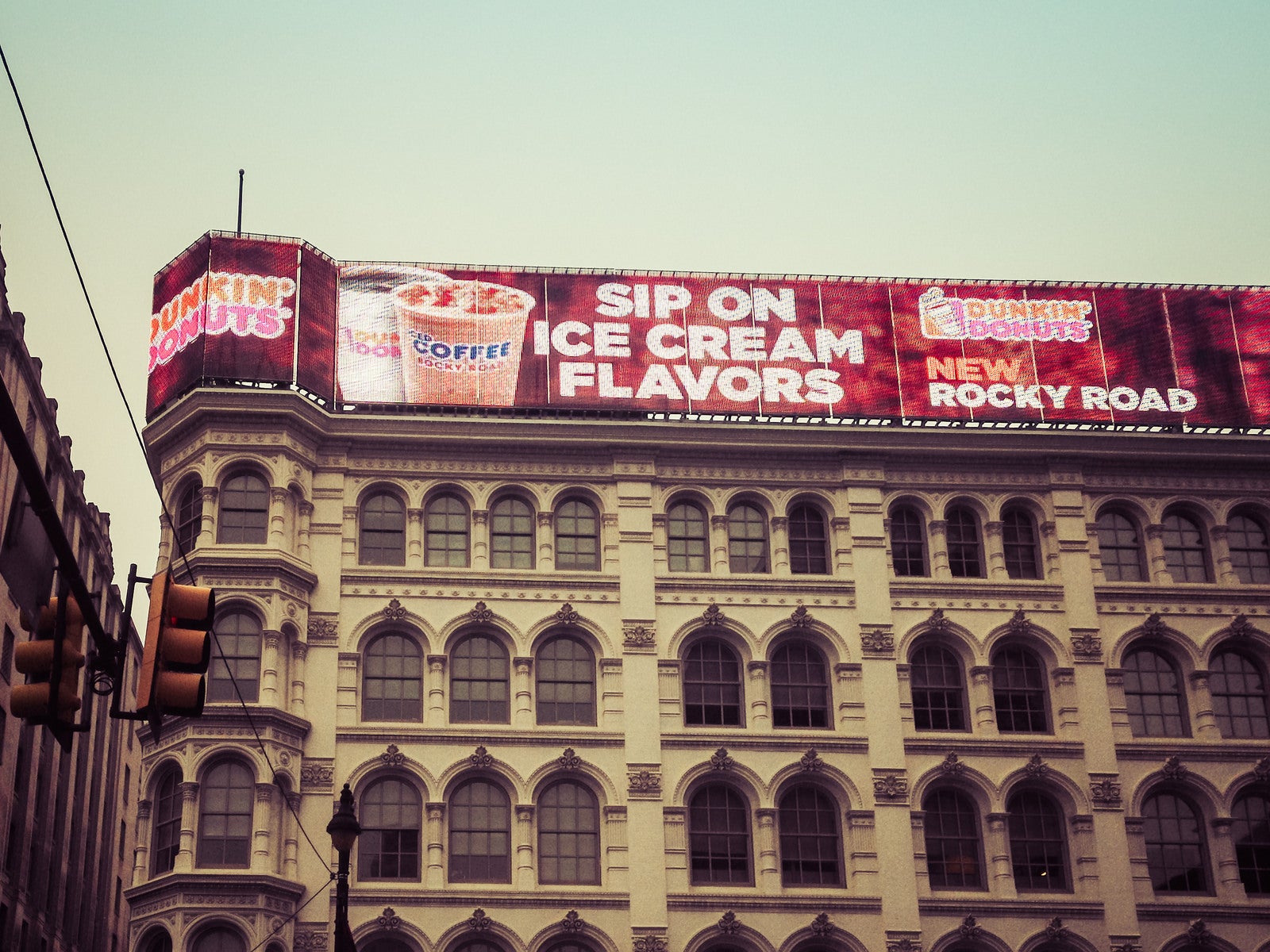 The Federal Highway Administration (FHWA) revoked Philadelphia's last bit of control over billboards in the city, transferring jurisdiction for outdoor advertising in the Market Street East Advertising District (MSEAD) to PennDOT.
The FHWA transferred control over outdoor ads from the City of Philadelphia to PennDOT for the entire city except for MSEAD late last year, saying that the City failed to adopt billboard regulations that ensure compliance with the federal Highway Beautification Act. States that violate the Act's rules against billboards along certain roadways risk a 10 percent reduction in their federal highway funding. PennDOT, fearing such a penalty because of Philadelphia's inability to adequately regulate the billboard industry, asked the FHWA to revoke the city's certification.
The most notable billboard in the MSEAD is the electronic sign above the Lit Brothers building. Renderings for the $500 million East Market mixed-use development under construction also show LED signage reminiscent of Times Square in New York or Piccadilly Circus in London, and there are digital signs planned for the new Fashion Outlets of Philadelphia. PennDOT will now need to decide whether those new signs may be built as proposed, and whether to continue to allow the bright Lit Brothers sign to remain in place. PennDOT has been reviewing almost all of Philadelphia's billboards along State and federal highways to ensure compliance with the state's Outdoor Advertising Control Act and the Highway Beautification Act.
Since Philadelphia lost control over all billboards outside of the MSEAD, City Council failed to pass new regulations to satisfy PennDOT and FHWA. Council did manage to pass an ordinance introduced by Councilman Bobby Henon to make one billboard located along I-95 near Unruh Avenue and New State Road compliant with the city's code on billboards. That bill was effectively pointless, as compliance with the city's billboard code has no legal impact on PennDOT's decision to allow billboards to remain.
Late last month, the FHWA revoked Philadelphia's billboard jurisdiction in a strongly worded letter, which was published on Scenic Philadelphia's website earlier this week. In the letter, FHWA division administrator Renee Sigel wrote that "the City has not been responsive to PennDOT's requests for information on the MSEAD. As a result, PennDOT has been unable to meet the federal requirement that the State periodically assure itself that the City is providing effective control of outdoor advertising."
In response, city spokesman Mike Dunn told PlanPhilly via email on Tuesday that the "City has been and will continue to be responsive to all requests on this matter, and we are in discussions with our partners at PennDOT to clarify the situation." PennDOT declined to comment, saying "the details are still being worked out".
In a blog post, Scenic Philadelphia's President, Mary Tracy, praised the decision, calling it "the right move for the citizens of Philadelphia."*
"To date Philadelphia has lacked the resources and the political will to adequately control outdoor advertising and protect our streetscapes from visual blight."
The Market Street East Advertising District was created in 2011 through legislation co-sponsored by then-councilman Jim Kenney. The law allows large-format digital signs, including building wraps, to be installed on certain buildings along Market Street between 7th and 13th streets where owners are making at least $10 million in improvements.
[UPDATED 9/8/16] Dunn and Kenney Administration Communications Director Lauren Hitt said that after further consideration, there had been an "internal miscommunication" and the city realized it was in fact not being responsive, as originally stated to PlanPhilly earlier this week.
In an emailed statement Dunn said, "We take responsibility for this situation, and we're working to correct it. We think the Market Street East regulations meet federal guidelines; however, we need to more fully review FHA's and PennDOT's concerns. Now that we've been made aware of the issue at hand, we are working diligently with PennDOT and the federal government to resolve it. Our goal is to continue to revitalize Market East and protect the investments that have been made there. While some activists may declare this as a victory, it is important to remember that revenue from signage is an important part of those projects that keep Center City vital."
Hitt explained that the city is now in discussion with state and federal departments to provide the necessary information about the Market East advertising district.
*Disclosure: Mary Tracy sits on PlanPhilly's advisory board.
WHYY is your source for fact-based, in-depth journalism and information. As a nonprofit organization, we rely on financial support from readers like you. Please give today.