People's Light leads in Barrymore Award nominations; Arden's 'Fun Home' gets most nominations of any show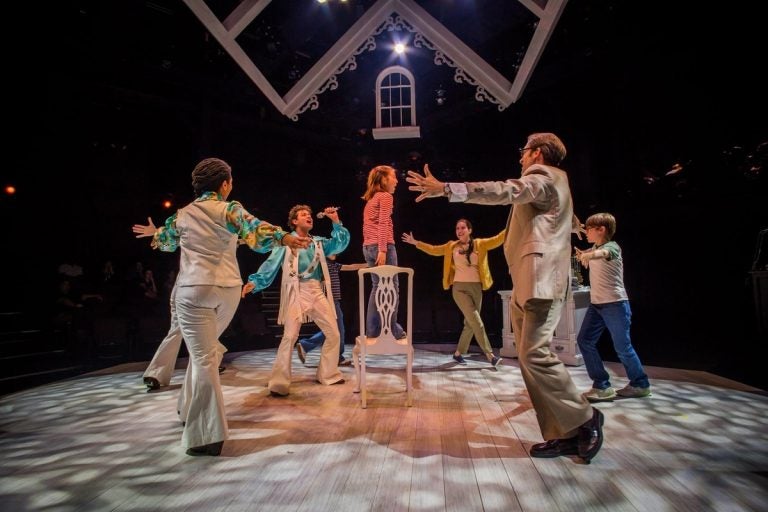 People's Light, the busy Malvern theater company about to begin its 45th season, dominates this year's nominations for the Barrymore Awards for excellence in professional Philadelphia theater. People's Light received 25 nominations for the award, announced Monday afternoon by Theatre Philadelphia, the service organization for the region's theaters and sponsor of the awards.
The People's Light nominations were for three shows in the company's past season – "Lights Out: Nat King Cole," a world premiere musical by Colman Domingo and Patricia McGregor that examined the singer's struggle to find a national advertiser when he became the first African American to have his own television show; "Skeleton Crew," Dominique Morisseau's tense play by about car-factory downsizing in Detroit, which received nine Barrymore nominations, the most for any play; and "Morning's at Seven," the classic comedy by Paul Osborn about four sisters and their husbands. Among the stage company's 25 nominations, "Lights Out" was nominated as the season's outstanding musical production and the other two as the outstanding production of a play.
People's Light is followed in nominations by three Center City stage companies: Wilma Theater and Arden Theatre Company, each with 19 nominations, and Azuka Theatre with 13. Delaware Theatre Company in Wilmington and Norristown's Horizon Theatre garnered 12 nominations each and Quintessence Theatre Group, which performs in Mount Airy, has 10 nods. In all, 27 theater companies in Center City and around the region received Barrymore nominations in 23 categories for writers, performers, directors and designers.
The winners will be announced at the 23d annual Barrymore ceremony, this year on Nov. 5 at the Bok Building in South Philadelphia, followed by a party there. Tickets are available to the general public through Theatre Philadelphia.
The nominees for the theater season that ended June 30 were announced Monday at the Suzanne Roberts Theatre, home of the Philadelphia Theatre Company, which was not eligible for Barrymore Awards because it didn't produce shows during a year of rebuilding, just ended. In addition, two theater companies that have long opted out of the awards remain absent from the nominations. They are Walnut Street Theatre, by far the largest in audience and budgets as well as the nation's oldest continuously operating theater, and Media Theatre, a producer of musicals in Delaware County.
This year, Theatre Philadelphia has killed the "actor" and "actress" categories and gone genderless with nominations instead for "outstanding performance" awards in leading and supporting roles for both plays and musicals. Two performers will be awarded Barrymores in each of those categories. Leigh Goldenberg, executive director of Theatre Philadelphia, wrote in a press release that the change, first announced in June, came after a year of discussions with local and national theater artists. Philadelphia now joins four other cities – Chicago, San Francisco, Seattle and Toronto – in bestowing gender-inclusive awards.
This year's nominations include a new award for best media design to recognize work in projections, video and other digital media – work that's become increasingly widespread in stage productions over the past decade. With this new category, Theatre Philadelphia trumps Broadway's Tony Awards, which do not recognize the media designers fighting for a place on the Tony roster.
Indeed, Delaware Theatre Company's "Something Wicked This Way Comes" – one of the most highly recognized shows, with 11 nominations, — relied heavily on digital and special-effects design to create a musical version of Ray Bradbury's fantasy-horror novel about two teenagers overtaken by a traveling carnival that comes to their town. The show was a world premiere, and is nominated for its media design by a company called Freckled Skye. The show, by Brian Hill and Neil Bartram, is also a nominee for best new show and best musical production.
Other nominees for best musical production are Arden Theatre's "Fun Home"–  a powerful take on a Broadway Tony-winner, with 13 Barrymore nominations this year for performances, design and direction, the most of any production — and Wilma Theater's grand staging of another former Broadway show, "Passing Strange."
Among the nominations for best production of a play are Wilma Theater's "Blood Wedding," a wildly inventive new take on Federico García Lorca's story; Theater Horizon's mood-swinging "The Revolutionists" about four women who play roles in the French revolution; and Quintessence Theatre Group's new adaptation of Henrik Ibsen's "The Wild Duck."
Two more shows nominated for best play production also are among nominees for best new work. One is "The Brownings," Sam Henderson's florid look at the marriage of Elizabeth Barrett Browning and Robert Browning, produced by Orbiter 3 — a company that now vanishes, having served its purpose. It was founded by local playwrights to present their newest work, which by now has all been staged over the past three years.
The other show nominated both for best production of a play and best new work is Emma Goidel's beguiling "The Gap," about two sisters, one of whom believes she is possessed by aliens. It was produced by Azuka Theatre, a company that lets people pay what they think the show is worth after seeing it, and arguably the theater that draws the youngest adult audience in the region.
Other productions nominated for best new play or musical are "¡Bienvenidos Blancos!" – in English, "Welcome, White People!" — a category-defying show about Cuba and Cuban-Americans that was developed by its ensemble and produced by Team Sunshine Performance Corporation; Caitlin Weigel's "Fishtown – A Hipster Noir," a deliciously goofy look at crime and technology from the stage company Tribe of Fools; and "Mrs. Harrison," R. Eric Thomas' play about two strong-willed women who meet up at a 10th college reunion, from Azuka Theatre.
One award recipient was announced yesterday: Paul Meshejian, a theater artist long associated with People's Light and the founding artistic director of PlayPenn, an incubator of new plays based in Center City, will receive the Barrymore Lifetime Achievement Award. Meshejian has been instrumental in making Philadelphia a nationally recognized home for new plays. New work accounts for an ample part of the seasons of about 50 professional stage companies here – and Philadelphians are willing audiences for them.
A volunteer team of 71 nominators and 12 judges, all theater professionals, saw a total of 112 productions over the year, staged by 40 professional companies. The Barrymores include medallions and, for some categories, a total of $83,000 in cash awards.
To qualify for Barrymore awards, a theater company must pay its cast and crew minimums of $150 a week for actors, $500 a show for designers and $750 a show for directors. For the record, larger Philadelphia-area stage companies holding contracts with Actors' Equity, the national union of actors and stage managers, must pay more than those minimum scales.
The Barrymore Award Nominees
Here is a complete list of Barrymore nominees for the 2017/18 theater season, which began July 1, 2017 and ended June 30.
Outstanding Overall Production of a Play
Blood Wedding (The Wilma Theater)
The Brownings (Orbiter 3)
The Gap (Azuka Theatre)
Morning's at Seven (People's Light)
The Revolutionists (Theatre Horizon)
Skeleton Crew (People's Light)
The Wild Duck (Quintessence Theatre Group)
Outstanding Overall Production of a Musical
Fun Home (Arden Theatre Company)
Lights Out: Nat "King" Cole (People's Light)
Passing Strange (The Wilma Theater)
Something Wicked This Way Comes (Delaware Theatre Company)
Outstanding Direction of a Play
Abigail Adams (Morning's at Seven, People's Light)
Steve H. Broadnax III (Skeleton Crew, People's Light)
Kathryn MacMillan (The Revolutionists, Theatre Horizon)
Ken Marini (Waiting for Godot, Quintessence Theatre Group)
Alex Torra (¡BIENVENIDOS BLANCOS! or WELCOME WHITE PEOPLE!, Team Sunshine
Performance Corporation)
Rebecca Wright (The Gap, Azuka Theatre)
Rebecca Wright (The Wild Duck, Quintessence Theatre Group)
Outstanding Direction of a Musical
Tea Alagić (Passing Strange, The Wilma Theater)
Patricia McGregor (Lights Out: Nat "King" Cole, People's Light)
Terrence J. Nolen (Fun Home, Arden Theatre Company)
Rachel Rockwell (Something Wicked This Way Comes, Delaware Theatre Company)
Outstanding Leading Performance in a Play
Brandi Burgess (Holly, Mrs. Harrison, Azuka Theatre)
Jaylene Clark Owens (Marianne Angelle, The Revolutionists, Theatre Horizon)
Melanye Finister (Faye, Skeleton Crew, People's Light)
Scott Greer (Every Brilliant Thing, Arden Theatre Company)
Johnnie Hobbs, Jr. (Vladimir, Waiting for Godot, Quintessence Theatre Group)
Danielle Lenee (Aisha, Mrs. Harrison, Azuka Theatre)
Brian Marable (Reggie, Skeleton Crew, People's Light)
Patrese D. McClain (Shanita, Skeleton Crew, People's Light)
Forrest McClendon (Ira Aldridge, Red Velvet, Lantern Theatre Company)
Charlotte Northeast (Elizabeth Barrett Browning, The Brownings, Orbiter 3)
Campbell O'Hare (Blood Wedding, The Wilma Theater)
Brett Ashley Robinson (Gina Ekdal, The Wild Duck, Quintessence Theatre Group)
Leah Walton (Lisa, 2.5 Minute Ride, Theatre Horizon)
Frank X (Estragon, Waiting for Godot, Quintessence Theatre Group)
Outstanding Leading Performance in a Musical
Stephen Bogardus (Charles Halloway, Something Wicked This Way Comes, Delaware Theatre Company)
Eileen Cella (Guenevere, Camelot, Act II Playhouse)
Ben Dibble (Bruce Bechdel, Fun Home, Arden Theatre Company)
Jennie Eisenhower (Helen Sinclair, Bullets Over Broadway, Resident Theatre Company)
Dulé Hill (Nat "King" Cole, Lights Out: Nat "King" Cole, People's Light)
Leigha Kato (Eliza Doolittle, My Fair Lady, Quintessence Theatre Group)
Mary Tuomanen (Alison, Fun Home, Arden Theatre Company)
Jamar Williams (Youth, Passing Strange, The Wilma Theater)
Outstanding Supporting Performance in a Play
Jessica Bedford (Marie Antoinette, The Revolutionists, Theatre Horizon)
Carla Belver (Esther Crampton, Morning's at Seven, People's Light)
Tina Brock (The Catwoman, By the Bog of Cats, Irish Heritage Theatre)
Rachel Camp (Maggie, Red Herring, Act II Playhouse)
Akeem Davis (Krogstad, A Doll's House, Arden Theatre Company)
J. Hernandez (Lucky, Waiting for Godot, Quintessence Theatre Group)
James Ijames (Schumann, The Brownings, Orbiter 3)
Claire Inie-Richards (Charlotte Corday, The Revolutionists, Theatre Horizon)
Gregory Issac (Achilles, Iphigenia at Aulis, Philadelphia Artists' Collective)
Jaime Maseda (Rod/Alien, The Gap, Azuka Theatre)
Lee Minora (Suzette, Don't Dress for Dinner, Lantern Theatre Company)
Ebony Pullum (Connie, Red Velvet, Lantern Theatre Company)
Ed Swidey (Amos Mason, Lydie Breeze Trilogy, EgoPo Classic Theatre)
Alice Yorke (Nicole, The Gap, Azuka Theatre)
Outstanding Supporting Performance in a Musical
Gisela Adisa (Eartha Kitt/Natalie, Lights Out: Nat "King" Cole, People's Light)
Taysha Canales (Sherry/Renata/Desi, Passing Strange, The Wilma Theater)
Kim Carson (Helen, Fun Home, Arden Theatre Company)
Izzy Castaldi (Medium Alison, Fun Home, Arden Theatre Company)
Suli Holum (Frau. Kost/Fritzie, Cabaret, Arden Theatre Company)
Christopher Patrick Mullen (Ernst, Cabaret, Arden Theatre Company)
Mary Elizabeth Scallen (Frau Schneider, Cabaret, Arden Theatre Company)
Daniel J. Watts (Sammy Davis Jr., Lights Out: Nat "King" Cole, People's Light)
Outstanding Scenic Design
Luke Cantarella (Morning's at Seven, People's Light)
Tony Cisek (Skeleton Crew, People's Light)
Scott Davis (Something Wicked This Way Comes, Delaware Theatre Company)
Efren Delgadillo, Jr. (¡BIENVENIDOS BLANCOS! or WELCOME WHITE PEOPLE!, Team Sunshine Performance Corporation)
James Kronzer (Fun Home, Arden Theatre Company)
Kevin Meehan (Ready Steady Yeti Go, Azuka Theatre)
Peter Smith (Fishtown – A Hipster Noir, Tribe of Fools)
Outstanding Costume Design
Oana Botez (Blood Wedding, The Wilma Theater)
Marie Anne Chiment (The Brownings, Orbiter 3)
Theresa Ham (Something Wicked This Way Comes, Delaware Theatre Company)
Marla Jurglanis (Morning's at Seven, People's Light)
Rosemarie McKelvey (Fun Home, Arden Theatre Company)
Katherine O'Neill (Lights Out: Nat "King" Cole, People's Light)
Janus Stefanowicz (The Revolutionists, Theatre Horizon)
Outstanding Lighting Design
Oona Curley (¡BIENVENIDOS BLANCOS! or WELCOME WHITE PEOPLE!, Team Sunshine Performance Corporation)
Greg Hofmann (Something Wicked This Way Comes, Delaware Theatre Company)
Mike Inwood (Peter and the Starcatcher, Theatre Horizon)
Maria Shaplin (The Wild Duck, Quintessence Theatre Group)
Robin Stamey (Fishtown – A Hipster Noir, Tribe of Fools)
Thom Weaver (Blood Wedding, The Wilma Theater)
Thom Weaver (Fun Home, Arden Theatre Company)
Outstanding Media Design
Christopher Ash and Tal Yarden (Passing Strange, The Wilma Theater)
Jeromy Hopgood (Skeleton Crew, People's Light)
Braden Chapman (Hedwig and the Angry Inch, reTHEATER)
Jorge Cousineau (The Gap, Azuka Theatre)
Jorge Cousineau (Perfect Blue, Tiny Dynamite)
Shawn Sagady, and Val Syganevich, of Freckled Skye (Something Wicked This Way Comes,Delaware Theatre Company)
Maria Shaplin (This is On Record, Applied Mechanics)
Outstanding Sound Design
Elizabeth Atkinson (The Swallowing Dark, Inis Nua Theatre Company)
Jorge Cousineau (Fun Home, Arden Theatre Company)
Curtis Craig (Skeleton Crew, People's Light)
Larry D. Fowler Jr. (Blood Wedding, The Wilma Theater)
Larry D. Fowler Jr. (Peter and the Starcatcher, Theatre Horizon)
Mike Kiley (The Gap, Azuka Theatre)
Anthony Martinez-Briggs (¡BIENVENIDOS BLANCOS! or WELCOME WHITE PEOPLE!, Team Sunshine Performance Corporation)
Outstanding Original Music
Neil Bartram & Brian Hill (Something Wicked This Way Comes, Delaware Theatre Company)
Mel Hsu (Leaps of Faith and Other Mistakes, Almanac)
Daniel Ison (The Art of Swimming, Tiny Dynamite)
Csaba Ökrös (Blood Wedding, The Wilma Theater)
Dan Perelstein (A People, Orbiter 3)
Dan Perelstein (Snow White, Arden Theatre Company)
JoJo Streater (Florence, Camden Repertory Theater)
Outstanding Choreography / Movement
Constantine Baecher (Passing Strange, The Wilma Theater)
Zachary Chiero (Fishtown – A Hipster Noir, Tribe of Fools)
Niki Cousineau (Peter and the Starcatcher, Theatre Horizon)
Dann Dunn (Bullets Over Broadway, Resident Theatre Company)
Jared Grimes (Lights Out: Nat "King" Cole, People's Light)
Makoto Hirano (¡BIENVENIDOS BLANCOS! or WELCOME WHITE PEOPLE!, Team Sunshine Performance Corporation)
Csaba Horváth (Blood Wedding, The Wilma Theater)
Annie Wilson, Nicole Burgio, Adam Kerbel, Nick Gillette, and Ben Grinberg (Leaps of Faith and Other Mistakes, Almanac)
Outstanding Music Direction
John McDaniel (Lights Out: Nat "King" Cole, People's Light)
Amanda Morton (Passing Strange, The Wilma Theater)
Tom Murray (Something Wicked This Way Comes, Delaware Theatre Company)
Ryan Touhey (Fun Home, Arden Theatre Company)
Outstanding Ensemble in a Play
Blood Wedding (The Wilma Theater)
The Brownings (Orbiter 3)
Fishtown – A Hipster Noir (Tribe of Fools)
The Gap (Azuka Theatre)
Morning's at Seven (People's Light)
Skeleton Crew (People's Light)
Waiting for Godot (Quintessence Theatre Group)
Outstanding Ensemble in a Musical
Fun Home (Arden Theatre Company)
Lights Out: Nat "King" Cole (People's Light)
Passing Strange (The Wilma Theater)
Something Wicked This Way Comes (Delaware Theatre Company)
Outstanding New Play/Musical
¡BIENVENIDOS BLANCOS! or WELCOME WHITE PEOPLE! by The Ensemble (TeamSunshine Performance Corporation)
The Brownings by Sam Henderson (Orbiter 3)
Fishtown – A Hipster Noir by Caitlin Weigel (Tribe of Fools)
The Gap by Emma Goidel (Azuka Theatre)
Lights Out: Nat "King" Cole by Colman Domingo and Patricia McGregor, Music Supervision, Arrangement, and Orchestrations by John McDaniel (People's Light)
Mrs. Harrison by R. Eric Thomas (Azuka Theatre)
Something Wicked This Way Comes, Book by Brian Hill, Music and Lyrics by Neil Bartram (Delaware Theatre Company)
Lifetime Achievement Award
F. Otto Haas Award for an Emerging Philadelphia Theatre Artist
Jessica Bedford
Taysha Canales
Jaylene Clark Owens
Anthony Martinez Briggs
Lee Minora
Virginia Brown Martin Philadelphia Award
2.5 Minute Ride (Theatre Horizon)
Fun Home (Arden Theatre Company)
The Gap (Azuka Theatre)
Human Rites (InterAct Theatre Company)
Passage (The Wilma Theater)
Passing Strange (The Wilma Theater)
June and Steve Wolfson Award for an Evolving Theatre Company
Applied Mechanics
Bearded Ladies Cabaret
Curio Theatre Company
Lightning Rod Special
Tiny Dynamite
Tribe of Fools
Victory Foundation Award for Outstanding Theatre Education Program
Delaware Theatre Company
Lantern Theater Company
Theatre Exile
Theatre Horizon
The Wilma Theater