PCPC gets overview of Central Delaware Master Plan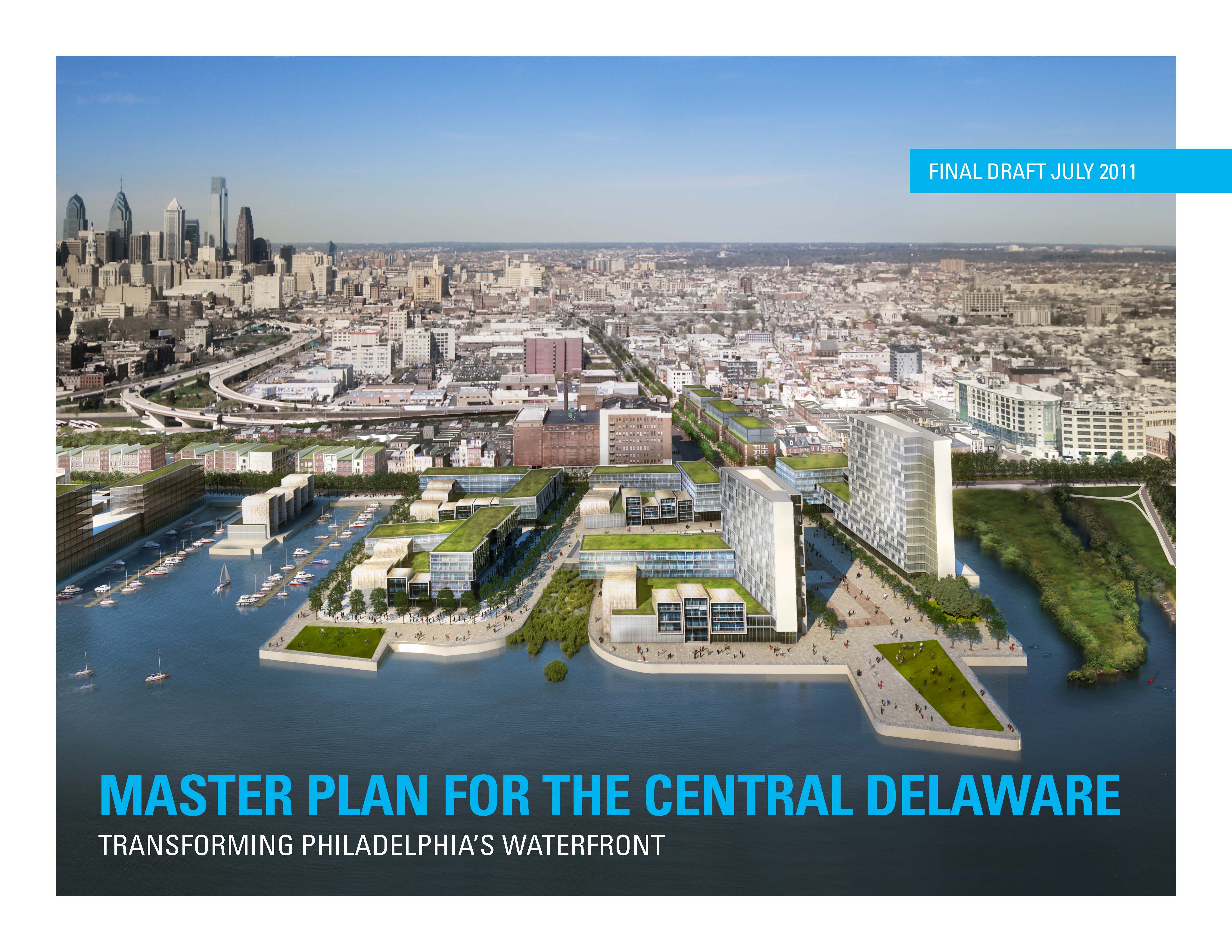 The Philadelphia City Planning Commission seemed largely impressed by what it learned Tuesday about the in-the-works plan to revamp the Central Delaware waterfront – commission members even gave the head of the quasi-city agency directing the plan an ovation.
Delaware River Waterfront Corporation President Tom Corcoran gave the planning commission a detailed presentation, highlighting a necklace of new public parks every half-mile, mixed use residential development, new or improved connections between the river and its neighborhoods.
He explained how the plan calls for first focusing on areas where publicly owned land could be redeveloped rather quickly – areas around Pier 53/Washington Avenue, Penn's Landing and the Festival Pier – and the theory that public investment there would spur private development nearby.
Corcoran and Deputy Mayor Alan Greenberger, who is commission chair and sits on the DRWC board, said there was evidence of this trend already happening around Race Street Pier, as the Philadelphia Live Arts/Philly Fringe has purchased an old pumping station that it plans to turn into its headquarters and a year-round entertainment and dining venue. Inquiries are already coming in about its neighbor, Pier 9.
The last area Corcoran described, in the northern reaches of the stretch from Oregon to Allegheny avenues, would likely be developed late in the 25-year plan, he said. This area, which includes both the Conrail and Anderson sites, would contain open spaces, but would also have a good amount of flexible industrial space, where green industry, light manufacturing, distribution and other compatible uses would take place, Corcoran said. He compared it to what is now happening at the Navy Yard.
Commissioners were largely impressed with what they heard – they gave Corcoran a round of applause.
But there were a few questions and comments from Commissioner Patrick Eiding, President of the Philadelphia AFL-CIO, and the audience.
"It's beautiful," Eiding said of the plan. "It's a dream possibly come true. But my question is, with all the residential and parks, are we going to build a bridge from here to China for people to work?"
Corcoran said DRWC knows how important jobs are, and is working to see that the South Port project happens. The industrial/flex space could provide a significant number of jobs, he said, promising to come back with an estimate. The retail portions of the development should provide about 1,000 new jobs, he said.
Greenberger backed Corcoran up. "There have to be jobs," he said. "This stuff doesn't happen unless people are working."
Greenberger said Philadelphia has emerged as a place where food-related jobs are centered – and food manufacturing can't happen too far from where items will end up. He talked about the need to focus on transportation fixes, so that people can more easily get from the neighborhoods where they live to their jobs.
Eiding said that he doubted anyone who worked in a new retail job could afford to live in a new residence on the waterfront. Commissioner Nilda Ruiz said that is likely true, but she was pleased that none of the suggested development would be gated or otherwise closed off from all city residents.
Attorney Neil Sklaroff spoke representing his client, James Anderson. He called the plan a "wonderful vision," but said his client has concerns about his property being listed partially as a public park, and partially as flex-industrial space. The 60-acre parcel has a lot of potential uses, he said, and Anderson has some ideas in the works. He doesn't want to be "imprisoned" by the plan.
Eiding asked for more details about Anderson's plans. Sklaroff said they could be discussed later, and that Anderson would be making his position known in written comments submitted to the DRWC.
The full draft of the master plan is posted on the DRWC's Master Plan website, and the public comment period is open through August 25, Corcoran said.
After that, staff will use the comments to make some modifications to the plan, send it to the printer, and then bring it back to the PCPC for adoption in the fall.
MORE TO COME/COMPLETE VIDEO COVERAGE
Reach the reporter at kgates@planphilly.com.