Past mistake: Preservationists hope city will learn from Jewelers Row threat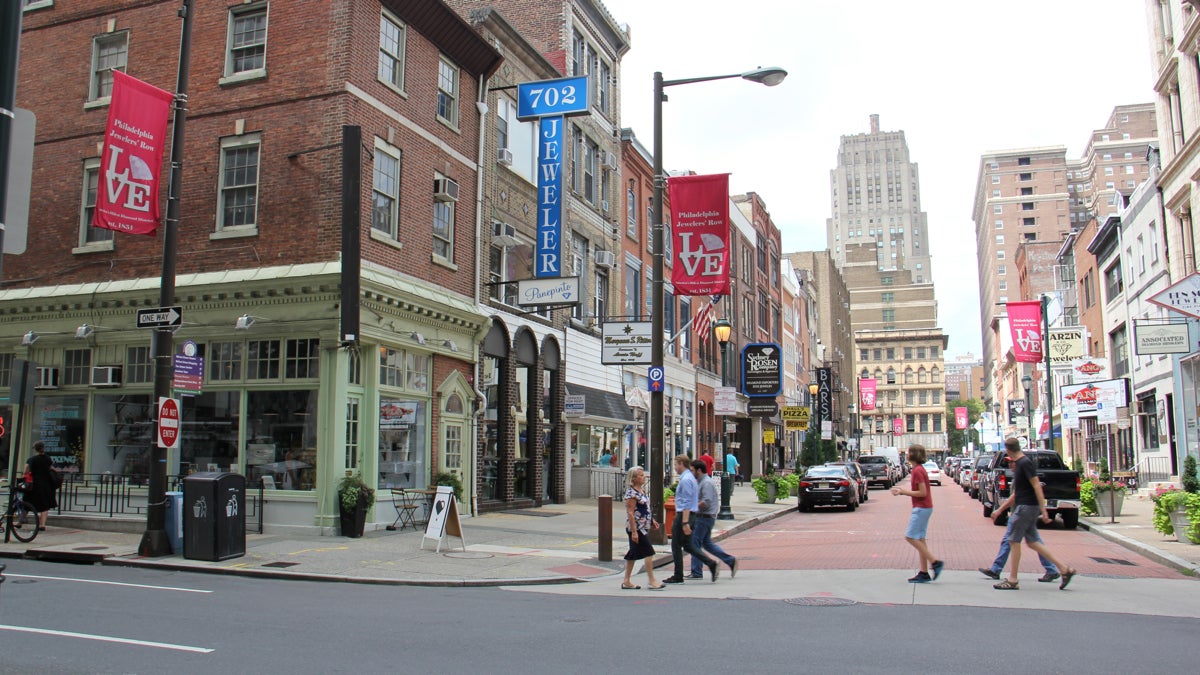 A developer's proposal to replace five properties on Jewelers Row with a 16-story, 80-unit luxury condominium has Philadelphia's small preservation community up in arms. While preservation advocates aren't ready to concede that this corner of America's oldest and second largest diamond district is lost, already the focus seems to be shifting to mitigating the damage, not stopping it, and preventing future losses.
"If the buildings are still standing, the battle can be won," said Oscar Beisert, an architectural historian who has helped file around 50 nominations to the local historic record over the last two years.
That's a point echoed by the Preservation Alliance for Greater Philadelphia's executive director, Paul Steinke. "We are exploring our options both through advocacy and through legal means to find out how to incorporate preservation into the project or even stop the project in its tracks."
Still, the hopes of preserving this slice of Jewelers Row seem bleak. The developers, Toll Brothers of Horsham, PA, have secured sales agreements for five properties on the 700 block of Sansom Street, and a sixth on 7th Street, giving them the ability to apply for demolition permits. It is not locally designated as historic. Toll's proposed luxury condominium tower with retail on the lower levels is allowed by-right under the block's current CMX-5 zoning, which allows the tallest, densest development in Center City's core.
While much has been made by the fact that a zoning permit was erroneously issued and then revoked, that is a red herring of sorts: It has been reissued as a conditional permit.* The condition: The building permit must undergo Civic Design Review (CDR), up to two rounds of non-binding, ignorable feedback. It's little more than a delay, and one that a serious developer like Toll would have expected.
A petition circulated by the Preservation Alliance urging city's Director of Planning and Development Anne Fadullon to somehow stop the development, even though the city at this point lacks all formal powers to do anything more than delay the project, has more than 5,000 signatures.
While the news has come as a shock to some, it was not unforeseeable. Inga Saffron warned about the risk of exactly what has happened in a column last April, writing, "Jewelers' Row… is at a crossroads. As the Washington Square neighborhood becomes the east-of-Broad rival to Rittenhouse Square, developers are moving in."
In the same story, Saffron reported that nearly 1,000 jobs are found across Jewelers Row. The 700 block of Sansom is its heart, but the district bleeds out onto 7th and 8th Streets between Chestnut and Walnut as well. In the buildings slated to be replaced by condos alone house nearly 100 retail and artisan jobs.
The buildings themselves are in good shape. "These are occupied, functioning buildings that house jewelers, watchmakers, repairmen and other services related to the jewelry trade," said Steinke. "If you start to mess with that, you start to destroy Jewelers Row and everything that makes it such an iconic destination."
That's a fear shared by Margie Cedrone, owner of an eponymous pearl shop on the second floor of 702 Sansom. Cedrone said she's neutral in this fight: she doesn't begrudge the owners from cashing out, but understands why some tenants are so upset, too. "Unfortunately, life is changing," said Cedrone, who's worked on Jewelers Row since 1982.
In a statement, Toll Brothers said it plans "for the existing cornice line of Sansom Street to remain intact while retaining retail space along the street level for jewelry stores to preserve the iconic Jewelers Row streetscape."
Still, Cedrone is concerned. Not for her own business: She is so busy that she only takes on new clients via referral, so she'll simply move within Jewelers Row when the time comes. "I've been here a long time, so I'll make it work," she said.
Instead, Cedrone said that she fears that Toll Brothers won't let some of the older tenants back, that the publically-traded company will raise rents higher than they can afford and replace them with new jewelry stores, or worse, not jewelry at all. It's not this single development that has Cedrone worried, but what it portends: The gradual pricing out and displacement of all the businesses that made Jewelers Row what it is.
Today, city planners, government agencies, colleges, and developers are working together to create, out of whole cloth, new industry-focused business hubs across the city. PIDC and Liberty Property Trust have reimagined and revitalized the Navy Yard as an urban office park, designed to encourage "creative collisions" or "serendipitous connections". They built public spaces to create a sense of place to encourage these meetings and collaboration.
That's the same formula for Schuylkill Yards, a 14-acre, $3.5 billion proposed "innovation district" from Drexel University and Brandywine Realty. Its website says Schuylkill Yards will be "the place where buildings become bridges; individuals connect into community, challenges offer opportunities, and ideas iterate into innovations."
But Jewelers Row is already a place that practically defines an agglomeration economy, where geographic proximity leads to concentrated commercial activities through easy access to vendors, customers, and potential collaborators alike. Here diamond deals are still sealed with a just a handshake.
Ironically, jewelry isn't nearly as sexy as computers these days, at least as far as jobs go. No city development agencies or local colleges seem intent on promoting a relatively stable, even staid, industry. Keeping existing jobs does not provide the same political cache as creating new jobs. Keystone Opportunity Zone tax breaks go towards enticing new businesses to an economically distressed area and the 10-year tax abatement encourages new development to replace old structures. Financial incentives for preservation are few, primarily through tax credits for income-producing properties listed in the National Register of Historic Places. Only local designation creates any protections from demolition.
Despite the costs, the regulatory environment as it currently stands means there is little that can be done to prevent Toll Brothers from going ahead with the development. That has preservationists hoping that the petitions and outcry will encourage the company to voluntarily undertake some preservation effort or advance a more sensitive design.
Oscar Beisert, often portrayed as an uncompromising activist, said he would be happy if Toll Brothers merely preserved the building's facades and set back the tower just a bit from Sansom Street.
That would be Margie Cedrone preference, too. "Would I like to keep the look of Jewelers Row? Yes. Yes. Yes."
According to Steinke, the Preservation Alliance's hopes that, at the very least, it's petition will encourage Toll Brothers to "find an alternative to what they have proposed what will be more acceptable to Jewelers Row and the public."
Both Steinke and Beisert described Jewelers Row as "a wake up call."
"This is kind of a wake up call to preservationists and hopefully to city leaders that we need to get serious about preservation and amending our development, real estate development, regulatory environment to make historic preservation a higher priority in what is obviously the most historic city in the United States," said Steinke. According to Steinke, only 2-3 percent of buildings in Philadelphia are on the city's historic register, and only around 5-6 percent are either locally or federally designated. "The comparable percentage in Baltimore between national and local designation is 33 percent," said Steinke.
Going forward, Steinke hopes that the preservation community can sit down with elected officials and local developers to improve the city's preservation laws. "We need to create an environment where rules are clear and where preservation has a higher priority than it unfortunately has until this moment," said Steinke.
"The two can coexist, development and preserving the identity of the city," said Beisert, calling for new regulations for historic protection falling somewhere between today's either/or choice of extremely restrictive designation on the local historical register or nothing at all. "We need to open our minds and think about things that will preserve the character of the city."
"It's about a sense of place all being lost all over the city, and there being no mechanism to make that stop."
*CORRECTION: This sentence mistakenly said a construction permit had been issued. It was a zoning permit.
WHYY is your source for fact-based, in-depth journalism and information. As a nonprofit organization, we rely on financial support from readers like you. Please give today.