Parsing the Housing Authority's plans for Sharswood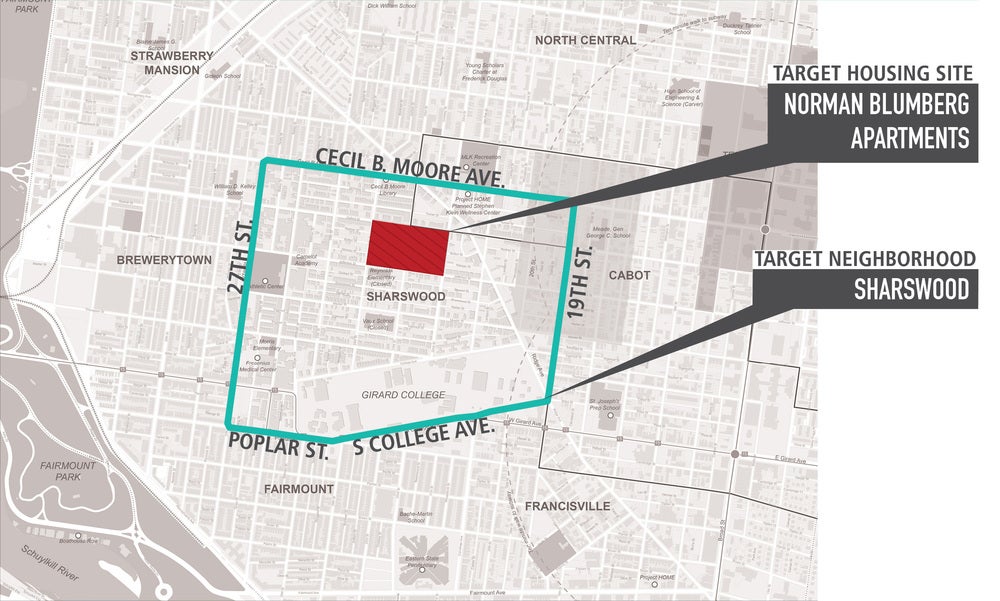 Ten years and $675 million. That's what the Philadelphia Housing Authority (PHA) is planning to spend on transforming Sharswood, the North Philadelphia neighborhood surrounding the Norman Blumberg public-housing complex, according to a plan the Authority quietly released last month.
The 250-page document, expanded from a draft plan outline released in 2014, was paid for with a $500,000 grant from the federal Department of Housing and Urban Development (HUD) through the Choice Neighborhoods program. The first phase of the plan calls for the demolition of all but one tower in the Blumberg superblock at 23rd and Jefferson streets, and the development of 57 affordable rental units at the cost of $22 million.
Even though the first phase is the only phase that's paid for so far, PHA has already taken major strides toward its more ambitious goals. In June, City Council approved the Authority's plan to acquire 1,300 properties in the area bounded by 19th Street, 27th Street, Girard Avenue and Cecil B. Moore Avenue. Of those properties, 800 are privately owned and subject to eminent domain. The vast majority of the eminent domain properties are vacant, but around 80 of them are occupied and in decent condition.
After a semester-long study of Sharswood, a group of graduate students in the historic preservation program at PennDesign is wondering why PHA has to take any occupied properties at all. On Thursday morning, the group presented their findings to the Design Advocacy Group (DAG). Their main takeaway from 15 weeks of data analysis, historical research, interviews with residents, and talks with PHA: The Authority can do everything it says it wants to do without taking a single occupied house.
According to the students' analysis, PHA already owns around 300 properties in the Sharswood area. Hundreds more parcels are owned by other public entities like the Redevelopment Authority. Now PHA is acquiring 1,300 more sites. All told, the Authority plans to build 1,203 new units of affordable and market-rate housing at a total construction cost of $530 million—excluding acquisition and demolition costs.
After the presentation—which was formally "off the record," in keeping with DAG tradition—students said that PHA seemed to be swinging for the fences with its Sharswood transformation plan, but in doing so it was missing an opportunity for a more sensitive redevelopment approach.
"Their attitude seems to be 'It's our fault, so let's fix it,'" said Jess Neubelt, who's earning master's degrees in preservation and planning. "Which maybe is admirable, but not when you're repeating mistakes of the '50s and '60s."
There's no doubt that Sharswood—that's PHA's name for the area, which is shared by some but not all of its residents—is in a rough spot. The Blumberg site is one of the Authority's most crime-ridden. The surrounding neighborhood has some of the most severe rates of poverty and property vacancy in the city, and PHA's waiting list is famously 100,000 deep.
Housing isn't the only part of PHA's plan. The Authority also plans to move its headquarters to Ridge Avenue and start to rebuild the commercial corridor there with a supermarket. PHA anticipates spending $5 million on workforce training, $2 million on parks and green spaces, and $24 million reopening one of the closed public schools in the neighborhood. But even after completing the $500,000, 250-page transformation plan, there's still no specific, physical site plan showing what PHA envisions for all of the properties it's acquiring.
That ambiguity led the Pennsylvania Historical and Museum Commission to send PHA a letter reminding them that, under federal law, the Authority is required to update its surveys to determine what historical resources might exist in the area where they're planning to use eminent domain, and what the project's impact on these resources might be. According to the PennDesign students, only one property in the entire neighborhood is locally designated as historic. Just last week, the Advisory Council on Historic Preservation, a federal agency, sent a letter to HUD asking for clarity on what rules apply to PHA's plan.
The Authority broke ground on the first phase of the project back in August. But even with its recent release of the full transformation plan, it's not clear when and how the Authority will secure funding for future phases. It lists a number of potential funding sources in the plan, including more than $200 million of its own money and several sources of local, state, and federal money, $150 million for the project is left to "private financing."
Questions abound. Meanwhile, the demolition of the Blumberg towers is tentatively scheduled for the spring.
(WRT for PHA)

(WRT for PHA)

(Nathaniel Hamilton for NewsWorks)
WHYY is your source for fact-based, in-depth journalism and information. As a nonprofit organization, we rely on financial support from readers like you. Please give today.