Parking Authority pushes for more wheelchair accessible cabs, taxis push back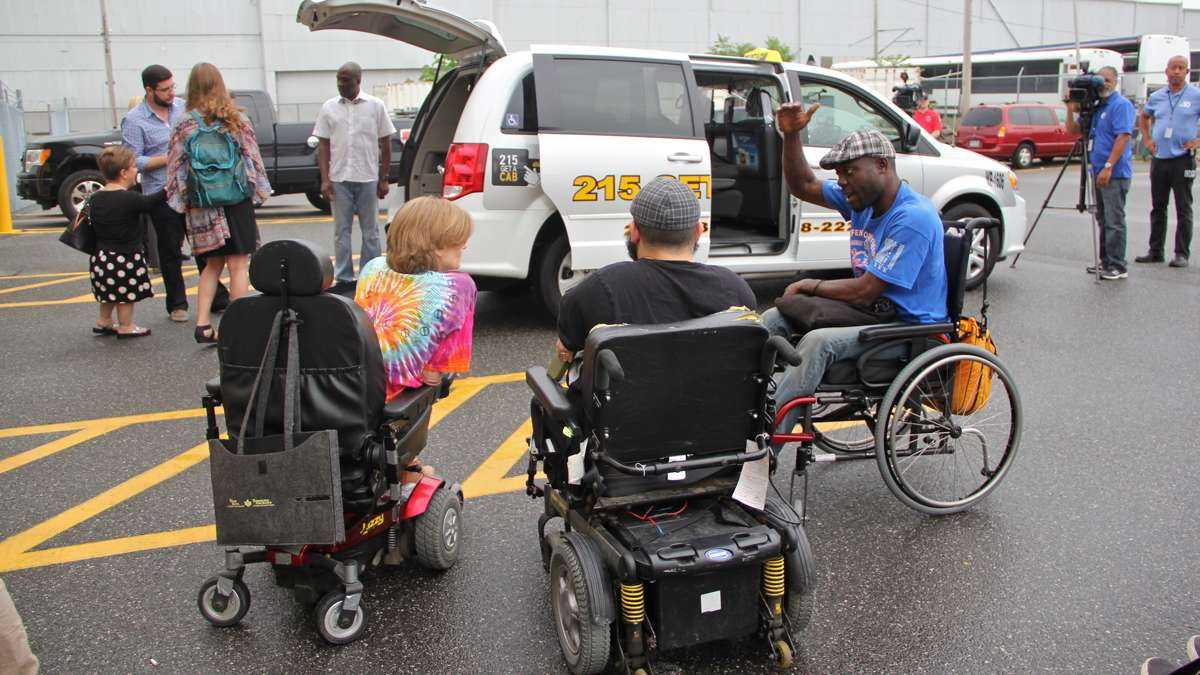 When George H.W. Bush signed the Americans with Disabilities Act into law 25 years ago, it was a watershed moment for anyone with mobility issues.
Before the ADA, society everywhere erected imposing walls posing under the nom de guerre "stairs". Quite literally for many with impaired mobility, America's indifference was adding insult to injury, robbing them of their independence and self-reliance with something as trivial as a street curb.
In the years since, curbs have been cut, ramps have replaced stairs and the navigable, livable world has grown for millions.
The ADA's mission, stated in its preamble, is: "To establish a clear and comprehensive prohibition of discrimination on the basis of handicap."
Twenty-five years later, there's still work to be done.
Philadelphia is home to 1,599 taxicabs. Seven are wheelchair accessible.
There are over 128,000 Philadelphians with ambulatory disabilities.
After years of ignoring the issue, the Philadelphia Parking Authority has begun in earnest to address the mobility divide. In late May, the PPA proposed changes to its regulations that would require all new taxicabs in Philadelphia to be wheelchair accessible.
Philadelphia would be the first U.S. city with such a rule.
The rule change proposal also requires WAVs for 25 percent of each taxi company's "partial-rights" cabs, or the cabs that are allowed to pick up fares outside of Philadelphia. The new regulations would also require new cabs to be actually new: currently, most "new" taxis are actually 3-6 years old. The change would limit "new" to vehicles with fewer than 500 miles.
At Wednesday's board meeting, the PPA heard from accessibility advocates in support and cab companies in opposition to the new rule. Those comments came partially in response to the over two hundred public comments already submitted online; regulatory proposals rarely receive more than a handful of public comments.
Matthew Carey emphasized the need for collaboration between the PPA, taxi companies and Philadelphians with mobility challenges. "More collaboration, more stakeholders coming together to make this… happen," said Carey, a member of the Taxis for All Philadelphians advocacy group.
Carey urged the PPA to coordinate with the City and SEPTA to figure out how to help the taxi industry pay for the more expensive WAVs. He then invited the PPA to join him and other accessibility advocates for a march Saturday morning marking the ADA's 25th Anniversary.
A sign of the improving relationship, PPA board chairman Joseph Ashdale offered the PPA's help: "Is there anything the Parking Authority can do to assist or help?"
He then added: "Can we tow people? We love doing that."
PPA General Counsel Denis Weldon noted that the PPA's Taxi and Limo Division recently approved use of the popular MV-1 WAVs. Those vehicles, which load wheelchairs using a side-door ramp, are common in New York City. Until this approval, only rear-loading taxis were eligible WAVs in Philadelphia due to ramp-width requirements. It's easier to get in and out of side-loading cabs.
It's possible that some of the 50 WAV medallions already sold this year could be those side-loading models. So far, only one of those new wheelchair-accessible taxis has entered service from that sale.
In other, routine business, the PPA board authorized the transfer and sale of 11 standard taxi medallions. Then, in an unusual move, the board voted to direct the Taxi and Limo Division to hold off on processing those transfers until the remaining 50 WAV medallions can be properly processed and the vehicles go into service.
Carey said that after years of fighting, the PPA has turned a new leaf. While the changes have been fueled by years of advocacy, the catalyst for the volte-face may have been Uber X.
The proposed rule change adopts an unusually combative tone in the regulatory change justification summary: "The Authority continues to experience an unwillingness on the part of taxicab owners in Philadelphia to, voluntarily, upgrade and improve the quality of taxicabs."
It goes on to blame Uber X and Lyft's rise, and the taxicab industry's commensurate decline, in Philadelphia on the industry itself: "Illegal service providers have… been drawn to the obvious dearth in affordable quality common carrier transportation in Philadelphia…. Not surprisingly, the public has responded favorably to cleaner and better vehicles, more friendly drivers and the hassle-free use of credit card payment methods."
The only way to save the taxi industry, the PPA argues, is to regulate it into competitiveness with ride-hailing companies.
Unsurprisingly, the taxi industry believes the opposite: in written public comments submitted to the Independent Regulatory Review Commission, Philadelphia Cab Association executive director Khalid Alvi said the proposed regulation would make taxis less competitive, siting the variety of vehicles Uber and Lyft provide and WAVs relatively worse fuel efficiency.
Ellen Johnson, who's family owns PPB Cab, wrote that "taxi cab revenue is down 25% in Philadelphia" since Uber X started operations. Johnson went on to argue: "Mandating WAV vehicles would be financially crushing" due to their higher costs. A new MV-1 WAV can cost between $40,000 for a basic model with a manual ramp to $50,000 for a power-operated ramp. Luxury models start at $57,000.
If Johnson's fears prove true, and the taxi industry was destroyed by Uber X and an Uber-X inspired regulation, it provide a grim irony: almost all Uber X and Lyft vehicles cannot hold wheelchairs.
There are many months of public hearings, IRRC reviews and potential amendments to go before the PPA's proposal can go into effect.
Carey says he recognizes the cost concerns as valid, but thinks the solution is finding better cost-sharing, not allowing the mobility segregation to remain. Carey has pointed to New York City's Access-A-Ride program as an example of how government agencies can cooperate to solve the problem.
Like the ADA, the costs here are real. The ADA has been called the largest unfunded federal mandate ever. Every year, city agencies spend millions upgrading infrastructure and facilities built decades before the ADA, adding ramps, elevators and other features.
But the economic costs of restricting the free movement of individuals who would purchase goods and services are real, too. And the moral costs of denying them access to the world are incalculable.
WHYY is your source for fact-based, in-depth journalism and information. As a nonprofit organization, we rely on financial support from readers like you. Please give today.