Parents balance fear, faith as Jewish preschools amplify security measures
Listen
4:49
An armed guard. Security cameras. An entrance locked by a keypad.
These sound like the security features of a government building or secretive corporation. In fact, these are just a few of the measures used by Adath Jeshurun Preschool in Elkins Park to secure the building and keep students safe.
Many of the Montgomery County school's security measures existed before the shooting at the Tree of Life Synagogue in Pittsburgh last weekend. But the armed guard is new.
"His presence has certainly made everybody feel much better," said the preschool's interim director, Anita Block.
Anita Block intermediary childhood director, in her office of Congregation Adath Jeshurun, in Elkins Park, on Wednesday Oct. 31, 2018. (Bastiaan Slabbers for WHYY)

Security guard Donald Mee is seen at the front door on a monitor In the main office at Congregation Adath Jeshurun, in Elkins Park, on Wednesday, Oct. 31, 2018. (Bastiaan Slabbers for WHYY)

Annita Block, intermediary childhood director shows a little hook that holds shut a door to one of the pre-school class rooms, of Congregation Adath Jeshurun, in Elkins Park, on Wednesday, Oct. 31, 2018.
Parents, understandably, have been shaken by the events of last weekend and worry that by sending their children to a preschool affiliated with a synagogue, they could be putting their children in danger.
"It's something I think about probably every day now," said Victor Yocco, whose 3-year-old daughter attends the school. "I dropped her off yesterday, and she was crying, and I think that it felt worse because I was just in the back of my mind wondering if there was anything else that could happen that day.
"And if I left my daughter crying as my last thought, that would be pretty upsetting."
Parent Michele Cooper has had similar reservations.
"Monday, when they came to school, I definitely felt hesitant to send them," she said.
She did send her children, and said she is glad and grateful that the school takes the issue seriously. The presence of the armed guard has made her feel more comfortable.
Given the children's ages, the school hasn't explained his presence, though a few children have inquired.
"One of the parents said that their child asked, 'Well, who's he and what's he doing?' " said Block. "And she said, 'He's out there to keep us safe.' And that was the simple explanation."
Block is the first to admit the guard is more of a deterrent than anything else. But it's yet another security layer. After Jewish community centers across the country received bomb threats last year, Adath Jeshurun added extra entry keypads on the wings of the preschool. The school changed all of its pass codes after Saturday's shooting, and has kept in constant communication with families about security protocols.
The teachers get regular trainings in how to deal with an active shooter — and how to keep children, ranging from babies to 5-year-olds, quiet in an emergency.
Approximately 42 Jewish preschools operate in the five-county Philadelphia area. All have tightened security since the Pittsburgh shooting, though most of them have had measures in place for decades, particularly since a shooting at the Los Angeles Jewish Community Center in 1999.
"The LA incident was, in fact, the marked point where early childhood centers went into a security mode," Block said.
Procedures vary from school to school, but most involve a combination of security doors, lockdown drills, cameras, and information sharing with law enforcement, from local police to the FBI.
One of the major challenges is balancing the open, welcoming vibe of many Jewish preschools with security. Michelle Bernstein, who directs the preschool at the Germantown Jewish Centre, said parents sometimes try to be friendly by holding the door open for people.
No more.
"Everyone is getting the message that we're not holding doors," she said. "It's not about being rude. It's about being safe."
Parents have gotten the message — though many also wish things were different.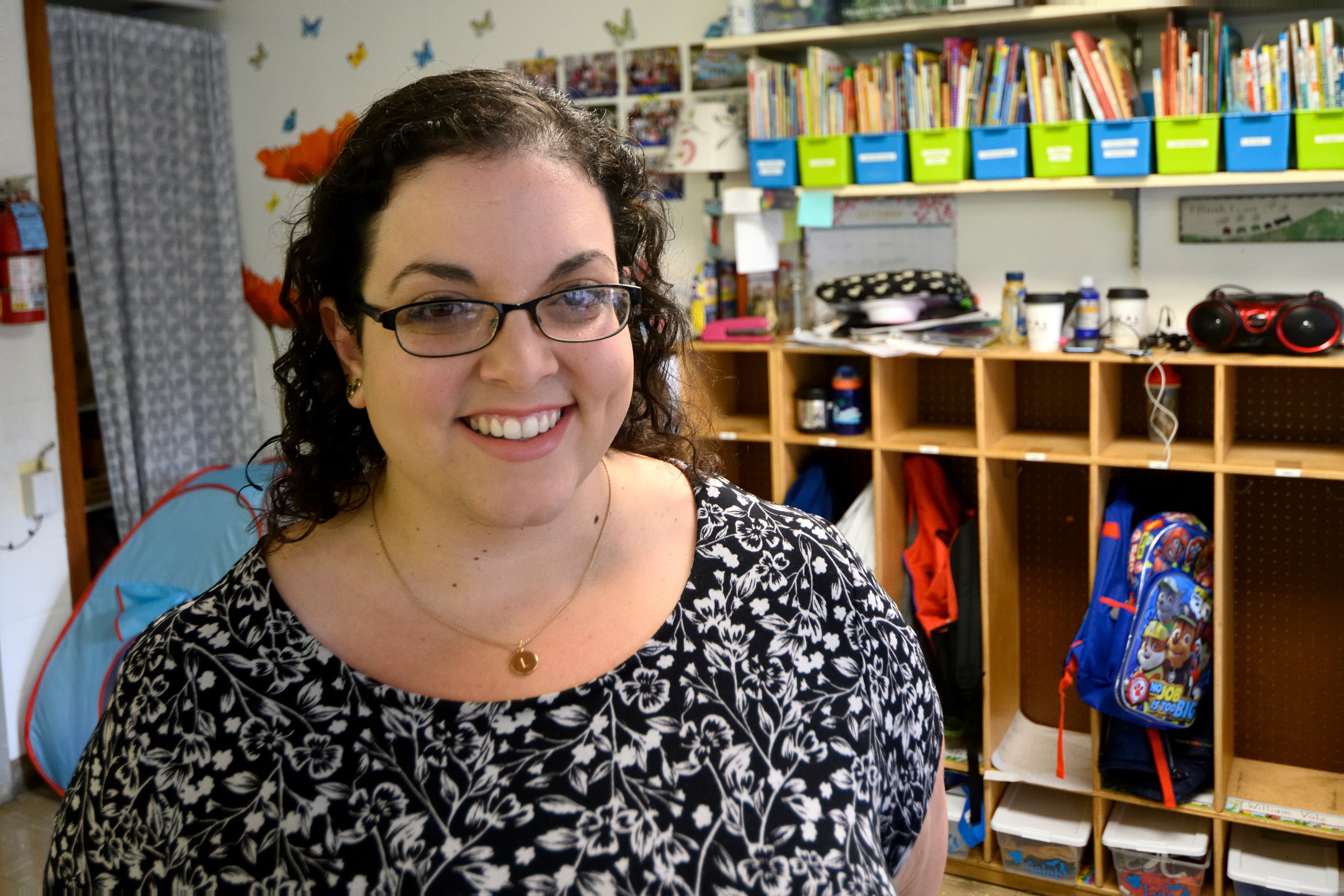 Danielle Gleason teaches the class of 3-year-olds at Adath Jeshurun and also sends her 2-year-old daughter there.
"It struck me how incredibly comforting and incredibly sickening it was to see an armed guard outside of both my place of work and my daughter's preschool," she said.
"As a teacher and a parent here, I have, I think, a different set of fears than some other parents do," she said. "You know, my fears stem from, will I have time to hide all of my children and evacuate all of my children and go make sure my daughter is safe?"
I understand some of the worries these parents have because I have them myself. I send my 2-year-old son to a Jewish preschool.
Like Adath Jeshurun, his school has a secure entrance and is in regular contact with law enforcement. Police have stepped up their presence since last weekend, and the school ran a lockdown drill this week.
The kids are largely unaware of this heightened security. Frankly, on Wednesday my son was more concerned with getting home for Halloween than with the police car in the far reaches of the parking lot.
Still, like a lot of parents I spoke to, there is a continued sense of unease.
Part of that is due to feeling like the places we send our children are targets.
And part of that stems from a sadness that these measures — these armed guards and lockdown drills and locked classrooms — are both necessary and normal.
As one parent put it, "This is just how things are now."