Pa. lawmakers rack up bills as redistricting battle rages on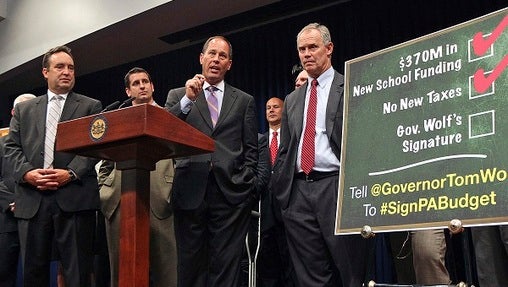 Over the last several months, Pennsylvania's House and Senate have spent over $3.5 million on congressional redistricting.
Part of that money was spent redrawing the congressional map in the wake of a state Supreme Court decision declaring it unconstitutional.
But Republicans have also spent a lot fighting that very court decision.
All told, the state Senate reported it has pumped $1.5 million into the redistricting issue. The House said it has spent $2.14 million.
Those numbers include costs related to two federal redistricting cases and the state supreme court case that ultimately invalidated the 2011 congressional map.
They also include hiring outside experts to draw new maps and serve as legal counsel — plus the cost of Republicans appealing to the U.S. Supreme Court for a stay on the state court decision.
"You're dealing with a very specialized area of law, and frankly no one here — in the Capitol complex — has that expertise," House GOP Spokesman Steve Miskin said, when asked why so many outside lawyers are being hired.
Neither chamber itemized the spending, and both said recent expenses — like two new federal appeals to get the decision overturned — aren't yet counted, and will increase total costs significantly.
But Miskin said it's worth it.
"This goes to the real crux of our representative democracy," he said. "Here you've got one particular branch, the majority of the Supreme Court, trying to grab the power of the administration and the legislative branch."
The Wolf administration said it spent a total of $576,000 on redistricting–$15,000 of which went to an expert who recommended Wolf reject a GOP map proposal.
Wolf spokesman JJ Abbott accused Republicans of wasting "millions of taxpayer dollars fighting to keep partisan gerrymandered districts."